What should I draw? That's a question that many of us ask ourselves in a cloud of frustration as we sit down with our art supplies. Art is so fun and relaxing, except when we have artist's block that we can't seem to break through. Well, sometimes your brain just needs a jumpstart.
When looking for objects to draw, start looking around your room. If you don't see anything inspiring, take a walk around your house and start looking in closets and boxes you've forgotten about. If all else fails, use this list of 115 household objects that you can use for inspiration.
It can be really easy for our inspiration to dry up, even when there are great drawing subjects all around us. All of the 115 objects we're going to talk about can be found around your house. So, if you like drawing from a reference, all of these objects will be within your reach.
The Benefits of Drawing Ordinary Objects
Before we dive into the 115 objects that you can draw, let's talk about why drawing ordinary objects can be useful in the first place. At first, you might think that drawing a fork or a garden hose is boring. Sure, it might not be as exciting as drawing a fanciful pirate scene, but the benefit that drawing ordinary objects can have for your overall drawing ability IS exciting.
When we draw everyday objects, we're forced to look at the world as it really is, not how we imagine it to be. Our brains are really good at taking quick snapshots from our eyes and matching that info with our previous knowledge.
For example, when we look at a fork, we instantly know it's a fork. Our brains quickly match the visual information from the fork that we're looking at to our previous knowledge of what we understand a fork to be.
This is great as we function in the world, but it's not so great as we sit down to do art. Suddenly, we can't rely on that quick snapshot. Instead, we need to know how all of the pieces come together to make the whole. What lines and shapes come together to make that fork?
Drawing everyday objects is a great lesson in learning how to see the world from an artist's point of view.
Another benefit of drawing everyday objects is that you're forced to work with the elements. How is the sun shining on that fork? What kinds of shadows does that create? How can you reposition that fork to lessen the reflections?
When we draw from our imaginations, we're free to take matters into our own hands. We can adjust the lighting to make the shadows fall in a certain way. We can change the shape of the object so that it's easier to manage. We can make things as we want them to be.
When we draw everyday objects, we're stuck with the objects and circumstances that we have. This can be a great challenge and way to improve your drawing skills.
Alright, let's dive into those 115 objects and get your artistic juices flowing!
In the Living Room
Your hand
Your pet
A family member
Remote control
Door
Window
Vase of flowers
Candle (lit, for a challenge)
Board game pieces
Lamp (turned on, for a challenge)
Keys
Dumbbells
Table
Chair
Deck of playing cards
Musical instrument
Houseplant
In the Kitchen
Piece of fruit
Spatula
Salt and pepper shakers
Microwave
Cereal box
Soup can (a la Andy Warhol!)
Standing mixer
Piece of silverware
Your favorite mug
Your favorite book
Your lunch
Jar of sprinkles
Fridge
Water faucet
Piece of pasta
Rice
Beans
Pot or pan
Fridge magnet
Coffee pot
Dinner plate
Wine bottle
Dish Sponge
Drying rack
In the Office
Your computer
Video game controller
Picture frame (draw the photo in it)
Backpack
Cellphone
Scissors
Ball of yarn
Paintbrush
Envelope
Headphones
Watch
Dollar bill
Quarter
55. Printer
Office chair
Stapler
Bookshelf
In the Bedroom
Necklace
Ring
T-shirt
Pants
Suitcase
Laundry basket (full, for a challenge)
Bed
Clock
Pillow
Blanket
Charging cord
Light switch
Socks
Neck tie
In the Bathroom
Bar of soap
Toothbrush
Toothpaste
Hairbrush
Makeup
Headband
Bottle of nail polish
Shower
Toilet
Deodorant
Tissue box
Outside and in the Garden
Ball (basketball, tennis ball, volleyball, etc.)
Broom
Rake
Shovel
Gloves
Hat
Sunglasses
Hammer
Full toolbox
Umbrella
Pumpkin
Car
Steering wheel
Your house
Fence
Tree
Mailbox
Fire hydrant
Flag
Garden statue
Basketball hoop
Patio furniture
Trash can
Doorbell
Stepping stones
Garden hose
Lamp post
Flower bed
Swimming pool
Any bugs you find
The neighbor's house
Shoes
This list of objects to draw isn't exhaustive. Heck, you can probably see more than 115 things from where you're sitting right now. This list is only meant to be a starting point. It's also meant to be an example of all of the things you can draw if you open up your mind and stop trying to find perfection. A lot of us get caught up in drawing the "perfect" thing. We want the perfect idea, the perfect reference, and the perfect drawing at the end of the day.

In reality, nothing about art is perfect.
Art is all about taking chances, making mistakes, and enjoying the process. Focusing on perfection at any step of the process will only leave you with a severe case of artist's block. Who knows, you may end up really loving that drawing of your fork!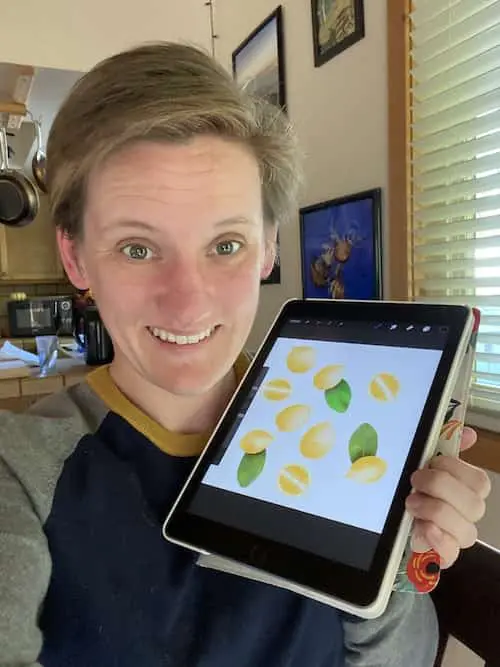 Diana has been an artist for over 26 years and has training in drawing, painting, digital drawing and graphic design. Diana's latest obsession is digitally drawing with Procreate and creating t-shirt designs with Canva. Diana has experience selling her art across a number of platforms and loves helping other artists learn how to make money from their art as well.