There's nothing like a great quote to inspire you and get you ready to start your next drawing. There is SO much wisdom that artists past and present can offer us as we move along on our own drawing journeys.
From Dr. Seuss, David Hockney, Beatrix Potter, Tim Burton, and more, we're looking at quotes about every part of the drawing process, from those first messy mistakes, to appreciating the final product.
Some of these quotes are great choices for quote art. SO, pick your favorite and make a beautiful drawing out of it. We have a lot of inspiration to get to, so let's get started!
I start drawing, and eventually the characters involve themselves in a situation. Then in the end, I go back and try to cut out most of the preachments. -Dr. Seuss
Learning to draw is really a matter of learning to see – to see correctly – and that means a good deal more than merely looking with the eye. -Kimon Nicolaides
Drawing makes you see things clearer, and clearer and clearer still, until your eyes ache. -David Hockney
I never felt oppressed because of my gender. When I'm writing a poem or drawing, I'm not a female; I'm an artist. -Patti Smith
Drawing is vision on paper. Andrew Loomis
I wish I could draw you how I see you. I'd draw a boy with the most magnetic smile, and the kindest hands, and eyes that are gloomy, but can sometimes be bright. I'd draw a boy who deserves to see the ocean. -Jasmine Warga, My Heart and Other Black Holes
Drawing is not what one sees but what one can make others see. -Edgar Degas
I cannot rest, I must draw, however poor the result, and when I have a bad time come over me it is a stronger desire than ever. -Beatrix Potter
You can't do sketches enough. Sketch everything and keep your curiosity fresh. John Singer Sargent
"It is only by drawing often, drawing everything, drawing incessantly, that one fine day you discover, to your surprise, that you have rendered something in its true character." -Camille Pissarro
I keep drawing the trees, the rocks, the river, I'm still learning how to see them; I'm still discovering how to render their forms. I will spend a lifetime doing that. Maybe someday I'll get it right. -Alan Lee
Drawing makes you see things clearer, and clearer, and clearer still. The image is passing through you in a physiological way, into your brain, into your memory – where it stays – it's transmitted by your hands. -Martin Gayford, A Bigger Message: Conversations with David Hockney
I just wanted to paint and sketch and tell stories by drawing. -Robert Reford
When I'm drawing, I'm drawing with the light, being completely open and creative. I can't draw in the evening. I need light and I need warmth if it is a summer thing, and I need cold if it is a winter collection. The good thing is that I have houses to go to whenever I'm working. I draw according to the place. -Christian Louboutin
In drawing, nothing is better than the first attempt. Pablo Picasso
It was amazing what an hour with her sketchpad could do for her mood. She was sure that the lines she drew with her black marker were going to save her years of worry lines in the future. -Victoria Kahler, Their Friend Scarlet
For the artist, drawing is discovery. And that is not just a slick phrase; it is quite literally true. -John Berger
Drawing is the art of being able to leave an accurate record of the experience of what one isn't, of what one doesn't know. A great drawer is either confirming beautifully what is commonplace or probing authoritatively the unknown. -Brett Whiteley
I found I could say things with color and shapes that I couldn't say any other way things I had no words for. -Georgia O'Keeffe
Photography is an immediate reaction, drawing is a meditation. -Henri Cartier Bresson
Drawing is exercise for the restless imagination. -Tim Burton
When you draw and pay attention to what is, it's a form of being present. This inspires the mind, makes it happy, and the heart wants to express more. -Natalie Goldberg, Living Color: Painting, Writing, and the Bones of Seeing
Originality depends only on the character of the drawing and the vision peculiar to each artist. -Georges Seurat
Learning how to draw is just like learning how to write, you just need to find a good teacher, and practice a lot. Just remember all those empty pages you filled as a child with your shaky handwriting that looked like chickens' scratches or ants steps, these efforts are what led you to have a steady and beautiful handwriting later on as an adult. -Noora Ahmed Alsuwaidi
When you are older, you realise that everything else is just nothing compared to painting and drawing. -David Hockney
Every artist was first an ameatuer. -Ralph Waldo Emerson
Drawing is never reproducing – in order to see, you have to know how to look, and you have to know what you're looking at. -Olga Tokarczuk, Flights
If drawing belongs to the world of spirit and color to that of the senses, you must draw first to cultivate the spirit. -Henri Matisse
I have learned that what I have not drawn I have never really seen, and that when I start drawing an ordinary thing, I realize how extraordinary it is, sheer miracle. Frederick Franck The Zen of Seeing
Drawing isn't an artistic process; drawing is a thinking process. -Dan Roam, Draw to Win: A Crash Course on How to Lead, Sell, and Innovate With Your Visual Mind
Drawing is feeling. Color is an act of reason. -Pierre Bonnard
Keep a bad drawing until by study you have found out why it is bad. -Robert Henri
Eventually you will get into the habit of enjoying line as a language all of its own. -Margaret Stevens, An Introduction To Drawing Flowers
I think the way kids create art is so inspiring. They're drawing a picture? They love the picture they drew; they're not tortured about it. -Spike Jonze
This is a familiar syndrome. There is a stage with every drawing or painting when it looks banal and clumsy. It's worth pushing through that, working through the cliché to find out what made it a cliché in the first place. -Antony Sher, Year of the King: An Actor's Diary and Sketchbook
Discipline in art is a fundamental struggle to understand oneself, as much as to understand what one is drawing. -Henry Moore
There are constant challenges in the drawing process, especially in a period piece, and therein lay the fun. -Nate Powell
I hope that these quotes have planted new seeds of wisdom, creativity, and inspiration as you sit down with your paper and pencil for your next drawing!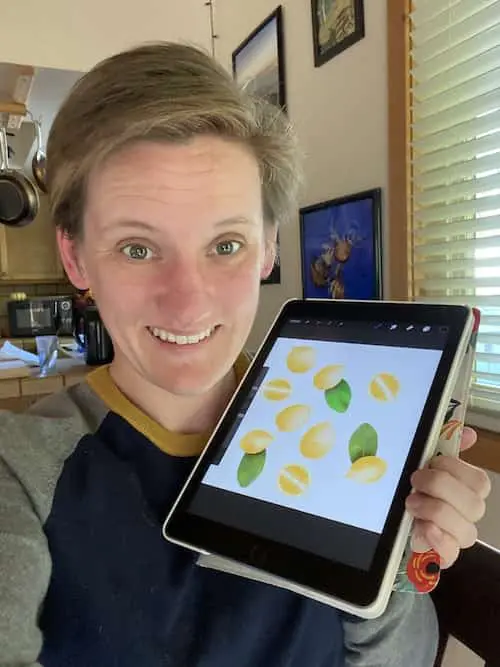 Diana has been an artist for over 26 years and has training in drawing, painting, digital drawing and graphic design. Diana's latest obsession is digitally drawing with Procreate and creating t-shirt designs with Canva. Diana has experience selling her art across a number of platforms and loves helping other artists learn how to make money from their art as well.