This post may contain affiliate links, which means I may earn a commission if you decide to purchase through my links.
Let's get those aspiring artists started young! We all know that the minds of preschoolers are like sponges. Why not give them a head start and an opportunity to soak up some art skills? On the outset, it might seem hard to find instructional books for preschoolers. That's why this list focuses on books that you can have a fun time working through with your preschooler, as well as activity books that preschoolers can have more independence with.
Step-By-Step Drawing Book by Fiona Watt
I'm NOT Just a Scribble by Diane Alber
How to Draw: Includes Wipe-Clean Pen by Roger Priddy
Follow the Directions & Draw It All by Yourself!: 25 Reproducible Lessons That Guide Kids to Draw Adorable Pictures by Kristin Geller
My First I Can Draw by Thomas Nelson
There are a lot of great drawing books for preschoolers who have a creative spark. Or, preschoolers that just need to be entertained on a rainy day. Whatever your reason for grabbing one of these books, they will help your little sponges soak up some great drawing skills that can set the foundation for their art futures.
1. Step-By-Step Drawing Book by Fiona Watt
This step-by-step drawing book is so adorable and does a great job leading preschoolers step-by-step through a drawing project. Each project has 5 or 6 steps and uses basic shapes to build characters, animals, and objects, which makes it tailored to a preschooler's attention span. This book covers a lot of different subjects, but it's very animal heavy. So, if your preschooler is an animal lover, this book is a great choice.
What I REALLY love about this step-by-step drawing book is the layout. Each project is laid out over a two page spread.
Check out the cute Step-by-Step Drawing Book on Amazon!
At the top, there's a header that contains the 5 or 6 steps needed to complete the character or project. The rest of the page is open for your preschooler to recreate the character and work on their skills. There's no need to find extra pieces of paper, store drawings so that your preschooler doesn't lose them later, or any confusion about what is being worked on.
This layout makes it really easy for preschoolers to refer to the instructions they need for their project as they're working on it. It's also a great option for a grab-and-go travel activity given that no additional paper is needed. This book is really well done and can be a great guide for preschoolers as they dive into the drawing world.
2. I'm NOT Just a Scribble by Diane Alber
I'm NOT Just a Scribble isn't a traditional drawing book, but it does give preschoolers 100 stickers to help them create their own "scribbles" at the end of it. Alber introduces kids to her main character, Scribble. Scribble is an adorable scribble, but he feels left out by all of the other drawings. Over the course of the story, Scribble helps all of the drawings come together and learn how to accept each other.
"I'm NOT Just a Scribble" is a great book about appreciating differences and being kind to others. Along the way, kids learn about all of the different types of emotions and get a chance to learn how they work and what they feel like.
Check out I'm Not Just a Scribble on Amazon!
Overall, this book is more about acceptance and emotional recognition than it is about drawing. That said, these are REALLY important lessons for kids to learn, even within the context of art. As kids grow as artists, they will need to know how to express themselves, even if it's in a different way than those around them. They'll also need to grapple with rejection and disappointment if their art project doesn't turn out the way they hoped. Of course, these skills are crucial for life outside of art, but they apply to young artists as well.
Drawing DOES work it's way into this book though. In a neat way, actually! When you buy this book, you'll also get 100 stickers. These are the beginnings of "scribbles." Kids can use these stickers to get creative recreating the book's main character, turning each emotion into a scribble, or making any kind of scribbles they wish!
I absolutely love how this book merges art with important life concepts. What's better than having a fun art session that turns into a discussion about understanding emotions and expressing yourself. Sounds like a win to me.
3. How to Draw: Includes Wipe-Clean Pen by Roger Priddy
"How to Draw" is a book that kids can use over and over again! Each page is erasable, which means that kids can use a dry erase pen (which is included with the book) to wipe away their drawings and try again. Similar to the #1 choice "Step-by-Step Drawing Book," this book does a great job of breaking down drawing projects into manageable pieces that preschoolers can follow.
This book is also a lot of fun! Aside from step-by-step drawing projects, it also lets kids color, imagine, and experiment with their art skills. It has more interactive activities than a traditional drawing book. Some of my favorites are the pages that have partial scenes that kids need to finish.
Check out this great How to Draw book on Amazon!
SImilar to #1, this is a great grab-and-go travel book that kids can have fun with no matter where they are. No supplies, no mess, lots of creative opportunities. Kids probably won't become little Picasso's using dry erase markers, but they give kids a great way to practice their skills before they transition them to paper and pencil. This book actually helps with that transition! In addition to the dry erase marker, Priddy's book comes with tracing paper and colored craft paper, which kids can use to recreate their dry erase drawings on traditional paper.
4. Follow the Directions & Draw It All by Yourself!: 25 Reproducible Lessons That Guide Kids to Draw Adorable Pictures by Kristin Geller
Who doesn't love Scholastic? This book says that it's meant for Kindergarteners, but it can be a great fit for older preschoolers as well. Something I love about Geller's book is that it starts off with basic lines and shapes, which helps kids gain a strong foundation in the skills they'll need as artists. Squares, circles, ovals, zig zags, these are the shapes that make up a lot of the objects and creatures we draw every day.
Check out Follow the Directions on Amazon!
After reviewing the basics, Geller's book dives into lessons. Yes, lessons. This book includes instructions for teachers and parents that want some guidance in how to guide their kids through their drawing projects. This book is a little more hands-on from the adult side of things in comparison to the other books on this list. That can be great if you want to be hands-on with your kid and their drawing projects.
5. My First I Can Draw by Thomas Nelson
As the name implies, this I Can Draw book is great for beginners. I put this book at the end because it melds a lot of the great aspects of the books we've already talked about. Here's how:
–Similar to our #4 Scholastic book, Nelson's book starts off with basic shapes and then builds on those shapes to make different animals and objects.
–Similar to our #1 step-by-step drawing book, Nelson does a great job breaking down each shape into a few manageable steps and laying them out clearly along the top or side of the pages.
Check out I Can Draw on Amazon!
–Similar to our #3 how to draw book, Nelson includes different types of interactive activities in between the step-by-step exercises. There are fun illustrations that kids can use for inspiration and cute backdrops that kids can draw their characters within.
I LOVE this book! To be honest, I didn't have high expectations when I first saw the cover. It's cute, but it gives the impression that the book is simplistic and thin. It's anything BUT that. Yes, it's tailored for preschoolers, but it's not dumbed down in any way.
As we just saw, this book includes a lot of the great aspects that the other books also include, so you can kind of call it a triple win. This is a fantastic book for budding young artists and one that you should definitely check out.
It can be hard to know what books to pick for your aspiring young artist. There are SO many great drawing books out there, but a lot of them aren't tailored to preschoolers. Well, with a little digging, you'll find that there are some great gems out there. This list includes some of my top picks for the best drawing books for preschoolers that can really help set a strong foundation for young artists. Hope you and your child have fun drawing!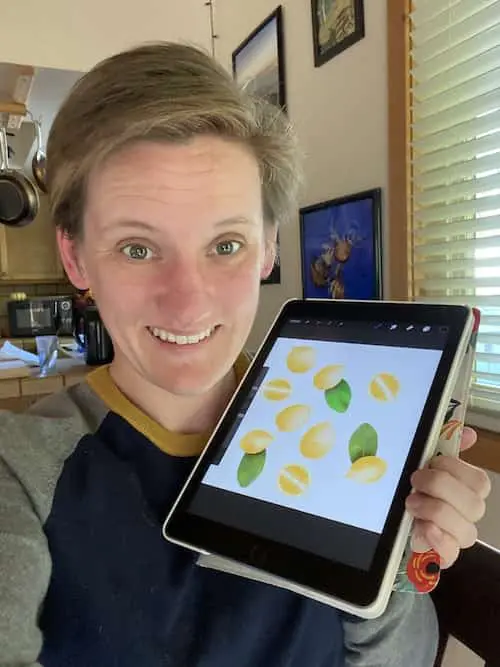 Diana has been an artist for over 26 years and has training in drawing, painting, digital drawing and graphic design. Diana's latest obsession is digitally drawing with Procreate and creating t-shirt designs with Canva. Diana has experience selling her art across a number of platforms and loves helping other artists learn how to make money from their art as well.