This post may contain affiliate links, which means I may earn a commission if you decide to purchase through my links.
There's no doubt that Canva is taking the digital design world by massive storm. It's easy to use, powerful, and downright beautiful. I started out as a free user of Canva and was really impressed with everything it could do. Once I was hooked, I decided to give the free trial of Canva Pro a try and never went back. I've been happily paying the subscription fee for many years now.
Canva Pro is worth the money for these key reasons:
Access to over 60 million photos and elements
Access to over 1,000 fonts and the ability to upload your own
Access to Tons of Templates
Resizing to Any Format
Downloading with a Transparent Background
Ability to Build a Brand Kit
Use of an Unlimited Amount of Folders
Animating Your Designs
Collaborating with Team Members
If you've been on the fence about starting a Canva Pro subscription, read through the next sections to see what the upgrade could do for you and your design life. As you'll see, some of these features are SUPER important depending on what your design needs are. For example, I use the background remover so often that I would pay for Canva Pro just for that feature alone. Think about what you do most often (or want to do) and how each of these features could make your life easier or more efficient.
How Much Does Canva Pro Cost?
Before we dive into all of the reasons why Canva Pro is amazing, let's be clear on how much you'll need to pay for these features.
Canva Pro costs $9.95 a month if paid annually or $12.95 if paid monthly. This works out to $119.50 a year if paid annually and $155.50 if paid monthly. If you decide to use Canva Pro, the annual plan is the way to go.
The price of Canva Pro is nothing to sniff at. Believe me, I tend to be pretty cheap, especially when it comes to subscriptions. I only pay for the things that I really find worthwhile. Well, Canva Pro is SO worth it that I think the price is definitely justified. Out of all of my annual payments, Canva Pro isn't the one that I cringe about.
If you want to get a feel for Canva Pro before diving in, you can get a full month free by clicking the banner. Test it out and see if all of the reasons we're about to talk about really make a difference for your design life.
Alright, let's stop or dilly dallying and get into Canva Pro's amazing features already!
1. Access to over 60 million photos and elements
When you upgrade to Canva Pro, you unlock an entire world of images and design elements. 60 million photos and elements is an insane amount. These aren't low quality, amateur photos and elements either. No, the photos and elements that you get with Canva are top notch and rival anything you would find on other stock photo websites. In fact, some of their photos ARE the ones you find on other stock photo websites.
If you use stock photos a lot, the cost of Canva is a complete steal. Paying $119 for 60 million images and elements is unheard of in the stock image world. If you look at a popular site like Shutterstock, you'll be paying $199 PER MONTH for a max of 750 images. Other sites like iStock and Adobe Stock will have you pay per image, which can add up quickly. That's just for stock images.
When you pay for Canva Pro, you get all of those stock photos, plus all of its other amazing design features.
I use the stock images every single day for my blog posts and Pinterest pins. Luckily, with the amount of images they have to offer, I can scroll and scroll to make sure that I'm not using images that other bloggers and creators are using. With 60 million images, you can be sure to find photos that will be unique and special for your projects.
What are elements?
Stock photos make sense, but what is an element exactly? Elements are incredibly cool for designers because they open up the entire art world for you to use, not just limited to photography.
Elements are illustrations that span the gamut from simple icons to beautiful, hand drawn characters. Some of these elements are incredibly beautiful and done by masterful artists. Some of these elements are beautiful enough to print and put on the wall as standalone designs. Having access to art like this is a real treat. Sometimes I'll just scroll through them just for fun and inspiration. I've had entire projects pop into my head after seeing some neat elements that are just too cool to pass up.
For many people, Canva's resource of images and elements is enough to make a Pro subscription worth it. This is really an area where this design program shines. That said, rivaling Canva's amazing stockpile of images and elements is Canva's stockpile of fonts. Let's talk about that next.
2. Access to over 1,000 fonts and the ability to upload your own
Fonts are so fun. Having over 1,000 of them is REALLY fun. Almost too fun. Canva Pro is full of every style of font you could ever want, from scripts to grunge alphabets and boxy letters. Whether you're designing a resume or a child's birthday card, there's a font for you. No matter what style you're trying to achieve, you're bound to find a font that accommodates it. In fact, there are often too many to choose from.
Honestly, I could waste my life looking through all of Canva's fonts. There are just SO many of them. I'm also incredibly indecisive. If I decided to browse through every single font every time I started a new design, I would never get anything done.
Instead, I have a mental list of all of the fonts I like to use in various categories. Granted, this DOES take a while to build up when you are just getting started. In the beginning, you'll want to spend some time exploring all of the different fonts so that you have an idea of what's available. Once you're familiar with the options though, you'll naturally notice that you'll decrease your time searching for fonts and have an instinctive sense of what you want to use. Generally, I start off projects already knowing what fonts I want to use.
That said, I DO take time to explore new fonts every once in a while. I don't want to get stuck in the rut of only using the same fonts over and over again without considering any of the other 950 options that Canva has to offer.
Just like stock photos, fonts can be expensive to buy individually. One font alone could end up costing you way more than 1 month of Canva's subscription price. Canva Pro can be a really cost-efficient way to experiment with a ton of different fonts without paying for them individually.
The magic of uploading your own fonts!
As with a few other of the Pro features, I really think that this should be included in Canva's free version. I mean, they're your own fonts for goodness sake. I know that uploading fonts requires extra horsepower from the software, but it's not like you're actually using any of Canva's resources by uploading your own fonts into your design space.
Ok, rant over. It doesn't actually upset me that much given Canva Pro's other features, but it's worth saying that uploading your own fonts is only included with Canva's Pro subscription. Some people are surprised by that, so it's good to know.
Uploading your own fonts gives you a lot of additional design power.
While Canva's 1,000 fonts offer a lot of great choices, you're not going to get a lot of the quirky and elaborate fonts that you may want to use for your more eccentric designs. Or, you may just love a certain font that Canva doesn't offer. Whatever the reason, uploading fonts to Canva gives you a lot more freedom to play around with your typography. Personally, I'm a cheapskate and don't like to pay for fonts. I LOVE finding free fonts that I can use for my designs. If it's not free, it's rare that I would pay for a font given that Canva has over 1,000 options to choose from. You can find enough free fonts though to keep your Canva account well stocked.
3. Access to Tons of Templates
If you need inspiration or simply want to get a head start with your design, Canva has some amazing, pre-made templates you can use. Many of these are beautiful enough to be ready to use as they are.
Canva has templates for every size of design that you would need. Posters, business cards, social media posts, greeting cards, there are templates for all of them. Believe me, when you're mentally stuck, these templates can be a wonderful way to get some inspiration.
With a Canva Pro subscription, you have access to a lot more templates than you would with the free version. Pre-made designs at your fingertips? Yeah, it's pretty amazing. It's rare to find THIS many pre-designed templates for such an inexpensive price, which makes it a HUGE perk of Canva Pro.
4. Resizing to Any Format
Yet again, yet another Canva Pro feature that is worth the entire subscription price. Sure, it would have been nice if they included this in the free version, but they're still a business.
Without Canva Pro, you can't resize any of your designs. Once you've set your dimensions, you're stuck with them. I've written a post about a workaround for this problem for the free version. That said, the workaround is a little bit messy.
If you're constantly resizing your designs, you'll want to have the resizing feature that comes with Canva Pro.
Even if you don't plan to switch up the sizes of your designs a lot, having the ability to resize can ease your mind if your project suddenly changes. Switching even from a 4×6" card to a 5×7" card can be a hassle without this feature. This resizing feature gives you a lot of flexibility to quickly change your designs when needed.
5. Downloading with a Transparent Background
This is yet another Canva Pro feature that is worth the entire subscription price! Even though it seems like this feature should have been offered in the free version, I'm still a Canva fan girl through and through. Continue to the end of this post to read my opinion about Canva's free version overall.
I download a LOT of my designs as pngs with transparent backgrounds for mugs, shirts, and other types of merchandise. I also use them if I need any standalone designs to import into other designs. There are a million different reasons why you would want a transparent png, so the fact that the free version of Canva doesn't offer this is a huge setback if you're trying to use the free version to meet all of your design needs.
This Canva Pro feature may be the least sexy on the list, but it's one of the most important. I would have to completely abandon Canva in favor of a new design program if it disappeared.
If you're just starting off with design, think about what you plan to design. For example, any type of merchandise will require transparent pngs. So, if you're hoping to start making merchandise for a platform like Etsy, Merch by Amazon, or Shopify, you'll need this feature. If you're an experienced designer who is looking to switch to Canva Pro, consider how much work you're currently doing with transparent pngs and whether this feature would be worth it to you. For me, it's a lifesaver.
6. Ability to Build a Brand Kit
With the Pro version, you have access to Canva's brand kit area. Think of this as an organized storage area for everything relating to your brand – fonts, colors, logos. If you're constantly using the same colors and assets, this can really cut down your design time.
No more scrolling through your uploads for your logo or entering in color codes to change your background. Save everything within your brand kit and you'll be able to quickly grab everything you need for your branded designs.
Granted, this is not a feature I use a lot. I just don't do a lot of designs that require the same colors, fonts, or logos. I would LOVE this feature if I did though. The power of it isn't lost on me; it's just that I don't need it. If you're someone who is constantly using the same design assets, this is a great reason to get Canva Pro.
7. Use of an Unlimited Amount of Folders
The longer you use Canva, the more chaotic it will become. At the beginning, you'll only have a few rows of designs, but as time goes on and you fall more in love with Canva, you'll have to scroll and scroll to find the old designs you're looking for.
That's where folders come in.
Folders let you…well…we all understand how folders work. Using Canva's folders, you can organize your designs in whatever way makes sense for you to find them again. And believe me, you want to do this. I've made the mistake of not using folders and had to spend a stupid amount of time trying to find older designs that I needed to update. Not fun.
The problem with Canva's free version is that it only comes with two folders. This will help your organization a little bit, but not enough if you're using Canva a lot.
With Canva's Pro version, you have access to an unlimited amount of folders, which gives you a lot more organizational power than the free version. You can make folders for every project if you want to. I've been lazy about my folders in the past, but the huge benefit in getting my act together in this area isn't lost on me.
The pushback here might be, "hey, I have the finished design stored on Google Drive. I don't need to organize everything all over again within Canva." Right, but here's the problem. The ones we store on Google Drive are fully finished and static. They can't be changed. A lot of times we think that designs are finished and that we won't touch them again, only to find out that we want to make a design that's very similar to one we did a year ago. It would be much easier to make a copy of that previous design and tweak it than start fresh, right? Exactly right; but not if you can't find it in the first place. I have spent hours trying to find old designs because I thought I would never need them again…but I actually did…
It's never too late to start getting your Canva organizational life together. Even if you started as a disorganized mess like I did, you'll be thanking yourself later if you start taking advantage of these unlimited folders.
8. Animating Your Designs
With Canva Pro, you can turn your designs into animated movies (MP4 files) of gifs. Basically, you can have your elements swoop into your design. Think about those nifty transitions we all loved to play around with when we all first started making PowerPoints. It's like that. Through their animation feature, you can have your elements enter your design in a couple of different ways:
Fade: elements "fade in" as the name implies
Pan: elements come in from the side and the backgrounds pan across the screen
Block: elements come in more dramatically and suddenly
Rise: elements "rise" from the bottom of the design
Breathe: elements come in subtly and the backgrounds zoom in and out as if they're breathing
Slide: elements slide in
This animation feature is not something I use a lot. I just don't have a lot of need for videos and animated designs. If you make a lot of videos though, this can be a fun way to incorporate some of your designs into them while maintaining the MP4 file format. Gifs can also be fun to make. Whether you're just texting them to friends or becoming a viral sensation from them, Canva Pro's ability to make gifs can be pretty cool.
9. Collaborating with Team Members
Don't you love how programs like Google Docs and Google Slides let you easily work with others on a project? In real time, you can see how everyone is building and changing things…for better and for worse. Whether you love your team members or not, there can be a lot of benefit to working within the same project at the same time no matter where you're located within the world.
With Canva Pro, you can invite team members to collaborate on any project or design. Not only can you build everything together, you can also leave comments and communicate directly through Canva.
If collaboration is important to you, Canva Pro will be well worth the subscription price. The efficiency you'll get by staying within the same ecosystem to share feedback and maximize your skills is huge. You also won't have to worry about version control as you email designs back and forth for feedback. The amount of platforms you can eliminate, the better. If all of your team members are Canva savvy, this is a great way to streamline your workflow.
Important note: All of your team members will need to have Canva Pro subscriptions in order to participate in this feature.
My Real Feelings About Canva's Free Version
Canva is an amazing design program that has opened the door for a lot of people who have always wanted to dabble in graphic design but didn't want to learn or pay for complicated software. It really has created a lot of amazing opportunities and I can confidently say that I would have never started my own graphic design endeavors without it.
Because of Canva, I've designed books, made money from e-commerce stores, built websites, thrived on Pinterest, and made a lot of neat things for friends and family.
You saw that a couple of times during this post I mentioned that some of Canva's Pro features could have been offered for free. Now, I don't know a lot about software development, so that may not be true. But, regardless, the fact that Canva offers ANYTHING for free is amazing. Even Canva's free version is something I would pay for. That's how much I love and am impressed with what Canva is doing.
Seriously, it has turned every day people like me into successful designers, which is priceless.
Let's be clear – I don't want Canva's free version to go away. If it did, a lot of people who want to dip their toes into the waters of graphic design may not want to pay to do so. We could lose a lot of great future designers if that happens.
The amazing thing about Canva is that it's really powerful, but not too powerful. Any professional designer would know and use the Adobe suite of products, but Canva is powerful enough to meet the needs of a lot of people. There are a lot of people doing amazing things with Canva as a full-time job. At the same time, there are complete beginners who are taking advantage of Canva's easy-to-use interface to experiment with graphic design.
To sum up, I believe that Canva's program is so amazing that they could justifiably charge all of their users for it. That said, Canva is doing a great thing for the design world by offering a free version of their platform that gives all of us a no-barrier way to dabble in design.
Is Canva Pro Worth It?
Heck yes! If my feelings about Canva Pro haven't been clear up until now, let me clearly state that I think:
Canva Pro is an amazing investment.
I've tried a number of design programs and this is the only one that I have fallen in love with. Even just looking on the dashboard you can tell that Canva isn't a clunky design program with little curb appeal. Instead, it's an easy-to-use platform packed with millions (literally) of amazing resources and tools.
Each year, I'm happy to pay for my Canva subscription because I know that I'm getting every single penny's worth plus more. I totally understand if you aren't ready to jump on board the Canva Pro train though. Especially as artists, money can be tight and $119 isn't nothing. Luckily, Canva is so confident that people will love their Pro plan that they offer a free trial of it. This means that you can take all of these amazing features we've just talked about and give them a test drive to see if Canva Pro is really right for you.
During your free trial, keep track of how often you're using the Pro features. How often do you make transparent pngs? How often do you resize your images? Think through your design needs and get a sense of how often you would use Canva Pro's features on a monthly basis. Do you use its features enough to justify the price? If so, you've just expanded your design capabilities! If not, just unsubscribe before your trial is up and you won't have lost anything.
Go ahead and give it a try! Whether it ends up being the right program for you or not, at least you'll understand all of the fuss everyone is making about how wonderful Canva is.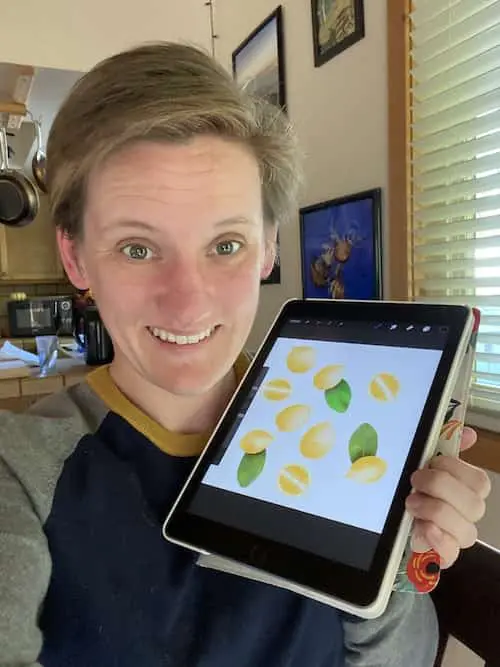 Diana has been an artist for over 26 years and has training in drawing, painting, digital drawing and graphic design. Diana's latest obsession is digitally drawing with Procreate and creating t-shirt designs with Canva. Diana has experience selling her art across a number of platforms and loves helping other artists learn how to make money from their art as well.