Print on demand isn't limited to "print." There are a few print on demand companies who do embroidery as well. Offering embroidered products in your print on demand store can open up a whole new world of design and product options that you might not have even thought of before.
Embroidered products can help your store stand out from the crowd, and entice new customers that are looking for embroidered work. Embroidery feels more upscale than traditional printing, yet you can achieve this upscale look with the typical print on demand providers that you would normally use.
That said, starting to offer embroidered products in your print on demand store can feel intimidating. The first time I sold my first embroidered product, I held my breath as Printful fulfilled it. I braced myself for a disaster. I was sure I had done something wrong and that my customer would receive a jumble of thread.
What happened instead? Well, that embroidered tennis visor went on to sell over and over again to a lot of happy customers. I even got reviews praising its quality. Thank you, Printful!
Even though embroidery can seem like a scary territory to jump into, you'll be happy with the result. The print on demand companies on this list will make your embroidery journey easy, while you sit back and watch the money roll in.
Let's dive into the best print on demand companies for embroidery. Make sure to read until the end because we'll be talking about common pitfalls that artists often face when getting started with print on demand embroidery.
This post may contain affiliate links, which means I may earn a commission if you decide to purchase through my links.
1. Printful
Printful offers embroidery for a number of products, including shirts, jackets, aprons, towels, and more. Choose between flat embroidery, 3D puff embroidery, or a combination of both for certain products. Then, choose your colors.
Printful is the company that I used for my embroidered products. As you'll notice, they provide the most detail about their embroidering process, and offer the most options for how you'd like your embroidery to be completed. Yay, choices!
They also produce high quality products. Embroidery aside, Printful is known for producing great products.
For embroidery specifically, I've seen great results, both from my own store, and from others.
Here are the embroidery products that Printful currently offers. For the most up to date selection, sign up for a free Printful account and scroll through their catalog.
-Shirts (basic and polo, adult and youth)
-Jackets
-Sweatshirts and hoodies
-Beanies
-Baseball caps
-Snapback and trucker hats
-Bucket hats
-Visors
-Towels
-Aprons
-Fanny packs
-Backpacks
-Bibs
-Joggers
Aside from having a wide range of products, Printful also gives you a choice of embroidery types. Here's what they offer:
-Flat embroidery
-3D puff embroidery
-A combo of flat and 3D embroidery
The choice of embroidery you'll have will depend on the product.
It's also important to keep in mind that 3D puff embroidery doesn't work well for really detailed designs. It's best for larger design elements that you apply to your hats.
Printful produces high quality embroidered products. Part of that has to do with their own production procedures, while the other part of that has to do with the knowledge they make available to their sellers.
If you plan to sell embroidered products through Printful, READ EVERYTHING they have to offer. If you do, you'll be setting yourself up for the most success possible. As we'll talk about later, embroidery is a completely different ball game from printing.
You need to take the time to understand how embroidery works and how you can make your designs optimized for the embroidery process.
You can find Printful's guide to embroidery here. It will tell you everything you need to know to be successful with Printful's embroidered products.
2. Printify
Printify offers embroidery for a number of products, including polo shirts, jackets, zip hoodies, hats, beanies, and tote bags. For all of their products, Printify uses a flat embroidery technique. Then, choose your colors.
Overall, Printify is a great PoD provider. I personally used them a lot in conjunction with Printful. If you want to learn more, read my full guide on how to use Printful and Printify together.
If you're not familiar with Printify, here's a quick overview on how they work. Instead of having their own production facilities like Printful, Printify serves as a middleman between you and a large number of production facilities.
This is really nice because it allows you to comparison shop based on price and location.
Here are some of the products they offer:
-Jackets (men and women)
-Tote bags
-Zip hoodies
-Polo shirts (women)
-Beanies
-Baseball caps
To stay up to date on all of the embroidered products that Printify has available, sign up for a free Printify account.
Once you're ready, read all about Printify's embroidery process here.
3. Gooten
Currently, Gooten offers embroidery on hats by invitation only. Once approved to use their embroidery options, you can create embroidered beanies, baseball caps, and snapbacks in 19 different colors.
Like I mentioned, at the time of this writing, Gooten is just starting to roll out their embroidered products. If you're interested in getting early access, you can contact them and ask for approval. That said, you might be reading this in the future when Gooten's embroidery process is established and open to all of their customers. Simply check their website to find out.
Once you're ready to create embroidered products with Gooten, be sure to read their guidelines here.
Offering embroidered products in your PoD store is a completely different beast than typical print products. Here are some things you'll want to keep in mind in order to avoid pitfalls and mistakes with your embroidered products.
Create Your Designs Specifically for Embroidery
Embroidery is more complicated than printing, which means that your designs may not translate well between the two processes. Don't be tempted to simply take one of your print designs and try to turn it into an embroidered design.
In order to have the best chance of success, you need to create your designs with embroidery in mind.
Overall, the best embroidered designs are:
-Simple
-Large elements
-Only a few colors
-Uncomplicated
With embroidery, keep it simple.
Read Your PoD Partner's Embroidery Guide
In each of the sections above, I've linked to each PoD partner's embroidery guide. This is your North Star when creating great embroidery products.
While there are universal best practices for embroidery, you'll want to read your PoD partner's specific guide so that you're prepared for the nuances of their unique techniques and embroidering technology.
Again, here are the 3 guides for the companies we've discussed:
–Printful's Embroidery Guide
–Printify's Embroidery Guide
–Gooten's Embroidery Guide
Be Prepared for Digitization
When you upload your design to an embroidered product, it has to be prepped for the embroidery machines. This process is called digitization.
Be prepared for the digitization process to take a few days and come with a fee. Luckily though, you only have to do it once per design. Once your design is digitized, you can usually apply it to multiple products across your print on demand platform.
You can't download your digitized file and use it with other print on demand providers though so, if you switch platforms, you'll need to go through the digitization process again.
Order Samples of Your Embroidered Products
There's a learning curve with designing embroidered products. Use this as an excuse to buy yourself a gift and order samples of your work.
Not only will this give you confidence in how your designs will turn out, but it will also get you through the one-time digitization process. That way, your customer doesn't have to wait an extra few days for that to happen.
Embroidery is becoming more and more common within print on demand platforms, giving sellers a unique opportunity to increase their online product offerings. There's no doubt that more companies will be added to this list of best print on demand companies for embroidery in the future!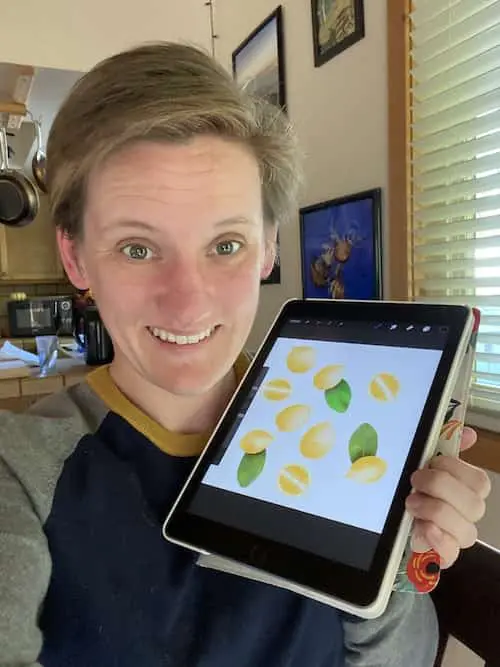 Diana has been an artist for over 26 years and has training in drawing, painting, digital drawing and graphic design. Diana's latest obsession is digitally drawing with Procreate and creating t-shirt designs with Canva. Diana has experience selling her art across a number of platforms and loves helping other artists learn how to make money from their art as well.