Maybe you're an art student lugging your supplies from your room to the studio; maybe you're a nature artist who enjoys getting creative out in the forest; maybe you're having an art party at a friend's house and need a way to transport your art supplies from one house to another. No matter how amazing art is, one of the downsides is making sure you can carry all of the supplies that you need.
When carrying your art supplies, get different cases for every different art medium you have. It's also important to reorganize your supplies every month and break them down into travel size portions.
Before we dive into my top recommendations for art carrying cases, let's talk about some general tips you should keep in mind as you organize and carry your art supplies.
This post may contain affiliate links, which means I may earn a commission if you decide to purchase through my links.
Use Different Cases for Different Mediums
If you have pencils, paints, watercolors, pens, erasers, and scrapbooking materials, don't keep them all in one carrying case. They probably wouldn't fit anyways, depending on how many art supplies you have.
When it comes to carrying our art supplies, we often fall into the trap of thinking that we're high school students lugging all of our textbooks from class to class. Science, History, Algebra; they all need different books. But, unlike high school, it's not like we're scrapbooking one minute, painting another, and then finishing up with pencil drawing.
Have separate carrying cases for the different art mediums that you own. Before you set out to art class or an art party, only grab the carrying case that holds the specific art supplies you'll be using.
This will drastically reduce the amount of stuff you have to carry and sift through before you get started with your art projects. It will also make it easier for you to keep your supplies organized and clean as time goes on.
The carrying cases on this list are multi-purpose bags that can hold a lot of different supplies. They aren't specific to each type of art tool you may own. I've written an in depth article about all of the great organization solutions you can use for pens, pencils, paints, paint brushes and more.
Check it out to learn how to organize each of your materials as needed (did you know that pens need to be stored in very specific ways depending on what types of pens they are?). Then, come back to this list and grab one of the multi-purpose carrying cases that you can throw your pencil bags and paint boxes into.
Re-Evaluate What You're Carrying Every Few Months
We all have bags, junk drawers, closets, and garages that become jumbles of mess and chaos. Eventually, so much stuff accumulates that organizing all of it feels like a full day project. Don't let this happen with your art supplies.
Dried out markers, stubby pencils, worn out erasers. Clear them out REGULARLY.
Promise yourself that you'll clean out your art bag every month. If you don't, you'll end up carrying a lot more than you need and will be battling with a mess every time you sit down to do art. That's not fun, or inspiring. Make sure you keep your carrying case clean on a regular basis.
Make All of Your Art Supplies Travel Size
Don't lug around huge paint tubes, thick stacks of paper, and full sets of pencils. When you organize your carrying case for your art supplies, make them "travel size" as much as possible. Squeeze some paint into smaller tubes, or prepare your palette ahead of time. Instead of bringing your entire drawing pad, only bring a few pieces of paper. Leave your 200+ set of colored pencils at home and only bring the colors you'll need for the project you're working on.
If you can make your art supplies smaller, you'll save yourself the hassle of lugging around everything you own.
As you can see, the moral of the story when it comes to carrying your art supplies is limiting what you bring with you and being intentional about what you actually need. Yes, carrying art supplies can be a HUGE hassle if you're lugging around every single pencil and paint brush that you own. But, if you're able to reduce, consolidate, and separate your art supplies, you'll have a much easier time carrying them from place to place.
Now that we've talked about the basic principles you should keep in mind when carrying your art supplies, let's do a deep dive into some of the best cases, boxes, and storage units that will make your traveling art life MUCH easier.
Transon Art Portfolio Case Artist Backpack Canvas Bag
This Transon bag isn't just a great way to carry your art supplies, it's also super hip and stylish. I mean, look how awesome it looks!
Aside from being aesthetically appealing, this Transon bag is really well-made for art supplies. The main compartment is 24"x18", which means that it can hold a large pad of paper, canvas, or paint palette. It also has a lot of smaller pockets that make it easy to separate your supplies and store them where you can easily assess them. This Transon bag can be worn as a backpack for hands-free carrying. It also has handles that will turn it into a briefcase.
Given the inexpensive price, this Transon bag is a STEAL given everything it can carry.
Check out this Transon bag on Amazon!
ArtBin Sidekick XL Carrying Portable Art & Craft Organizer
If you'd prefer a plastic carrying case, this ArtBin Sidekick has a lot going for it. It has a large opening at the bottom that measures almost 17" long and 12" tall, which is great for storing your larger paint tubes, palettes, and brushes. It also has a removable tray at the top that you can use to store any smaller art supplies and things you'll need while working on your project. Lastly, it has small compartments within the lid that you can use to store any odds and ends that would get lost in the larger compartment.
Check out this ArtBin on Amazon!
Creative Options Crafters Train Case
Look how sleek and shiny this Creative Options case is! It's also extremely sturdy, which makes it a great choice if you want a case that will keep your supplies safe through every type of art adventure you can imagine. It even comes with a lock and key in case you need extra security.
When you open up this case's steel jaws, you'll find 4 auto-open trays that fan out in a beautiful display to showcase all of your art supplies. When you aren't gazing lovingly at your art supplies in this beautiful case, you can quickly find anything you need. Paints, pencils, pens; they're all right there where you need them. This Creative Options case measures 11.25" long and 9.5" tall, giving you more than enough space for all of the supplies you need.
Check out this Creative Options case on Amazon!
Welldeal Heavy Duty Art Portfolio Carry Case Bag Backpack
Measuring 19" long and 26" tall, this Welldeal art backpack can hold your big art projects, as well as all of the supplies you'll need to complete them. Similar to the Transon art bag, this bag can be worn as a backpack or carried as a briefcase. Given that it's so large, it has great supporting straps that you can use when you're wearing it on your back. As you can see, there are a lot of different pockets of various sizes that you can use to carry any art supplies you need. I especially like the round pocket for storing a paint palette.
Check out this Welldeal art backpack on Amazon!
1st Place Products Premium Art Portfolio Case
This 1st Place portfolio case is a home run choice if you're primarily looking for a great way to transport your canvases and papers.It clocks in at 36" long and 24" tall. It's padded to prevent any damage to your art as you're traveling and it's even waterproof if you find yourself transporting your art on a rainy day. Carrying canvases and paper is where this case really shines, but it does have an outside pocket for any additional supplies you might want to have on hand.
Check out this 1st Place Portfolio on Amazon!
ArtBin 3 Art Supply Box Portable Art & Craft Organizer
To round out our list, we're looking at this awesome option by ArtBin. Similar to the Creative Creations option, this ArtBin supply box has 3 trays that fan out into a beautiful display of all of your art supplies.
What I love about this organizer is that it has a lot of different compartments of various sizes that give you a way to store all of your art materials, no matter how small. It also has some secret, snazzy storage spaces in the lid. Measuring almost 16" long and 9" tall, this ArtBin art supply box means serious business when it comes to organizing and transporting your art supplies.
Check out this ArtBin case on Amazon!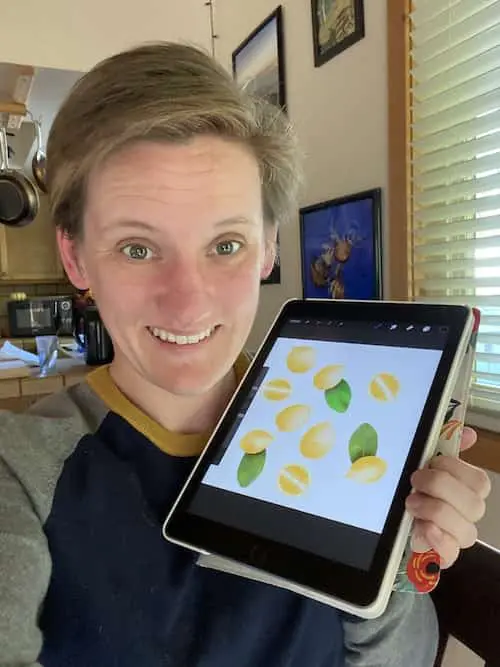 Diana has been an artist for over 26 years and has training in drawing, painting, digital drawing and graphic design. Diana's latest obsession is digitally drawing with Procreate and creating t-shirt designs with Canva. Diana has experience selling her art across a number of platforms and loves helping other artists learn how to make money from their art as well.