This post may contain affiliate links, which means I may earn a commission if you decide to purchase through my links.
Redbubble is a print on demand platform that's full of amazing art. Given how high quality the artwork is, it's easy to assume that Redbubble must have rules about who can sell their art on their platform. But, do they? Can anyone sell on Redbubble?
Redbubble is open to anyone who wants to sell their designs or art on their platform. It's free to use and easy to get started with. It's important that all sellers learn how to use the Redbubble platform properly and follow the general rules and etiquette related to selling art online.
Anyone who wants to sell their art on Redbubble can sell their art on Redbubble! I LOVE that this platform is so open and inviting to all of the creators that want to share their work, make some extra money, and be a part of the Redbubble community.
That said, just because this platform is open to all sellers does NOT mean it's free for all. If you actually want to be successful on Redbubble, you should take it seriously and be mindful of what you upload.
Learn the Redbubble Platform
To have success with Redbubble, it's important to learn the ins and outs of their unique platform so that you can tailor your designs and listings to the needs of Redbubble's platform and customers. Understanding how Redbubble works will help you set yourself up for success as a seller.
Redbubble is saturated. This is one of the downsides of allowing anyone and everyone to sell on their platform. Yes, it's a great platform for all, but that means we get ALL of the designs.
You will face competition when you start selling on Redbubble.
This is true of all print on demand platforms, not just Redbubble. For good reason, people have realized that print on demand is a great way to earn some money from their art, which have made these platforms popular.
Type the word "dog" into Redbubble and you get 1.7 million results. I'm sure that number is higher right now as you're reading this.
Don't let the competition scare you away though.
Niche down and focus on a subset of the dog category, instead of dogs in general.
Understand how to incorporate keywords into your titles and descriptions so that your listings are more likely to be found by more customers.
Know how to create high quality designs in high volume so that you have a great, large portfolio of designs that you can make money from.
I can't stress enough how important it is to learn how to use Redbubble. Let yourself fall into a rabbithole of information so that you can come out of it as an informed and well-prepared Redbubble seller.
Seriously, knowing the ins and outs of the platform will give you the tips and tricks you need to compete on this saturated platform.
If you're looking for a place to start your Redbubble learning, I highly suggest Skillshare. They have classes on starting a Redbubble store and growing it to success.
I LOVE Skillshare classes because they're easy to follow, concise, and jam packed with info. They don't leave you guessing about which steps you need to take next. You can check out all of Skillshare's Redbubble classes when you grab a discount to Skillshare.
Once you've learned the ins and outs of Redbubble, it's time to focus on creating high quality designs to sell. I have a full guide on selling stickers on Redbubble that's a great place to start!
Understand the Fees
In 2023, Redbubble introduced a new tier system. While this introduced some benefits, the main thing it introduced were hefty fees. If you're wondering if it's worth it to sell on Redbubble, I suggest reviewing these fees and seeing if they are a dealbreaker for you.
Personally, I was frustrated when I first learned about these fees. They seem exorbitantly high without good reason.
You can read more about these fees here to see if they are a deal breaker for you and your online merch business.
Make High Quality Designs to Sell on Redbubble
To have the best chance of successfully selling your designs on Redbubble, create high quality designs that standout among the large volume of designs that are offered on Redbubble's platform and gain traction with customers.
If you're already an artist or designer, you're probably already creating high quality work, or at least know how to do so.
If you're new to this space, that's ok! You can learn quickly. Especially with the help of great design tools like Canva.
I first got started making money on PoD platforms with the designs I created on Canva Pro. It's quick, easy, and seamless to create high quality designs that are ready to upload on Redbubble.
You can get started creating designs with the free version of Canva. It will totally work! That said, I love all of the options that come with Canva Pro, especially around seamlessly resizing my designs to meet Redbubble's file size recommendations.
Grab a free trial of Canva Pro and try it out for yourself!
Aside from offering high quality products for your customers, you can also offer high quality products for yourself! Redbubble lets you buy your own products, which can be a really fun option if you've always wanted to buy products with your own art on them.
Alright, remember how I said that Redbubble isn't a free for all? Well, we need to talk about that a bit more.
Follow the Rules and Don't Copy Other Artists
When you start selling on Redbubble, it's important to review their terms and follow all of their rules. It's also important to follow all of the general rules and etiquette of selling art online, such as copying the work of others.
Selling your art on Redbubble is really fun. That said, you need to remember that as soon as you upload your first design, you are a business owner. This means you need to deal with everything that comes along with that, from taxes to online etiquette.
It doesn't have to be scary; it's just something you need to do your due diligence with.
The ins and outs of running your own side hustle is beyond the scope of this article but, again, do your due diligence.
That said, there is one aspect I want to touch on because it drives me bananas. Copying the work of others. STOP. Just stop! Don't even consider it.
It's not only a really awful thing to do, it can also get you in trouble with Redbubble (and other platforms if you sell on other platforms). Just don't do it.
I know it can feel tempting when you're lacking creative inspiration and you just want to get designs uploaded to Redbubble. Yes, creating your own designs is harder, but it's the right thing to do. Your own designs are also more likely to be successful!
Do you think customers would rather buy a generic copycat design that they've seen all over the place, or a unique design that's innovative and indicative of the artist's true style? The second option, for sure.
It's also important to note that Redbubble has very specific rules about selling fan art. You can read about their Fan Art Partner Program to learn more about getting involved.
You will also want to very carefully review Redbubble's user agreement to make sure you're following all of their rules when selling on their platform.
I know the business side of things isn't as fun as the creating and making money side of things, but they do go hand in hand. Take some time to figure out the non-fun side of your new side hustle business so that you're ready for anything that comes your way.
Redbubble is an amazing print on demand platform that's open to all artists and creators that want to start selling their work on their platform. It's free to sign up for a Redbubble account, which makes it easy and fun to get started! Check it out and see if Redbubble is worth it for you.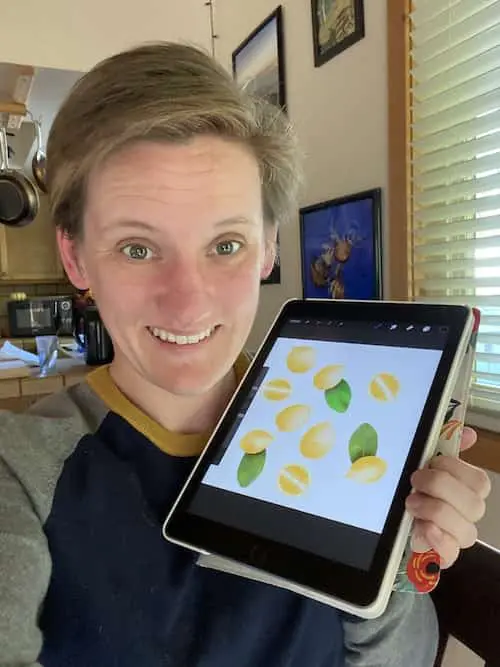 Diana has been an artist for over 26 years and has training in drawing, painting, digital drawing and graphic design. Diana's latest obsession is digitally drawing with Procreate and creating t-shirt designs with Canva. Diana has experience selling her art across a number of platforms and loves helping other artists learn how to make money from their art as well.