Having a nicely organized workspace in Procreate can streamline your art process and save you time as you bob between brushes, colors, and settings. If you found this post, you're probably wondering how you can make your Procreate organization even better by grouping your color palettes and making them easier to find.
At the time of this writing, there's no way to group your Procreate color palettes into separate folders or categories. The best way to group your Procreate color palettes is to move them so the palettes you use frequently are near the top of your list and related palettes are next to each other.
Maybe you have a lot of color palettes and get annoyed with scrolling through them all of the time.
Maybe you want to clean up your Procreate workspace and have a way to stash away all of your Procreate color palettes.
Maybe you just love organization and want to make your Procreate work as efficient as possible.
You might be disappointed that Procreate hasn't introduced folders or other organizational methods for their color palettes. It's actually something that users have been asking for for a number of years (source).
Maybe we'll see a new feature added in the future, but for now, we need to make the most out of what Procreate offers with their color palette menu.
Here are some ways that I do my best to group my Procreate color palettes as much as possible and organize them so that I can find them.
Make Procreate Color Palettes with Your Most Frequently Used Colors
Create Procreate color palettes that have your most frequently used colors in them. Put these palettes at the top of your palette list so that they're easily accessible whenever you open your palettes list. This will make it quicker and easier to switch between your most frequently used colors.
The number of color palettes you create, as well as the contents of them, will vary depending on the type of art you do.
Personally, I do a lot of black and white art in Procreate. Because of that, I'm constantly switching between black and white.
Even though black and white aren't unique colors that I'll struggle to recreate if I don't save them in a color palette, the few seconds it takes to double tap in the black or white area to select solid black or white slows me down a tad.
Fun fact: did you know that if you double tap your color wheel near black or white, it will snap to solid black or true white? Pretty neat trick.
To save myself a few extra double taps, I have a color palette at the top of my color palette list that's devoted to black and white. Those are the only two colors there.
I don't have any other colors on that palette because I don't want to accidentally hit any other colors. That's how quick and easy I want it to be to switch between black and white.
Below that color palette, I have a color palette full of some of my frequently used colors. For me, this palette looks like a random assortment of chaos, but these colors are ones I've needed quick access to across a number of different projects.
For my process, it works.
Which is exactly the point! Do what works for you.
Currently, we can't group Procreate color palettes into folders that we can neatly organize. But, it's still possible to group colors within a palette, so take advantage of that as much as possible.
Think about how you're grouping your colors themselves instead of how you're grouping your palettes. This may open up some new ideas of how you can put your all-star colors front and center in a color palette at the top of your list.
Rearrange Your Procreate Color Palettes
Tap and hold on one of your Procreate color palettes until it pops out of your palettes list. Drag your color palette to a new spot and let go when it's where you want it to be. Rearrange your palettes by frequency of use, color combinations, or other metric that works for you.
Whenever you import a new color swatch into Procreate, it will automatically appear at the bottom of your palette list. Whenever you create a new color palette from scratch, it will appear at the top of your palette list.
It's tempting to leave them there.
Even though it seems like extra work to move your palettes around, it could actually save you time in the future.
Let's say you import a new color palette that you use frequently. Because it imported at the bottom of your color palette list, you have to scroll through all of your other color palettes every time you need it.
To do this, tap and hold on your color palette until it pops out of your palette list. Drag it around your palette list until you find the new spot you want to put it. Then, let go and the palette will settle into its new home.
Instead, you could move it up to the top of your color palettes list and save yourself the trouble of scrolling to find it every time you need to.
On the other hand, let's say you create a custom color palette, from an image or from scratch, that you don't use very often. Because color palettes created from scratch are put at the top of the palettes list, this infrequently used palette is taking up prime real estate at the top of your palette list.
It could save you some hassle to move it closer to the bottom of your palette list since you don't use it very often.
In addition to organizing your color palettes by frequency of use, it can also be helpful to organize them by color families or themes.
For example, if I plan to make a design with metallic colors, I know that I can scroll to the metallic section of my palette list and see all of my metallic-based palettes together in a row. I have a guide on metallic Procreate color palettes if you're looking to add some shine to your art!
Maybe organizing your color palettes by frequency of use sounds appealing to you, or you prefer to organize them by color type. Or, maybe you like a mixture of both, or neither of them at all!
Whichever method you choose, the point is that you need to think carefully about where your color palettes sit within your Procreate palette list. Having them in the wrong spots could slow you down as you try to find a color.
Name Your Color Palettes Strategically
To help you find your colors more quickly within your Procreate color palette list, strategically name your palettes so you know their purpose and use. You may decide to name your palettes by project, color family, or more.
I don't personally obsess over the names of my palettes, but I know that strategic color palette names can be important for some artists.
For example, maybe you've created a specific color palette for a specific project. Instead of leaving it "Untitled," name it so that it's easily associated with the project it refers to. This can save some headache and searching when you need it later.
This isn't a grouping strategy per say, but it can help you think more critically about how you use your palettes and find new solutions for organizing them.
Until Procreate comes out with a feature for grouping color palettes in folders or categories, we need to group things the best we can. This can involve rearranging our palettes and our colors in a way that makes sense for the type of art we create.
At the end of the day, create a palette organizational system that makes your Procreate life easier and more fun!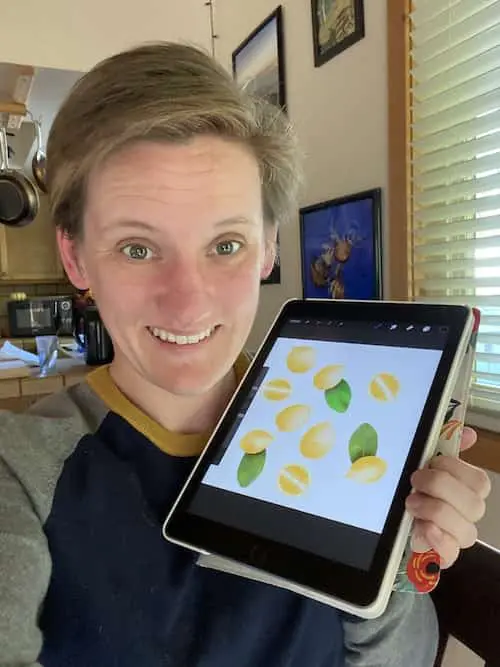 Diana has been an artist for over 26 years and has training in drawing, painting, digital drawing and graphic design. Diana's latest obsession is digitally drawing with Procreate and creating t-shirt designs with Canva. Diana has experience selling her art across a number of platforms and loves helping other artists learn how to make money from their art as well.