It's a big disappointment to spend hours on an embroidery project, just to have the colors run when you wash it. Whomp whomp. If you've run into this disaster, your embroidery thread wasn't colorfast. So, how do you make embroidery thread colorfast?
There's little you can do yourself to make embroidery thread colorfast. The best solution is to buy thread that claims to be colorfast. This will give you the best chance of having bleed-free embroidery threads. Another great precaution is to pre-wash your embroidery thread in water and vinegar.
If you plan to get your embroidery thread wet, it's REALLY important to think about its colorfastness.
As far as colorfastness is concerned, there are things you want to think about before you purchase your embroidery thread to begin with.
Then, once you have your embroidery thread, there are steps you can take to know how prone your thread is to bleeding, prevent bleeding, and maximize your colorfastness.
There are not a lot of ways to make your embroidery thread colorfast yourself, nor would you really want to. There are a lot of options for colorfast embroidery thread that will ease your work and stress around bleeding.
Let's dive in!
This post may contain affiliate links, which means I may earn a commission if you decide to purchase through my links.
Buy Colorfast Embroidery Thread
The best way to make your embroidery thread colorfast is to buy embroidery thread that claims to be colorfast from the outset. While there can still be bleeding issues with colorfast embroidery thread, buying embroidery thread that claims to be colorfast will give you a big leg up.
Reduce your worries as much as possible by buying embroidery thread that claims to be 100% colorfast and has a good track record of it. Read reviews to see how well their colorfast claims actually live up to reality.
For example, DMC claims that their embroidery thread is colorfast (source). They also have good reviews in relation to this issue on Amazon.
Trusting a company's website and product reviews isn't a perfect guarantee, it's better than nothing. It's surely better than buying embroidery thread that says it's not colorfast and doesn't have good reviews.
Here are just a few of the brands that claim to sell colorfast embroidery thread:
These are just 4 of many of the colorfast embroidery floss options out there. Whichever brand you prefer, just make sure that it claims to be colorfast. If you buy an embroidery kit, make sure to read the description.
If you're worried about your embroidery thread colors bleeding and running, it's really important to buy colorfast thread. This is the best thing you can do.
Ideally, your colorfast embroidery thread will indeed be colorfast and you won't have any issues with color bleeding and running when you wash your embroidery projects.
That said, nothing's perfect and you don't want to take any chances that the embroidery project you've worked so hard on will bleed and run in the wash. Especially when you're learning embroidery for the first time, you don't know what you don't know. Taking the time to make sure your threads are ready to use is important.
In this next section, we'll talk about testing your colorfast threads for bleeding. After that, we'll talk about ways to preserve your colors if your colorfast test didn't go as expected.
Pre-Soak Your Embroidery Thread to Test for Bleeding
Pre-soaking your embroidery thread before using it can show you how prone your thread is to bleeding and running. This will show you how colorfast your embroidery thread actually is so that you can be prepared before completing your embroidery project.
Luckily, pre-soaking embroidery thread is easy. Now, I don't mean washing. This is soaking in a bowl.
Mix 8 ounces of cool water with 1 tablespoon of vinegar. Let your embroidery thread soak in this mixture and watch for any colors that leach from it (source).
Do not use hot water. This can cause your colors to bleed more than they would have otherwise.
If your water stays clean and clear, you're good to go! Your embroidery thread is color fast.
If your water ends up colored, you'll want to evaluate how much color leached into your water and the amount you plan to wash your embroidery project in the future before you decide whether you want to use the thread or not.
There's a myth that this process of soaking your embroidery thread in water and vinegar will help "set" your colors (source). Though this isn't true, pre-washing is still a great way to test whether your embroidery threads are colorfast or not.
So, we've talked about buying colorfast embroidery thread and testing whether this thread is actually colorfast or not. But, is there actually something you can do to increase the colorfastness of your embroidery floss?
Apply a Transparent Colorless Extender Very Carefully and Per Instructions
If you're having issues with bleeding embroidery threads, it's possible to use a colorless extender on your embroidery threads to help preserve their colors. It's important to follow the directions carefully and apply it to a test project first.
To be honest, if I have embroidery thread that's bleeding like crazy, I'd rather get new embroidery thread than going through additional steps to preserve the colors.
Finding a brand of embroidery thread that you can trust to be colorfast is going to be your best safeguard against bleeding colors.
That said, this method can work for preserving your colors, if needed.
Textile colorless extenders are used as a fixative on fabrics, but can also be used to set the colors in your embroidery projects (source).
As seen in the video below, they can also be used on embroidery projects. In this example, colored pencil was used on an embroidery project and the colorless extender was used to set it and protect it from smudging.
If you plan to use this method, it's REALLY important to follow the manufacturer's guidelines. You don't want to mess this up.
It's also REALLY important to do a test run. Use an embroidery project you don't care about and experiment using the colorless extender on it. Make sure you are familiar with using it and you know what the final result will look like.
Colorfastness is an important quality of embroidery thread. Know where you can buy colorfast embroidery thread and how to test it for bleeding. If you're comfortable with colorless extenders, that can be an extra source of protection as well.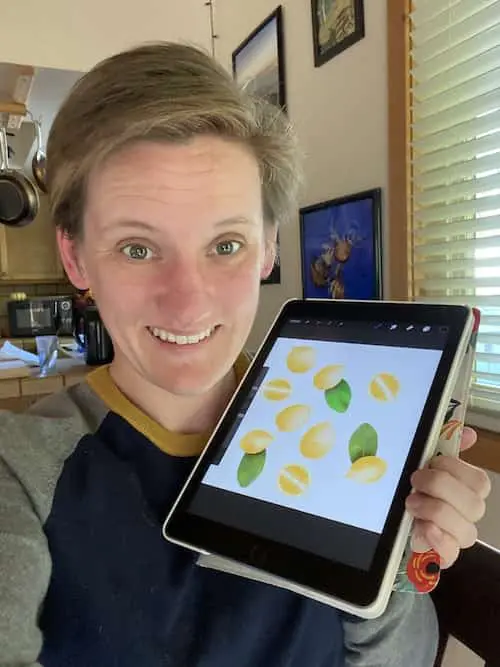 Diana has been an artist for over 26 years and has training in drawing, painting, digital drawing and graphic design. Diana's latest obsession is digitally drawing with Procreate and creating t-shirt designs with Canva. Diana has experience selling her art across a number of platforms and loves helping other artists learn how to make money from their art as well.