Desygner can easily get overshadowed by behemoths like Canva, which is a shame. For less than half the monthly price of Canva, Desygner offers so many amazing features that make it a key player in the online design space.
Desygner is an online design program that has a lot to offer for anyone creating posters, cards, social media posts, logos, and any other type of print or web asset. They offer templates, royalty-free images, illustrations, vectors, fonts, and more that make the design process quick and easy.
When I heard about Desygner, I was skeptical. Honestly, it looks like a strange Canva clone. I almost closed my browser and moved on.
But then, I decided to give it a chance and was happy I did. Despite its similarities to Canva, there are some unique qualities to Desygner that make me keep coming back to it.
One of them is the PDF editor, which we'll talk about in more detail later on in this review. It's incredible and something I haven't seen anywhere else.
The price is also something that made me do a double take. Since, like it or not, our budgets matter, let's begin this review by talking about what it will cost you to use Desygner.
Desygner's Pricing
Desygner has free, as well as paid plans. At the time of this writing, Desygner's Pro+ plan costs $59 a year when billed annually, or $9.95 a month when billed monthly. The Pro+ plan gives users increased access to templates, images, features, and more.
For all that Desygner offers, the price is great.
Compare Desygner's $59 a year to Canva's $120 a year. Again, I love Canva and always will be a Canva Pro user.
But, if the $120 for their Pro plan has always held you back, check out Desygner. Their $59 price point is more budget-friendly and gives you a LOT for that $59. They could easily raise the price and it would still be a good deal.
Canva's pricing is steep, so I'm so glad that Desygner is offering a valid alternative that is accessible for more users.
If you want to take Desygner for a test run before you commit, you can. They offer a free trial, which lets you decide for yourself whether Desygner is right for you.
Alright, since I said you'll be getting a lot for your money with Desygner, let's actually dive into everything you'll get.
Desygner's Images, Illustrations, and Vectors
Desygner has a large library of images, illustrations, and vectors you can use for your designs. All plans include access to these assets, with the number increasing with their paid plans. Desygner's library of vectors is unique and something that not a lot of other programs offer.
Desynger gets a lot of its images from Shutterstock. Shutterstock is an image service you have to pay for, so it's a win-win and a budget-friendly choice to pay for Desygner and get access to Shutterstock images along with it.
When you scroll through their gallery, you'll see images relating to every topic, occasion, and subject matter.
If you're on the free plan, you'll still have access to images, but it will be a more limited amount than if you have one of Desygner's paid plans.
In addition to images, Desygner also offers illustrations and vectors. To be honest, I think Canva's illustrations are better. Canva's illustrations are out of this world and hard to beat. So, I don't fault Desygner for this. Canva is really a superstar in this area.
Desygner's vectors are where we need to pause and take notice. Vectors, unlike raster-based images, can be scaled to any size without becoming blurry or pixelated. Vectors can be hard to find.
Well, not anymore! Desygner has a library of vectors you can use. Having access to vectors is a big perk of using Desygner.
Desygner's Templates
Desygner has ready to use templates for cards, posters, brochures, business cards, logos, and more. All plans include access to these templates, with the number increasing with their paid plans. These templates can give you a great jumping off point for your designs.
I love to scroll through templates for inspiration. Even if I end up building my design from scratch, these templates can help me figure out the style and design I'm looking for.
In other cases, I choose a template, tweek a few things, and download my finished design a few minutes later. Easy peasy!
A lot of the template categories are ones you'd expect — logos, business cards, resumes, posters, flyers, etc.
Then, there are some awesome categories you wouldn't expect, but might just end up using a lot — vision boards, album covers, magazine covers, and book covers.
Look how cool the vision boards are! They also can serve as calendar templates.
Other services, like Canva, offer templates, so it's not a unique offering. Desygner has a vast library of templates though and, for the price, you get quite a lot of quality options to choose from.
Desygner's Fonts
Desygner has a varied selection of fonts you can use for your creations. Aside from their own fonts, you can also upload your own fonts, as well as pull from a large selection of web fonts. Desygner offers more than enough ways to find the perfect font for your design.
When you open a Desygner design right out of the box, you may not think they have a lot of fonts. The fonts are diverse and meet a range of stylistic needs, but there aren't a ton of them.
It's when you look at the options within the "Colors & Fonts" section of your "Assets" menu that you'll realize that Desygner has a lot to offer in the font department.
Firstly, Desygner lets you upload your own fonts. This isn't a unique feature, but it's very useful and something that I'm glad Desygner offers. Whether you purchase fonts from Design Cuts, or find free options elsewhere, you can easily upload them to Desygner for use in your designs.
What is unique about Desygner is the ease with which you can add a TON of web fonts to your font collection.
Within the "Color & Fonts" section, there's a small button that says "Web Fonts." If you click on that, you'll open what feels like an endless list of additional fonts that you can add to your library.
Desygner does a good job with fonts, giving you access to a wide array of fonts in different styles and making sure you can upload your own fonts for any gaps you may find.
Alright, so let's move onto one of my favorite Desygner features. This is something that makes this design program truly unique and SO incredibly useful.
Desygner's PDF Editor
Desigyner's PDF editor lets you upload PDF files and edit them as though they were designs you created with Desyigner in the first place. Elements can be added, and pre-existing elements can be moved, changed, deleted, or altered.
The PDF editor alone makes Desygner worthwhile.
I was shocked the first time I used it. I uploaded a PDF to my account, expecting for elements to be broken or things to convert incorrectly. Instead, my PDF felt like a design that I had built in Desygner from day one.
It didn't come over as a static image, or as a jumbled mess of elements, images, and pieces.
Every single element was detached from the others, with no mistakes. There wasn't one instance where the software couldn't tell the difference between elements and clumped them together.
All of the elements converted clearly and exactly how they were on the PDF.
In a matter of minutes, I was able to drag around different elements, add new ones, and basically overhaul the PDF in a way that I have never been able to do before.
I could even edit my existing elements, changing the text that was originally in my PDF and resizing the images.
To say that Desygner's PDF editor is impressive is an understatement. I don't know what kind of software they have that makes this happen, but I'm here for it. It's magic. I also get overly excited about things like PDFs, so take it for what you will.
You can use the editor even with the free version, so I definitely suggest checking it out. Even if you don't love PDF editing as much as I do, it will make your life easier, which everyone can get excited about.
My Desygner Verdict
Desygner is a great choice for those who want a budget friendly alternative to Canva. As a design program, Desygner has a ton to offer in regards to templates, images, vectors, and more. Their PDF editor is unique and a great solution for those who work with PDF files a lot.
Should you check out Desygner? Yes!
The Pro+ plan provides a lot more value than the price would indicate. There's a free trial, so you can get started with Desygner Pro+ for free.
You can also use their free program indefinitely, and you'll still get access to a lot of their great features and assets.
I was skeptical of Desygner when I first saw it. I'm a longtime Canva fan and have never found anything that could beat it for my needs. Not to mention that Desygner looks and functions a lot like Canva, which made me think it wouldn't be able to measure up.
Well, I was wrong! Yes, Desgyner is very similar to Canva, but it has a different assortment of templates, images, and fonts. It also has different features like the vectors that Canva doesn't have.
Given the price point for the Pro+ plan, Desygner is a real contender in the online design space.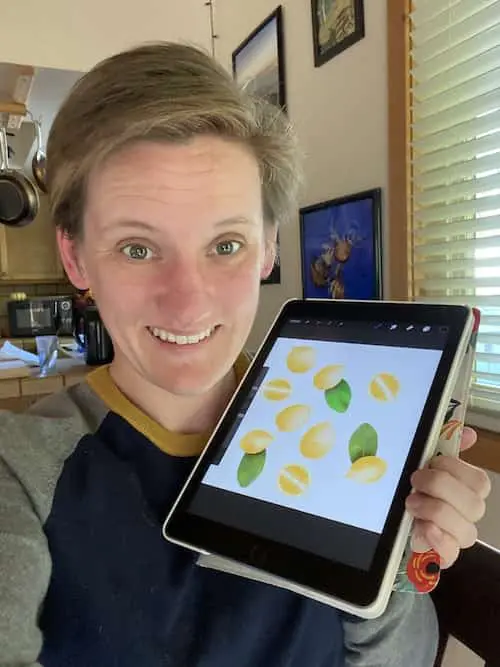 Diana has been an artist for over 26 years and has training in drawing, painting, digital drawing and graphic design. Diana's latest obsession is digitally drawing with Procreate and creating t-shirt designs with Canva. Diana has experience selling her art across a number of platforms and loves helping other artists learn how to make money from their art as well.