This post may contain affiliate links, which means I may earn a commission if you decide to purchase through my links.
Even if you have all of the essential digital drawing tools, you need the right accessories in order to make the best art possible. And, while you're at it, find a great gift for another digital artist in your life.
The iPad is my favorite digital drawing tool, mainly because of Procreate. It's a powerful drawing tool that many artists love. And, if you're a fan of the iPad and Procreate, you're probably a fan of the Apple Pencil too.
Here is my list of the best digital drawing accessories and digital drawing gifts for Apple users to take your art to the next level.
Let's start off with the iPad accessories and gifts and then move into the ones for the Apple Pencil.
1. Bellemond Screen Protector for iPad
For me, a matte screen protector more of an essential than an accessory. Yet, it still falls in the accessory category and can make a huge difference in your digital drawing life.
These screen protectors have a texture that makes your iPad feel like a piece of paper. While it's not an identical feel, it gets pretty darn close.
Instead of your stylus slipping around all over the place on your iPad, this screen protector gives you more friction and grip. It rivals the feeling of a traditional paper marking a physical piece of paper.
Recently, I've personally been using a matte screen protector from Bellemond, which I've been so happy with.
There is a possibility that Apple Pencil tips can wear down more quickly when using a matte screen protector, so pairing replacement tips with this screen protector can be a great gift for a digital artist.
A matte screen protector is a digital drawing accessory that gives a LOT of value for the money. Whether you're looking to level up your own digital drawing game, or need a gift for another artist, this screen protector is sure to please.
Find Bellemond matte screen protectors here on Amazon!
2. Articka Artist Glove for Drawing Tablet
If you get frustrated with your hand sticking to your iPad screen as you work, the Articka Artist Glove is for you. It not only reduces the friction between your hand and the screen, it also keeps your screen clean from your hand's oils and smudges.
Let me clear about something right off the bat because a lot of Amazon reviews complain about it – this glove does NOT stop unintentional marks from your hand. It doesn't even claim to do this in the description, yet a lot of buyers are upset about it anyways. The goal of this glove is to reduce friction and the dirtiness of your hand rubbing off on your screen, not prevent unintentional marks.
For what this glove is actually intended to do, it does it well and can be a really useful accessory.
Find the Articka Artist Glove here on Amazon!
3. Padded Spaces Prop n' Go iPad Pillow
Get comfy while you draw with this Padded Spaces Prop n' Go iPad pillow stand. It can be adjusted to different angles to make sure that your wrist is always in the right position as you work.
What I love about this pillow is that you never have to worry about awkwardly leaning your iPad up against anything or sit at a regular table just so that you have a surface to work at. Art is supposed to be relaxing, so you might as well make your setup relaxing too.
Find the Padded Spaces Prop n' Go iPad Pillow here on Amazon!
4. Fintie Universal Tablet Hand Strap
If you want a better grip on your iPad without having to grip at all, you'll love this Fintie Hand Strap. It gives you a firm hold on your iPad without stressing your hand.
It also serves as a sleek and subtle stand when you want to give your hand a break entirely. Attach this to your iPad case or your iPad itself to give yourself more positioning opens as you draw.
Find the Fintie Universal Tablet Hand Strap here on Amazon!
5. ProCase Portfolio Sleeve Case Organizer
If you're an artist who likes to work on the go, you'll want a carrying case that can hold all of your supplies, while keeping them safe. This ProCase Portfolio Sleeve has pockets for all of your charging cords, accessories, styluses, and even your iPad.
There's so much space in here that you'll struggle to fill it all. Aside from all of the space, what I love about this case is that it's tough. It has great shock absorption to protect all of your favorite digital drawing tools. This is a great gift for any fellow digital artists that are a little less than careful with their supplies.
Find the ProCase Portfolio Sleeve Case Organizer here on Amazon!
6. Ztotop iPad Case
When I got a new iPad, I was in analysis paralysis over finding a new case. Given the way that I draw, I wanted the edges to be flush with my iPad. This included the top, which became hard to find. A lot of cases have plastic Apple Pencil holders on the top, which is nice for a lot of users, but would have gotten in the way given how I flip my iPad around as I draw.
I also wanted a fully flat front, instead of those that have an accordion style that folds up as a stand.
I also wanted it to look good. I overthought, I know!
I ended up with a case I was really happy with though, so all of the overthinking paid off.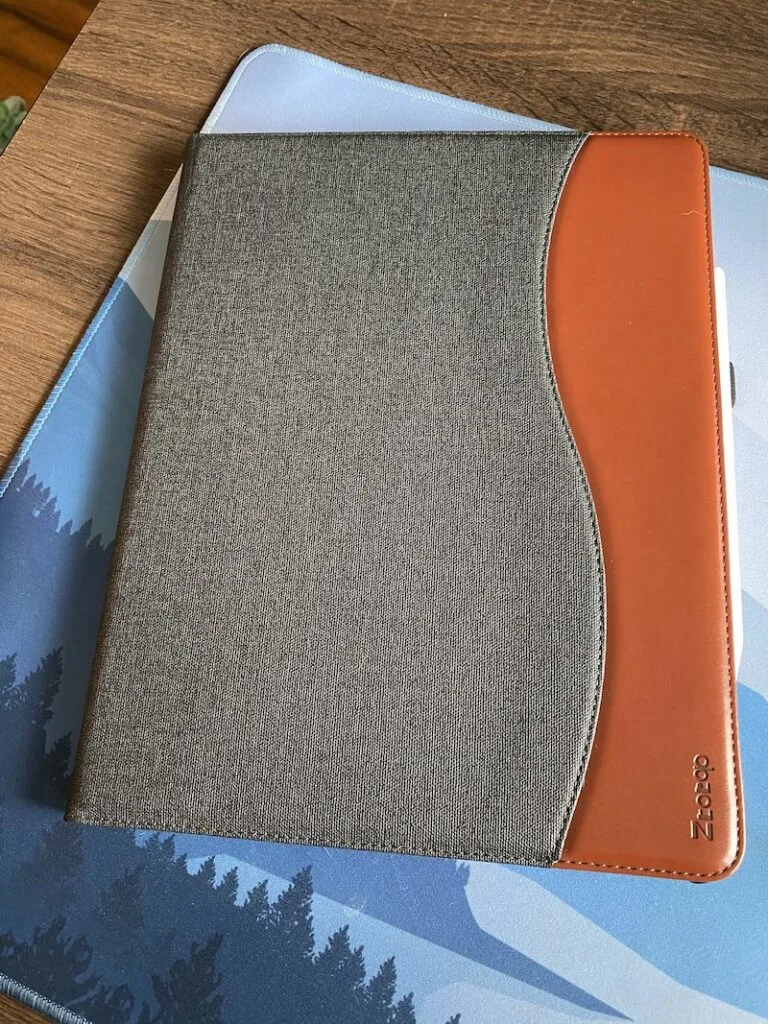 Everyone will have their own laundry list of things they need for their iPad case, so it can be a tricky gift to get someone else. But, if you're looking for a gift for yourself, or know what the artist in your life needs, this is a great case to look at.
Find the Ztotop iPad Case here on Amazon!
7. Zugu Case for iPad Pro
While I love my iPad case, I've also had my eye on this one. The only reason I haven't grabbed it is because of the Apple Pencil holder on the top. A lot of people seek out that feature though, so I thought that this was a great case to include.
This is a fantastic iPad case. It's durable, slim, and professional. It also has a lot of angles you can adjust it to in order to get the perfect position for your drawing.
Find the Zugu iPad Case here on Amazon!
Alright, now that we've covered some of the best iPad accessories, let's look at the ones for the Apple Pencil.
8. MoKo Apple Pencil Holder
Even the most organized artists are worried about losing their styluses from time to time. Especially if you have a pricey Apple Pencil, you don't want it disappearing on you. Luckily, there's an inexpensive iPad accessory that will save you a lot of money in replacing your stylus.
My older iPad doesn't have a way to attach my Apple Pencil to the top of it like my new one does. That's why this pencil holder has come in REALLY handy.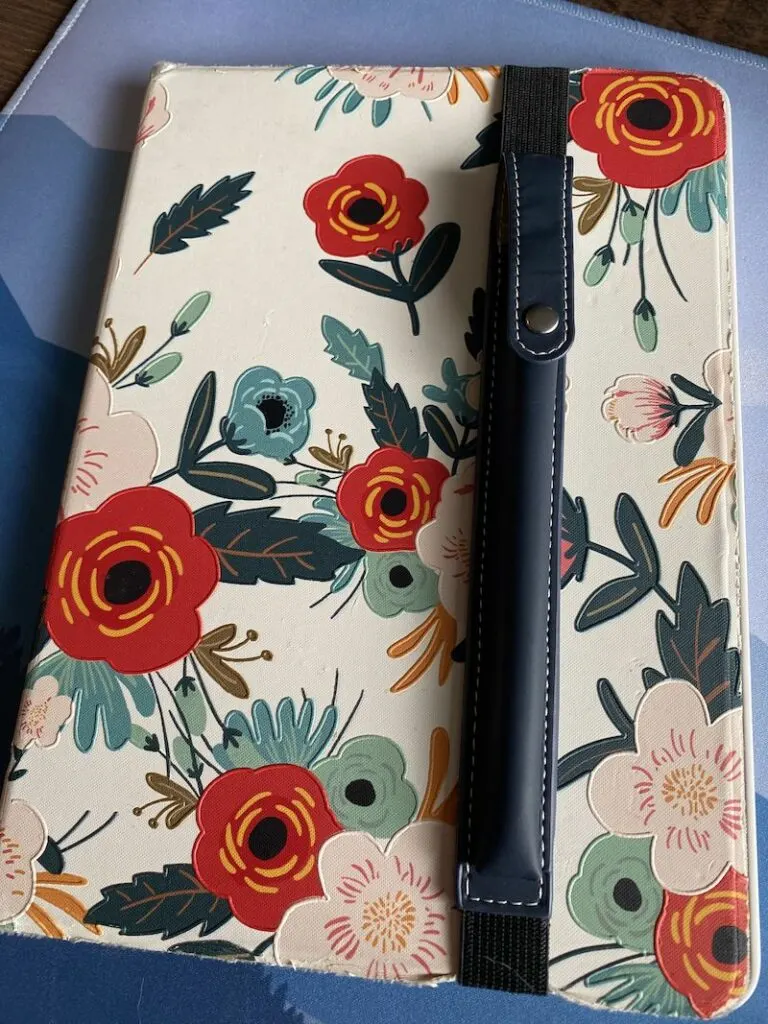 This pencil holder personally gives me a lot of security knowing that my Apple Pencil is always safe. This may not be the most fun accessory on the list, but it's practical and gets the job done.
Find the Moko Apple Pencil Holder here on Amazon!
9. Fintie Holder Case for Apple Pencil
Let's take Apple Pencil storage to the next level with this Fintie Case. Keep your Apple Pencil, headphones, charging cords, and even traditional pencils all in one place with this awesome carrying case.
This is the perfect digital drawing gift for an artist who loves to draw on the go. It's also perfect for anyone who doesn't want to scramble around the house trying to find all of their Apple accessories (isn't it amazing how many Apple odds and ends we all need and accumulate?!).
This case will make sure that your head is always on straight when it comes to finding the accessories that you need. It's an accessory that can organize your other accessories! Talk about a superhero of a digital drawing accessory.
Find the Fintie Holder Case here on Amazon!
10. Apple Pencil Charging Case
Even though you can charge your Apple Pencil in your iPad, it's not always convenient, especially if you have the 1st generation Apple Pencil. What if you want to charge both of your devices at the same time? What if there was a super sleek carrying case that doubles as a charging case that you can use on the go? Yeah, that sounds great.
This charging case will not only charge your Apple Pencil (it's compatible with both the 1st generation and 2nd generation pencils), it doubles as a great carrying case. It's like the charging cases for Airpods. They're functional, while also keeping you at full capacity.
But, also like the Airpods, you need to charge the case, so keep that in mind. If you already have one, or have meaning to get one, put this charging case on your wishlist of digital drawing accessories.
Find the Apple Pencil Charging Case here on Amazon!
11. AhaStyle Pineapple Apple Pencil Sleeve
Use your Apple Pencil in comfort while making it look like a cute and delicious fruit while you're at it. This AhaStyle Pineapple Apple Pencil Sleeve makes an adorable digital drawing gift for any fellow artists. Can you imagine the smiles you'll get when your recipient sees this?
Aside from being cute, this sleeve is made out of silicone and can increase the comfort you have while using your Apple Pencil. Cute, comfortable, stylish; sounds like a good choice to me.
Find the AhaStyle Pineapple Apple Pencil Sleeve here on Amazon!
12. Fintie Silicone Apple Pencil Grips
Apple Pencils are thin and sleek, which is amazing. But, sometimes, that can be a recipe for hand pain. If you find that you get tired or uncomfortable when you're using your Apple Pencil, try some grips to see if they'll make your drawing life more comfy.
I like these Fintie grips because they're supportive without being bulky. They give a little extra support without you having to change your grip entirely in an unnatural way. They're also cheap and come in a 2 pack. Who doesn't love that?
Find the Fintie Silicone Apple Pencil Grips here on Amazon!
13. Skillshare Membership
I've been a member of Skillshare for a LONG time and it's the first place I turned to when I started my own digital drawing journey. Honestly, I wouldn't have learned Procreate so quickly without it.
I know this is a "digital accessory," but it's arguably the best digital drawing accessory out there. I regularly take Skillshare classes that teach me digital art techniques that I didn't know.
A Skillshare membership makes a great gift for any digital artist who is looking to learn new things and up their skills. If that digital artist is you, grab a big discount on a year of Skillshare to check it out for yourself.
I have a post about my favorite classes for learning Procreate that should give you a jumpstart on your Skillshare journey.
14. USB C Hub 7-in-1 Adapter for iPad Pro
This adapter is perfect for iPad digital artists who love to be connected. This adapter comes with a headphone jack, an HDMI port, a standard USB port, an SD card reader, a USB-C data port, a USB-C PD port, and a USB 3.0 port.
If you're bummed by the lack of hookups and ports in your iPad, this adapter will fix that.
Note that this adapter is for the iPad Pro. Check the compatibility of this adapter with your specific iPad before purchasing.
Find the USB C Hub 7-in-1 Adapter for iPad Pro here on Amazon!
Whatever digital drawing accessories you end up getting for yourself, or as a gift for a fellow digital artist, make sure they suit your creative vibe and support your artistic needs.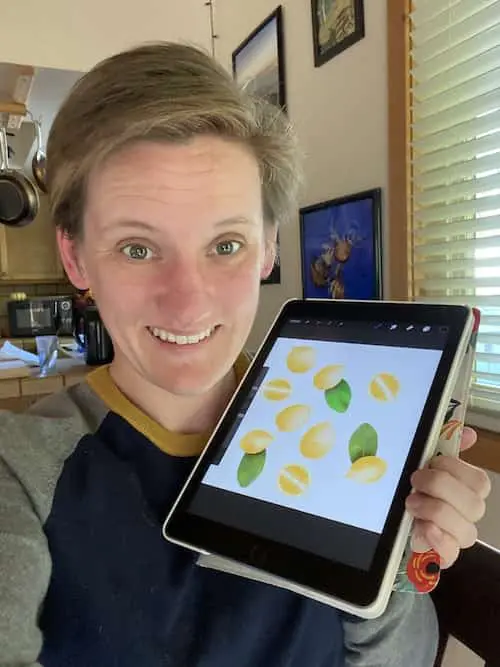 Diana has been an artist for over 26 years and has training in drawing, painting, digital drawing and graphic design. Diana's latest obsession is digitally drawing with Procreate and creating t-shirt designs with Canva. Diana has experience selling her art across a number of platforms and loves helping other artists learn how to make money from their art as well.