This post may contain affiliate links, which means I may earn a commission if you decide to purchase through my links.
Automatic updates can save you the time and mental energy of manually updating your apps every single time the developers release a change. Procreate has had some important updates in the past, and probably will in the future too. So, the key question is, does Procreate update automatically?
Procreate does update automatically if you have turned on automatic app updates within your iPad settings. The automatic app updates setting must be applied universally to all of the apps on your iPad. It's not possible to pick and choose the apps you want to update automatically versus manually.
Let's walk through the process of turning on automatic app updates within your iPad settings.
1. Open your iPad settings
To begin with, you'll want to open your general iPad settings. Look for the button with the gear icon. This is your Settings button. Tap on it to open it.
2. Scroll down and tap on "App Store"
There are a LOT of settings to sift through within your iPad settings. Scroll down until you find the "App Store" button. Tap on it to open it.
3. Toggle on "App Updates"
Within the "App Store" settings, scroll down until you see the "Automatic Downloads" section. Within there, toggle on the "App Updates" setting.
There you go! Whenever there's an app update, your iPad will automatically download it for you.
This brings up a VERY important question and consideration though.
Can You Update iPad Apps Manually?
In order to update iPad apps manually, open the app store and look for any pending app updates. If you have automatic app updates turned on, it will be universally applied to all of your apps. You can't choose to have some apps updated manually while others are updated automatically.
Automatically updating your iPad apps is an all or nothing game. You can't choose to update some apps automatically, while manually updating others.
This is a flaw, in my opinion, because there are some apps that are more important to me than others. If I had the choice, I would update Procreate manually, while letting the rest of my iPad apps update automatically.
I've never had a problem with a Procreate update thus far but, given how important Procreate is to me, I'd prefer to monitor the updates and be on the lookout for any possible bugs before initiating the update.
Alas, I can't choose to update Procreate manually while the rest of my apps update automatically, so I've chosen the option to have all of my apps update automatically. I don't want to go through the hassle of updating them manually.
I just cross my fingers whenever a Procreate update releases and hope that the automatic update works as it should.
Are Procreate Updates Free?
Once you've purchased Procreate, you will receive all future updates to the app. These updates are included with your initial purchase of the app, so they are free of charge and will not cost you any additional money.
At the time of this writing, Procreate costs $10. That's it! I've said it before, and I'll say it again, Procreate is a bargain. This makes it a great choice for beginning digital artists who don't want to spend a boat-load of money on a software subscription.
It's also a great choice for advanced digital artists who simply appreciate having a high quality option that doesn't eat into their budget.
Thank you, Procreate!
With that one-time $10 purchase comes all of the software updates that Procreate releases. When they released the awesome ability to create color palettes from images, that was provided to Procreate-users without any additional fees.
3D models? Yep! No need to purchase anything from Procreate to get that awesome feature.
Once you purchase Procreate, you will get all of the exciting updates they release.
What Update is Procreate on?
To check which update Procreate is on, check out their website at procreate.art or through the Apple App Store. Here you can find the most current version of Procreate, which will tell you whether your own version of Procreate is the latest version available.
If you have automatic updates enabled, your iPad will normally do a good job of keeping your apps up to date.
If you prefer to update your apps manually, simply open the App store and look for any available updates.
That said, if you want to be sure that you're up to date, you can cross check Procreate's website with your own Procreate app.
To check your own version of Procreate, navigate to your Procreate Gallery and tap on the word "Procreate" in the top-left corner.
This will open a screen that includes your current Procreate version.
Next, cross check that with Procreate's most recent version.
There are two ways to do this.
The first way is to look at Procreate's website, which can be found at procreate.art. This is Procreate's home base, so it will be up to date with the latest version.
The second way to verify your Procreate version is by checking the Apple App Store. Simply search for Procreate within the App Store and make note of the version number listed there.
Compare the version numbers you found on the Procreate website or in the App Store with the version number you found within your own Procreate app.
New Procreate updates can be exciting! Knowing when new versions are available can be a game changer for the features and effects available for your art. If you're ever unsure whether you're using the current version of Procreate, it only takes a few minutes to verify it and make sure you're using the latest and greatest version of Procreate.
If you want to learn more about taking advantage of Procreate's settings, check out these articles from Adventures with Art:
How to Reset Procreate's Default Color Palettes
How to Restore Deleted Procreate Files
Using Procreate to Remove the Background of Images or Art
How to Use Dark Mode with Procreate and Procreate Pocket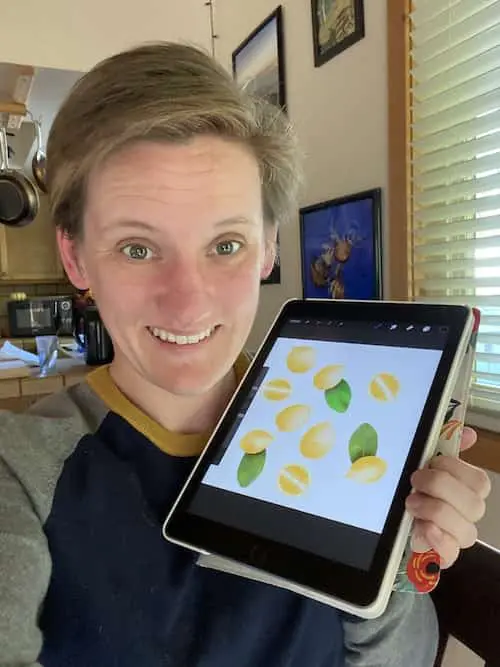 Diana has been an artist for over 26 years and has training in drawing, painting, digital drawing and graphic design. Diana's latest obsession is digitally drawing with Procreate and creating t-shirt designs with Canva. Diana has experience selling her art across a number of platforms and loves helping other artists learn how to make money from their art as well.