Embroidery hoops, embroidery threads, embroidery needles – they can get expensive! Especially when you're first starting out with embroidery and don't want to spend a lot of money experimenting with this awesome new craft, buying embroidery supplies at the dollar store can seem like an economical option.
Dollar stores often have embroidery products, but call your local dollar store to check their current inventory. You can also purchase embroidery products from dollar stores online, but be aware of high order minimums and the quality of the products you're buying if you plan to use them long-term.
Buying your embroidery products at a dollar store isn't as cut and dry as it seems. There are actually a number of considerations you want to keep in mind before you start stocking up on threads. Quality, number of options, price.
Yes, price. You would think price would be the simplest factor here. Everything's a dollar, right?!
Well, you have to consider what you're getting for a dollar. We'll compare the amount you get for a dollar at the dollar store versus other options when considering embroidery products. You may be surprised…
Let's dive in!
This post may contain affiliate links, which means I may earn a commission if you decide to purchase through my links.
What Embroidery Products Can You Get at the Dollar Store?
The selection of embroidery products offered at the dollar store may vary overtime. It's important to call your local dollar store to see what they have and check online dollar store websites if you can't find the embroidery products you're looking for in your area.
I usually have the best luck finding embroidery thread at the dollar store, but there are times when you can find other things like cloth, hoops, and needles.
Embroidery product selection can really vary from time to time and store to store, so see what's out there.
If you look at dollar store websites, be aware of product minimums.
For example, at the time of this writing, the Dollar Tree website has embroidery thread available. That said, the minimum order purchase is 24 units. That's a lot more embroidery thread than I need right now and a lot more money than I was planning to spend.
If you run into this issue, buying embroidery products you find at your local dollar store can be better than buying them from online dollar stores.
But, don't forget about price. Is buying your embroidery products from a dollar store actually cheaper? It's not as simple as paying a dollar for what you need. Let's talk about why.
Are Dollar Store Embroidery Products Actually Cheaper?
When considering dollar store embroidery products, it's important to consider the cost and value of what you're getting versus other options. For example, check the length of the embroidery thread you get from the dollar store versus the length you would get from other stores.
We'll talk about quality soon, but let's talk about quantity first. This mainly applies to thread.
When you buy embroidery thread from the dollar store, it's important to consider the amount of thread you're getting.
At the time of this writing, the Dollar Tree offers a 5 pack of embroidery thread. Each of these is about 2.6 feet. You get 5 colors, so that's a total of 13 feet. Again, the website requires you buy these in sets of 24 but, theoretically, you could purchase 1 set if it was being offered in a store.
But, is this actually a good deal?
If you look on Amazon, there are a lot of inexpensive embroidery thread packs. Many for under $10. This embroidery thread pack has 50 colors and each color comes with 26 feet of thread.
Pay $1 for 5 colors that are each 2.6 feet long? Or, pay a bit more and get 50 colors that are each 26 feet long? Even though you're paying more, the second option is a better deal.
There are also full embroidery kits on Amazon that will give you all of the hoops, needles, fabrics, and threads you need to do a project.
I got the embroidery kit below for about $10, which was a steal given that it came with 3 projects.
Now let's think about quality. Quality is not only important with embroidery threads, but also with items you plan to use for a while like hoops and needles.
Consider the Quality of Your Embroidery Products
No matter where you purchase your embroidery products, it's important to consider the quality of them and how long you plan to use them. It's cheaper in the long run to buy higher quality products that will last you a long time than to continually replace lower quality products that may break.
I've personally been happy with the quality of products I've purchased at the dollar store. That said, you really want to think about how much you want to invest into your embroidery hobby before you decide where you'd like to buy your supplies.
If you're just getting started with embroidery and want a low barrier to entry, I love that the dollar store offers that! You may like the quality of their embroidery products and keep using them in the future or, decide you want to move onto other brands.
Either way, consider where you are now in your embroidery journey, how much you can afford to spend, and what your long-term embroidery goals are.
Is it worth it to you to pay a little more for something you plan to use for the long-term?
Are you more interested in spending as little as possible to get started?
It's also important to consider the selection that the dollar store offers. While you may find an embroidery hoop at the dollar store, there won't be the same selection that you would find online or at your local craft store.
Are you willing to pay more to have a greater selection of embroidery products to choose from?
Are you ok with going with the flow of whichever embroidery products the dollar store has to offer at the time?
Do you plan to wash your embroidery threads? Are your embroidery threads colorfast?
As we covered in the last section, buying dollar store embroidery products may not actually be cheaper when you're considering supplies like thread that need to constantly be replenished.
Also, if you can't use your embroidery products over the long-term due to their quality, it can be more expensive to replace them than to buy higher quality products the first time around.
That said, you need to consider your own embroidery journey and whether you want a low, one dollar, barrier to entry to get started. If your local dollar store has embroidery products in stock, they can be fun to pick up along with your other dollar store purchases.
Once you grow into your embroidery hobby, you'll likely develop preferences for the supplies you use. Whether that's dollar store embroidery products or not, that's up to you!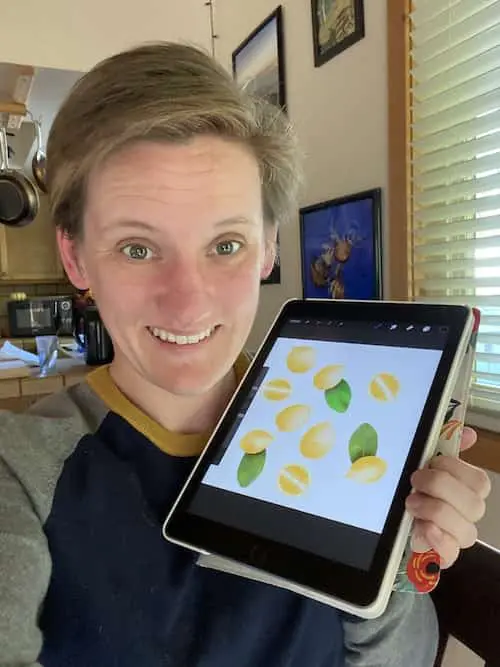 Diana has been an artist for over 26 years and has training in drawing, painting, digital drawing and graphic design. Diana's latest obsession is digitally drawing with Procreate and creating t-shirt designs with Canva. Diana has experience selling her art across a number of platforms and loves helping other artists learn how to make money from their art as well.