This post may contain affiliate links, which means I may earn a commission if you decide to purchase through my links.
Print on demand is a really neat way to run a business. No inventory; no upfront costs; little risk. All you need to do is worry about creating great designs. When a customer orders a product, it gets produced and shipped out without you ever needing to touch it. Pretty neat. Even if print on demand is a great business model, is it allowed on Etsy?
Print on demand is allowed on Etsy. All products on Etsy must be made and/or designed by hand. As long as sellers create their own designs and disclose the printing partners they're working with, they are allowed to sell them via print on demand on the Etsy platform.
You can read Etsy's full rules and policies here. Make sure to read them because you are ultimately the one responsible for running your own store in accordance with their rules.
If you're a print on demand seller, you're welcome on Etsy. Let's talk about Etsy's rules around their "handmade items" so that you understand where this debate comes from and what you need to do to follow them.
And as a quick side note, if you're looking to start your own print on demand company, I highly suggest that you check out Printful. I used them for the majority of my products in my own print on demand store and loved how they produced high quality products in a reliable and automatic way.
Sign up here for Printful today!
Etsy's Rules Around Handmade Items

Etsy states that all products sold on their platform need to be handmade, which means they need to be made and/or designed by the seller. If a seller has assistance making their products, that needs to be disclosed to buyers. Sellers also can't use stock photos and photos that aren't their own.
First and foremost, it's important to understand that print on demand IS allowed on Etsy. You won't get kicked off the platform just for having a PoD store, but you WILL run into trouble if you do shady things and break their rules.
It is your responsibility to read and understand Etsy's stated rules. They can change at any time and Adventures with Art is not responsible for any harm that comes to your store based on your own ability to keep up with and follow their rules.
I'm purposely not diving deep into their rules in this post because, YOU NEED TO READ THEIR RULES YOURSELF. Again, you can read Etsy's full rules and policies here.
Print on demand doesn't always get the best reputation among sellers on Etsy. And, to be fair, I completely understand why. That said, the world changes and the ways that we do business changes. We can't expect Etsy to be what it was when it first began. We're creative artists; we need to change with it.
Why Print on Demand has a Bad Reputation with Etsy Sellers
Etsy began as a haven for extremely handmade items. When I say "extremely," I mean that sellers were making every part of the products they were selling.
If you remember Etsy from those days, you'll realize how much it has changed.
Now, Etsy is a platform that, yes, still supports artists that make their products by hand, but the definition of the term "handmade" has gotten a little fuzzy.
As the Etsy platform began to grow (and then suddenly explode) in popularity, sellers wanted to be a part of it. All sellers, not just the sellers who offered handmade products.
Soon, the platform began to fill up with a larger diversity of products. And, some sellers tried to push the boundaries and neglect Etsy's rules about products being "handmade."
This is largely why print on demand gets such a bad rap.
You know how one rule breaker can ruin the game for everyone? That's partly what happened with Etsy and print on demand.
There are still sellers that disobey Etsy's rules all of the time. There are sellers who offer mass produced products that they had nothing to do with creating or designing. The seller market has become really saturated and it's just really hard to take down every store that's taking advantage of the system.
At times, print on demand can get caught up in the mix. Because print on demand sellers do not have physical products to take photographs of, a lot of us have relied on mockups. These mockups are pretty obvious when you see them on Etsy, which makes them seem like they aren't handmade.
And here's where the debate gets even more heated: "of course they don't seem handmade. You didn't even touch the product and can sell hundreds of them in a day. How is someone who makes quilts or jewelry ever supposed to compete?"
I totally get it.
Print on demand has made it a lot harder for sellers on Etsy who make their products by hand.
Even though I understand the debate, I believe print on demand has a valid place on Etsy. When sellers follow the rules, Etsy offers a platform for graphic artists to sell their work that wouldn't have been available otherwise.
Also, we don't give buyers enough credit. A seller that is looking for one of my mugs isn't going to suddenly be swayed by a handmade quilt, or vice versa. We serve different audiences.
These days, sellers need to focus on finding their audiences more than they did when Etsy was a young and unsaturated platform. Optimizing titles and tags, taking great product images, catching buyers with a persuasive description.
Getting organic sales still happens on Etsy, but it's harder than before. Not just because there are now print on demand sellers, but because there are more jewelry sellers, more quilt sellers, more everything sellers. The platform is saturated and sellers need a way to stand out.
Print on demand can be a great way to start an online store through Etsy. As long as you follow the rules, you'll be welcomed on the platform as a handmade artist. You're a designer. It's ok if you don't craft your mugs or t-shirts by hand. It takes work and skill to create amazing designs that customers want. Own that and be proud of it.
Go forth and create great art!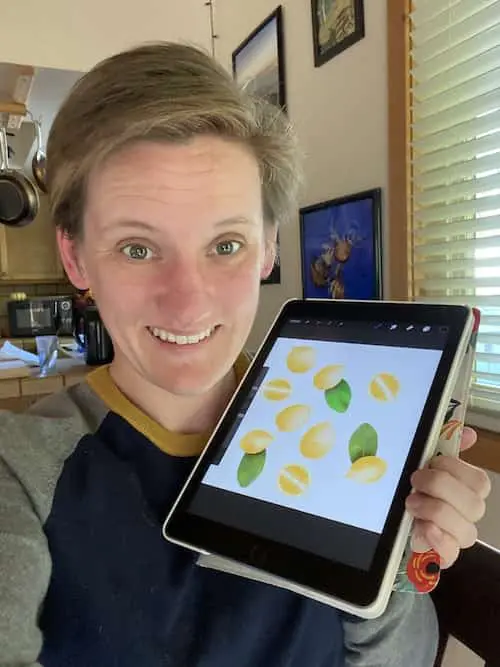 Diana has been an artist for over 26 years and has training in drawing, painting, digital drawing and graphic design. Diana's latest obsession is digitally drawing with Procreate and creating t-shirt designs with Canva. Diana has experience selling her art across a number of platforms and loves helping other artists learn how to make money from their art as well.