This post may contain affiliate links, which means I may earn a commission if you decide to purchase through my links.
Skillshare is an amazing treasure trove for artists of all abilities. Whether you're a professional artist looking for new tips and tricks, or your're a beginning artist who is diving into a new medium for the first time, Skillshare has something for everyone. That's why it has such an amazing reputation. But, do you really have to pay for it? Are there free classes on Skillshare?
Skillshare has hundreds of free classes that users can access without paying for a subscription, including fine arts, design, photography, and more. Skillshare's free classes contain a lot of content, but it's best to subscribe to a paid plan to take advantage of everything Skillshare offers.
If you just want to dip your toes into Skillshare, their free classes are a great place to start. In this post, we'll go over some of the great classes you can access for absolutely free.
That said, why not get the full Skillshare experience and get their premium content for free as well? Skillshare has an AMAZING offer for new users to get a big discount on a year of Skillshare. This will give you access to all of their premium classes.
I've learned SO much from premium Skillshare classes. Heck, I can thank Skillshare for my entire foundation in Procreate. Given all of the skills you can gain in a year, this discount is something you don't want to pass up.
So, this begs the question of how much Skillshare actually costs. How much value are you getting?
How Much Does Skillshare Cost?
Once you sign up for a free Skillshare account, they will direct you to a page that shows you Skillshare's current cost. Make sure to use this discount to get a deal on your first 12 months!
Does Skillshare Have a Lifetime Membership?
Skillshare does not have a lifetime membership plan. Subscriptions must be purchased on a monthly or yearly basis. Skillshare's yearly subscription gives you a big discount off of the monthly cost and is the best value for your money.
Ok, so let's say that you don't have the budget for a paid Skillshare plan and you're interested in a free plan. What can you expect? Let's dive in.
A Key Difference Between Premium and Free Skillshare Classes
Even though a premium plan will give you a lot more access to what Skillshare has to offer, this doesn't mean that their free classes aren't any good. In fact, they're pretty great.
That said, there tends to be one key difference between Skillshare's free classes and premium classes: the free classes tend to be shorter.
This isn't true in all cases but, overall, the free classes tend to be shorter than the premium classes. This means that they're either a briefer overview of a subject, or they only teach one technique. A premium class might dig deeper into a topic, or offer multiple techniques.
How to Find Free Classes on Skillshare
The key to making the most out of Skillshare's free classes is finding them in the first place. There are a few ways to go about it.
1. Directly follow their free classes link.
Skillshare has a url that leads you to all of their free classes: https://www.skillshare.com/classes/free
In reality, this is just a search for all of their classes with a filter for "free classes" applied.
This link is a great way to get an overview of all of the free classes Skillshare has to offer. It can be a little overwhelming though. Through this method, you're going to see all of the free classes, whether they be about marketing or watercolors.
This can make it challenging to sift through all of the options to find a class about a specific topic. That's where our next method comes in.
2. Do a search for the topic you're looking for and then apply the "free classes" filter.
Go to the general Skillshare site and type what you're looking for into the search bar. For example, try typing in drawing, illustration, web design, or Procreate. Once the search results pop up, look on the left hand side under "Class Types." Click on "Free" and you'll be all set.
Depending on your search, you could get up to a few hundred results. All of them are classes that are absolutely free. Pretty sweet, right?
Here are some of my favorites from a few categories to check out.
Free Drawing Classes on Skillshare
1. Improve Your Drawing Accuracy
This class is really short at only 11 minutes. It's a useful 11 minutes though. This is an example of those "quick technique" classes that will teach you how to do one thing to improve your drawing skills.
This particular technique is about improving the accuracy of your drawing strokes, which is a pretty big deal. After this short 11 minute session, you'll have a great exercise you can do to work on this skill. All for free!
2. Drawing Exercises: The Basics of Line Making
This class is one of the few free classes that is long and meaty at 2.5 hours. I mean, some premium classes are over 11 hours, but 2.5 hours is pretty good for a free class.
Plus, what you get in these 2.5 hours is fundamental to your drawing success. This class will walk you through 4 exercises you can use to build your drawing skills. You'll also get a bonus lesson about drawing and painting a castle, which is pretty neat.
Free Painting Classes on Skillshare
At the time of this writing, Skillshare has over 260 free painting classes on their platform. This includes all types of painting, including acrylic, ink, and watercolor. Here are some great picks in the painting niche:
1. 10 Minutes to Better Painting
There's nothing better than a quick class that can help you make quick progress with your painting skills. This course is an hour long and has 6 lessons covering different painting fundamentals.
The idea is that if you can improve these fundamentals in your own work, your paintings overall will improve.
The great thing about free classes is that many of them are targeted towards tutorials. Even though they aren't in depth, you can spend 10-20 minutes and learn how to create something beautiful.
That's the case with this class. In just 13 minutes, this class will teach you how to draw and watercolor a beautiful hummingbird. This is a great way to learn a quick, new skill and add a beautiful painting to your portfolio.
Free Digital Drawing Classes on Skillshare
As I mentioned, Skillshare is where I learned my foundational Procreate skills. While you'll get the most out of a premium membership, Skillshare also has some great free classes about Procreate and digital drawing in general.
Skillshare only has about 40 free classes about Procreate, but it's a good place to start. Here are some great picks in the digital drawing niche:
1. Digital Illustration: Learn to Use Procreate
This is one of the first classes I took when I was learning Procreate and it's fantastic. The teacher is really knowledgeable and will not only guide you through an impressive tutorial that you can show off, but will also teach you some great Procreate tips along the way.
This class will feel a bit advanced if you're just starting out with Procreate, but it will challenge you to grow your skills from the beginning.
2. Digital Chalk (Pastel) Drawing with ArtRage
Have you ever dreamed of drawing with pastels without all of the setup and mess? Well, digital pastels are for you, and this class will show you how to do it.
This free Skillshare class is 1 hour and 44 minutes long and will not only teach you the basics of drawing digitally with chalk, but also leave you with a beautiful mountain range to show for it. There are a lot of different components and skills that go into a landscape. This means that you'll learn a lot of foundational skills while completing the tutorial for this class.
As you can see, Skillshare has some great free classes that you can take advantage of at no cost. This can be a great way to get value from Skillshare, even if on a budget.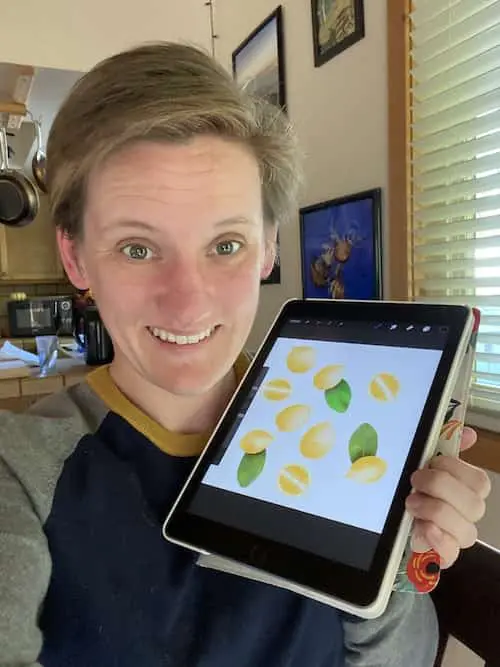 Diana has been an artist for over 26 years and has training in drawing, painting, digital drawing and graphic design. Diana's latest obsession is digitally drawing with Procreate and creating t-shirt designs with Canva. Diana has experience selling her art across a number of platforms and loves helping other artists learn how to make money from their art as well.