This post may contain affiliate links, which means I may earn a commission if you decide to purchase through my links.
Procreate is a great digital drawing tool for all types of art, including calligraphy and lettering. There are quite a lot of brushes that are designed specifically for calligraphy and lettering that will make this type of art even easier to create. Luckily, you don't have to pay a lot of money to get them. There are great free brushes that you can import into Procreate on your iPad.
Here are some great choices for free Procreate calligraphy and lettering brushes.
Be aware that some of these brushes require a subscription to an email newsletter. If you don't want to join any newsletters, simply watch out for that.
1. Chalk Dust Brushes from Design Cuts
These chalk brushes from Design Cuts are just a few samples from their larger Chalk Dust Brush Kit. But, hey, I'm a Costco fan. Who doesn't love some free samples?
When you get the samples, you'll get 2 quality chalk brushes that will work well for your Procreate chalk lettering.
If you decide that you like chalk lettering, you have the option to buy the entire Chalk Dust Brush Kit from the same page on Design Cuts. I mean, who doesn't swing the cart back around and get an entire bag of meatballs?
2. Lettering Starter Pack from Design Cuts
The brushes in this Lettering Starter Pack from Design Cuts are also free samples. REALLY good ones. Like the chalk samples above, you'll get two brushes to use.
These brushes are great, staple, lettering brushes that you'll use over and over again. The semi flexible one is REALLY good and one of my favorite lettering and calligraphy brushes.
If you decide that you want to buy the entire package, you'll be overwhelmed with lettering fun! This package comes with 35 brushes, a 10 part lettering workbook, 28 textures, and 2 color palettes. It may not be free, but it's a darn good deal for the amount of lettering goodies you get.
3. Procreate Lettering Brush Bundle from Design Bundles
This Procreate Letting Brush Bundle from Design Bundles comes with 8 lettering brushes that, like the ones we talked about above, are great staple brushes to have in your collection. But, this time, you get 8 of them! Yes, 8 amazing lettering brushes that you can use for your designs, absolutely free.
4. Procreate Lettering Brushes from Design Bundles
Do you want another set of 8 amazing lettering and calligraphy brushes that can be staple brushes in any Procreate lettering brush collection? Sure you do! Well, here it is. This Procreate Lettering Brushes Pack from Design Bundles comes with 8 basic lettering brushes that you can use for any lettering or calligraphy project.
We're only on #4 and we've already talked about enough free lettering brushes to last awhile! Don't stop here though. We have some unique brushes on this list you won't want to miss.
5. Lettering Brush Duo from Pixel Surplus
With the Lettering Brush Duo from Pixel Surplus, we get…yet another sample! Aren't samples just the best? In this sample, you'll get two lettering brushes – an acrylic lettering brush and a textured lettering brush.
These two brushes give you a really unique script. With the textured lettering brush, add some edge to your work. With the acrylic lettering brush, give your lettering some see through style.
Again, if you like the samples, you can always buy the full pack, which can be found on Creative Market.
6. Lettering Sample Pack by Ian Barnard
What's more frustrating than crooked and misshapen lettering? Well, with this freebie, you don't have to worry about that anymore!
This Lettering Sample Pack is, of course, another sample. And it's TOTALLY worth it! It comes with a LOT of lettering resources. One of my favorites is a sample of the Grid Builder, which wil help you build your lettering projects. I have the full pack of lettering grids and it's a game changer for your lettering.
This brush won't let you make letters, so you might think I'm cheating by adding it to the list of free Procreate calligraphy and lettering brushes. But, even though it can't create letters, it's arguable one of the BEST lettering brushes ever created.
When you get this lettering sample pack, you'll get two brushes that create grids for you to create your lettering within.
This is SO helpful.
No need to worry about whether your letters are straight, perfectly curved, or foreshortened. Just set up a grid and you're ready for perfect lettering.
I bought the full pack of lettering grids and it was worth every penny. If you're really into calligraphy and lettering, or looking to learn, these grid brushes will be your best friends.
The Lettering Sample Pack comes with a lot of other lettering resources that are useful too!
7. Fire and Ice from InkyPixels
This fire and ice brush from InkyPixels is SO much fun. To get the best effect, use a dark background. Then, pick your favorite color and start drawing flames!
If you push lightly, you'll see a colorful, ashy streak. But, the harder you push, the more bright it gets until it is a hot, white flame. It's a really neat trick!
To be honest, this brush takes some practice, especially to get the ashy and bright parts in the right spots. As you can see, I'm a bit shaky with managing it. That said, it's completely worth the practice. I mean, it's awesome, right?!
What's even more awesome is that the fire and ice brush isn't the only lettering brush that InkyPixels offers for free. Scroll through the page and see what other brushes catch your fancy.
8. Alphabet Stamp Brushes from Design Bundles
If you don't want to do your lettering yourself, grab some lettering brushes that will do your lettering for you! These Alphabet Stamp Brushes from Design Bundles give you every letter of the alphabet that you can use.
This can be great for planning out your letters before you ink them yourself, or for adding some quick and quirky text to a design. These alphabet stamps are a cute way to add lettering to your design, without the work.
9. Sophie from Inkmethis
The Sophie brush from Inkmethis is so thin and elegant. Looking at it, I feel like I'm in one of those beautifully written, Victorian era, romantic movies and the protagonist is doing a lush voiceover while reading the letter she has written to the love of her life. It's a pretty great brush.
If you're looking for a thin, elegant script, this is a great choice. It's free, so why not add some elegance to your Procreate life?
10. Flourishing Brush from Molly Suber Thorpe
Molly's flourishing brush is similar to the Sophie brush above, but it has a bit more weight to it. If you like having variety in your lines, this brush will give you a nice flourish while also giving you the ability to adjust the thickness of your lines as you write.
In order to get this flourishing brush, you need to sign up for Molly's newsletter. When you do, not only will you get the brush, but you'll also get a treasure trove of free calligraphy and lettering resources. Stroke practice pages, letter practice pages, phrase practice pages, an ombre brush, and more.
This is one heck of a freebie if I've ever seen one. I'm not sponsored by Molly or any other people listed here; I'm just impressed!
11. Dry Brush Pen from Saffron Avenue
This dry brush pen from Saffron Avenue is perfect for your grungy, messy, textured, and fun lettering needs. No romantic Victorian era movie here!
Something I love about this brush is how unique it is. While we see a lot of flowy calligraphy and lettering brushes, this one is rough around the edges. It stands out and will let your art standout too.
Needless to say, this brush is fun to use. Let your wild child out and have fun with some textured block lettering.
12. Fluffy Textured Lettering Brush from Design Bundles
If you've ever dreamed of giving your calligraphy a light, fluffy texture, this is the free Procreate lettering brush for you. This Fluffy Textured Lettering Brush from Design Bundles looks like a combination of clouds and cotton candy.
It will create soft and dreamy lettering that you'll want to snuggle up to. This free lettering brush for Procreate is a unique addition to any collection of calligraphy and lettering brushes.
13. Lettering Brushes from Missy Meyer
This is a fun collection of a TON of free lettering and calligraphy brushes from Missy Meyer. I especially recommend the filmstrip brush. How unique and cute is that?
This is an ever growing collection of free brushes, so bookmark it and see if new ones get added! There are so many fun styles to choose from that will give you a nice library of Procreate brushes to choose from when you sit down to do your lettering and calligraphy.
14. Curling Ribbon from Melissa Cabral
I know I've said this a lot, but this Curling Ribbon brush from Melissa Cabral is SO fun to use. I guess that lettering is fun in general 🙂 Really though, this ribbon brush is so fabulously flowy and has the most beautiful gradients.
The curling ribbon brush is my favorite on her site, but let's not forget to mention that Melissa Cabral offers a number of great free calligraphy and lettering Procreate brushes. Scroll through them and grab any brushes that you like!
15. Stripe Brush from InkyPixels
We have another great brush from InkyPixels! This Stripe brush is, well, stripey. It's dynamic, airy, and adds some neat texture to your lettering. It's a neat addition to your calligraphy collection.
Given all of these free Procreate calligraphy and lettering brush options, there's no doubt that you'll have a TON of great new brushes to play around with. Absolutely free! Download your favorites and see what works for you.
Get lettering and enjoy!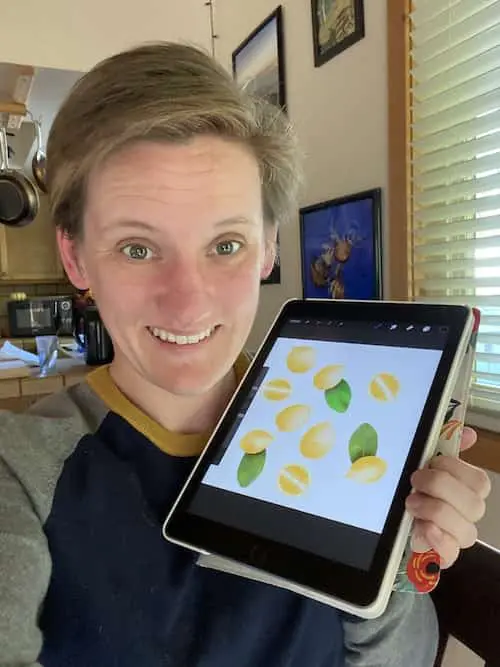 Diana has been an artist for over 26 years and has training in drawing, painting, digital drawing and graphic design. Diana's latest obsession is digitally drawing with Procreate and creating t-shirt designs with Canva. Diana has experience selling her art across a number of platforms and loves helping other artists learn how to make money from their art as well.