This post may contain affiliate links, which means I may earn a commission if you decide to purchase through my links.
If you're a Procreate artist who is using Clip Studio Paint, a natural question might come up. Can you import Procreate files into Clip Studio Paint? If so, how?
Procreate files can be imported into Clip Studio Paint after being exported as PSD files. Given that PSD files are compatible with both Procreate and Clip Studio Paint, this gives you the best chance of maintaining your layers and your art overall when transferring your art from one program to the other.
If you're hoping to move your art between programs, there is hope. That said, there is something to be aware of.
Important note: what we're covering in this tutorial is a workaround for transferring Procreate files to Clip Studio Paint. I've personally used it myself, but this isn't to say that it's perfect. There is a chance you could end up with wonky results.
Natural Procreate files and Clip Studio Paint files are not compatible with each other. If you were to download them from each platform, you would get a .procreate extension from Procreate and a .clip file from Clip Studio Paint.
If you're hoping to preserve a piece of art with the most success, using the program's most natural file type is the best bet.
Well, we can't do that in this case. Given that .procreate files and .clip files aren't cross compatible with each other's programs, we have to use a workaround.
This involves exporting art files into a type that's compatible with each program, but not their natural .procreate or .clip forms.
All this to say that transferring your Procreate files to Clip Studio Paint is possible with this workaround, but it's not ideal.
Ideally, you'd want to create your artwork in whichever program you prefer from the get go.
Ok, so now that we've gotten that out of the way, let's talk about the types of files we're going to use for this process.
Export PSD Files From Procreate to Import Into Clip Studio Paint
Export PSD files from Procreate to import into Clip Studio Paint. These are Photoshop files, which are compatible with both programs. If the process works correctly, it should allow you to preserve your Procreate layers once imported into Clip Studio Paint.
PSD files are Adobe Photoshop files, which are compatible with both Procreate and Clip Studio Paint.
But, why would we use them? Aren't JPEG files and PNG files compatible with both programs as well?
Yes, but PSD files give us some extra benefits when the import process works correctly – preserving our layers.
Again, this may not always work perfectly, but it's the best bet for exporting from Procreate and importing into Clip Studio Paint with a workable piece of art.
Here's how to do this:
1. In Procreate, tap on the wrench to open the Actions menu. Tap on the Share tab.
2. Choose the PSD option.
Within the Share menu, choose to export your art as a PSD file. This is the Adobe Photoshop file we talked about.
3. Share your PSD file with Clip Studio Paint
When you choose a file type, you'll then be prompted to save or share your file. For me, Clip Studio Paint comes up within those options.
If it does for you too, this is the easiest way to transfer your file to CSP without an additional step. Your file will be exported from Procreate and immediately imported into CSP.
If Clip Studio Paint isn't available to you in your share options, go ahead and save the file to your Files app. Then, open it within Clip Studio Paint.
4. Check your art file in Clip Studio Paint
Now that you've exported your file from Procreate and imported it into Clip Studio Paint, review it in Clip Studio Paint to make sure that the import process was successful.
Start by looking at your art on your new CSP canvas. Does it look ok at first glance? Compare it to your piece within Procreate and make sure there aren't any glaring differences.
Then, look at your art's layers within Clip Studio Paint.
Check that all of your layers are accounted for and look good.
Also, delete any extraneous layers that may have been transferred over that you don't need. When I do this process myself, I usually get an extra green layer that I don't need.
That's it!
Again, this may not always be a perfect process, but it has worked well for me. While it's ideal to start and end a piece of artwork within the same program, having a workaround for exporting files from Procreate and importing them into Clip Studio Paint can be nice to have!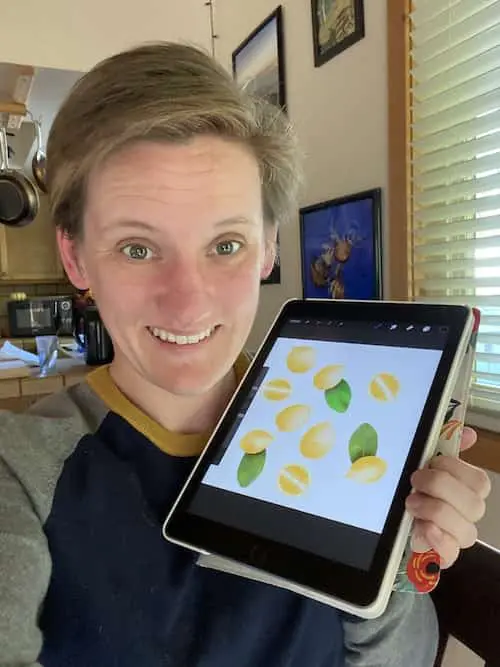 Diana has been an artist for over 26 years and has training in drawing, painting, digital drawing and graphic design. Diana's latest obsession is digitally drawing with Procreate and creating t-shirt designs with Canva. Diana has experience selling her art across a number of platforms and loves helping other artists learn how to make money from their art as well.