Printing your iPad art might seem overwhelming and expensive, but it doesn't have to be. Whether you're using Procreate, or another digital drawing program, it's possible to print your art from your iPad in a cheap, stress-free, and high quality way.
To print your iPad art, begin by exporting it as a PDF or PNG file from Procreate, or any other iPad program. For vibrant, colorful art, it's best to have it printed on photo paper with a photo printing service. For black and white art, it's best to have it printed on matte cardstock from a home printer.
I have done a lot of trial and error while printing my Procreate art. It's been a lot of wasted money and paper that eventually led me to the high quality results I was looking for.
That's why I'm sharing all of my lessons, tips, and tricks to printing iPad art so that you don't have to waste the same amount of money and paper that I did.
Let's dive in so that you can get high quality and inexpensive iPad prints on the first go around!
This post may contain affiliate links, which means I may earn a commission if you decide to purchase through my links.
Printing Black and White iPad Art
To maintain your lights and shadows, I suggest printing your black and white iPad art on matte cardstock. Glossy photo paper often boosts the vibrancy of your art, which is good for photos and colorful art, but can distort the shading in your black and white iPad art.
It took me quite a few tries to master the printing of my black and white art. Again and again, I played around with printing on photo paper.
I mean, what's not to love about photo paper? It's glossy; it looks professional; it's cheap and easy to get same-day prints at places like CVS and Walgreens.
But, I quickly discovered the issue with this.
You see, I do a lot of "pencil" and "pen" drawings on my iPad with Procreate.
When I'm done, these look more like traditional pieces of art that were made with real pencils and pens than they look like pieces of artwork made with a digital device and software.
When you make traditional art with pencils and pens on paper, it isn't shiny and it isn't on photo paper.
It's on matte paper and, in comparison to photos, it's dull.
This means that you're often setting yourself up for disaster when you print your "pencil" or "pen" art on glossy photo paper. Not all of the time, but a lot of the time.
Things may turn out well, like the photo you see below. This was printed at CVS on glossy photo paper. It turned out great!
Or, things may not turn out so well, like the photo you see below. This was printed at CVS on glossy photo paper, just like the example above. But, this time, things didn't turn out so great.
Both of these prints were made with Procreate pens and used the same techniques. They were also printed at the same exact sizes and with the same exact paper and settings at CVS. Yet, one turned out well and the other didn't.
Whomp whomp.
Big lesson: if your iPad art resembles art made with traditional materials, print it on the same type of paper that it would have been made on had it been made traditionally.
For example, if you create a "pencil" drawing with a lot of shading, print it on matte cardstock that resembles traditional drawing paper.
This will prevent the vibrancy that comes with glossy photo printing. Again, this vibrancy is great for photos, but it can distort your shadows, highlights, and tones overall. Printing on matte paper will give you the most realistic "pencil drawing" feel that most accurately reflects your artwork.
The exception: if your black and white iPad art doesn't have a lot of shading or tonal changes, you can likely print it on glossy photo paper.
A general rule of thumb is to think about your art's "natural state." Does it look like it was made with traditional materials? Does it look like digital art or a photograph?
If it falls in the traditional materials category, you'll likely want to lean towards cardstock.
For my black and white cardstock prints, I generally use my home printer. It's easy, cheap, and convenient!
I have an HP Envy printer and it prints really nicely on cardstock. HP Envy or otherwise, make sure to read the specs of your printer and see if it can print on cardstock. If it can, see how heavy of a cardstock you can get away with.
I also have a Liene photo printer, which is fantastic for an 4×6 prints I need. I have a full review of the Liene 4×6 photo printer if you want to learn more about this awesome little device.
You don't want to end up with a massive paper jam because you gave your printer cardstock that it couldn't handle.
Alright, so what if your art falls in the digital art or photography category? This is when glossy photo paper is something you'll want to consider.
Let's talk about that next.
Printing Colored iPad Art
To boost the vibrancy of your colors, I suggest printing your colored iPad art on glossy photo paper. This will enhance the colors of your art and give it a shiny and professional look. Basic photo printing can be done at a photo center, or on your home printer.
Colors print really nicely on photo paper. That glossy finish tends to make colors pop and appear as bright as they do on your iPad screen.
Because of this, I tend to print my colored art on glossy photo paper.
If you have a nice printer at home, you can choose to print your colored prints on glossy photo paper from the comfort of your own home.
That said, the cost of colored ink and glossy photo paper can add up REALLY quickly. That's why I usually go to a photo center.
Depending on the size of print you're looking for, you can go to your local Walgreens or CVS and get a photo print for as low as 10 cents. Larger prints will cost you more, but they won't break the bank.
Important note: if you DON'T want the colors of your colored art to be printed in a more vibrant way, choose matte cardstock instead of glossy photo paper.
Printing Your iPad Art for Your Print on Demand Store
If you're looking for printing options for your print on demand store, I highly suggest looking at Printful and Printify. Both of these platforms offer prints in many different sizes with both matte and glossy finishes. They also offer both framed and unframed options.
Selling prints of your iPad art is a GREAT way to make money as an artist. And with print on demand, there's no need to print all of your work yourself and take it to the post office.
Let these great print on demand companies handle it for you.
It's free to sign up for Printful and Printify accounts. You only pay for what you order. So, get free accounts with both of these platforms, see what their options are, and order some samples.
Printing your iPad art can open up so many possibilities for you to sell your art, gift it to loved ones, and simply have copies of it to enjoy.
Knowing how to print your iPad art in the correct way will save you a lot of headache, money, ink, and paper.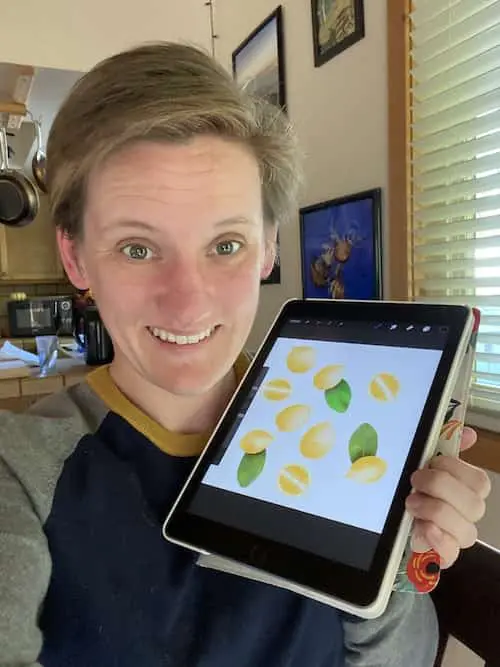 Diana has been an artist for over 26 years and has training in drawing, painting, digital drawing and graphic design. Diana's latest obsession is digitally drawing with Procreate and creating t-shirt designs with Canva. Diana has experience selling her art across a number of platforms and loves helping other artists learn how to make money from their art as well.