This post may contain affiliate links, which means I may earn a commission if you decide to purchase through my links.
Embroidery kits are such a gift to beginning and advanced embroiderers alike. Order an embroidery kit and you get everything you need for your project, from your pattern to your thread and your needles and your hoop. This is amazing, but how do you use all of it? How do you start an embroidery kit?
To start an embroidery kit, begin by taking inventory of the supplies. Most importantly, check the embroidery pattern and make sure you have all of the thread colors that are required. Next, read the instructions and review all of the different stitches you'll need to know to complete the project.
Starting an embroidery kit can seem overwhelming, but it doesn't have to be. Follow these steps and you'll be excited for that first stitch!
1) Take Inventory of Your Supplies
As soon as you open your embroidery kit, the first thing you need to do is take inventory of your supplies. Make sure you have all of the thread colors you'll need, and that your needles and hoop are accounted for. Also double check that the stamped pattern on the fabric matches the instructions.
The supplies you get with your embroidery kit will depend on the kit you get.
That said, most kits will come with a hoop, needles, thread, and fabric. Some kits even come with scissors.
The fabric may or may not have the pattern stamped onto it. If this matters to you, read the kit description really carefully before you purchase it. Stamped patterns are extremely helpful for beginners, so I highly suggest them.
I bought a great, inexpensive embroidery kit that included everything I needed for 3 embroidery projects. The patterns were clearly stamped onto the fabric, which made it really easy to distinguish the different sections of the project.
Once you move onto more advanced projects, kits with unstamped patterns can be a great challenge. When you're just getting started though, it's nice to know you don't have to worry about where to place your stitches when you're still trying to get the hang of things.
When you open your kit, match the kit description to what's inside. Usually, this will include a hoop, fabric, needles, and thread.
Next, if you have a stamped fabric, make sure the pattern is correct and there are no defects in it.
Finally, check all of your threads. This is really important. You don't want to be halfway through the project before suddenly realizing that you're missing a color. Double check that you have all of the thread colors you'll need for the project.
2) Read the Instructions
Once you've checked your inventory, it's time to read the instructions. It's important to know all of the stitches you'll need to use and if there's a particular order you'll need to complete them in. If there are any unique circumstances with your embroidery project as well, the instructions will let you know.
If you're like me, you don't like reading instructions. If I had wanted to read, I would have bought a book, right?
Well, I've learned the hard way that reading instructions is important. Both with Ikea furniture, and with embroidery projects.
I was so incredibly bummed to be hours into the embroidery project pictured below before realizing that I had used the wrong stitch for the mountain.
I stuck with it for a while, but when my project started looking weird, I finally read the instructions and realized that things would have looked much better with the stitch they suggested.
Take some time to read the instructions that come with your embroidery kit. They're not very long and will save you a lot of headache as you work on your embroidery project.
3) Learn Any Stitches You Need to Learn or Find Replacements
After you've read the instructions that come with your embroidery kit, learn any stitches you'll need to use during the project. If there are stitches you don't want to use, think of alternatives and how they'll look with the rest of the stitches you'll be using.
Getting an embroidery kit is an awesome way to learn new stitches. You might find a few stitches you had never learned before and now have a reason to.
You can learn these stitches once you get to the sections that use them, or you can learn them ahead of time. Learning them ahead of time can help you feel more prepared once you start your project.
That said, if you don't want to learn any new stitches, it's good to think about some alternatives before you get started. The types of stitches you choose need to work together in harmony once the project is complete.
Similar to my fiasco above with the mountain, improper planning can leave you with stitches that don't go well together.
Learn any stitches you need to and plan for any alternative stitches you want to use.
4) Choose a Section to Start With
Once you've checked your inventory, read the instructions, and planned your stitches, it's time to start embroidering the first section of your project. If the instructions say to begin in a certain area, begin there.
Again, this is another reason to read the instructions. If the instructions tell you to begin with a certain section, it's best to take their advice and begin there.
If they don't, choose a section that has a simpler stitch so that you can ease into things.
5) Have Fun!
Now you're on your way with your embroidery kit! After the proper preparation, all that's left to do is have fun with your project.
Remember that embroidery kits are meant to be fun. There might be times where it's challenging and tedious, but that's a part of the process.
At the end of the day, the goal of embroidery kits is to make the process of learning embroidery a little bit easier. Have fun taking on this new hobby and learn as much as you can along the way.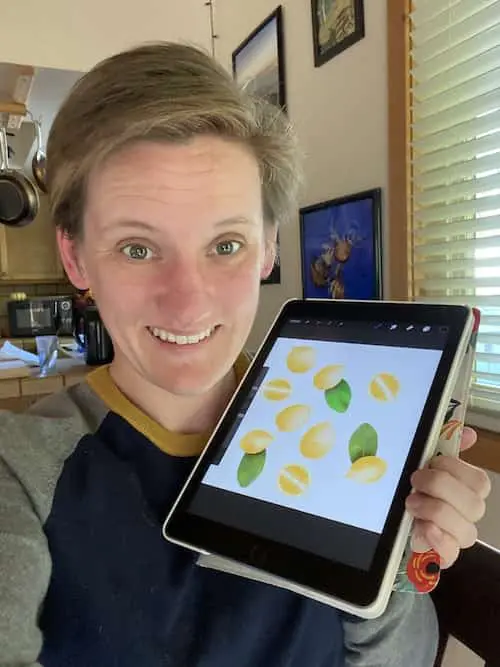 Diana has been an artist for over 26 years and has training in drawing, painting, digital drawing and graphic design. Diana's latest obsession is digitally drawing with Procreate and creating t-shirt designs with Canva. Diana has experience selling her art across a number of platforms and loves helping other artists learn how to make money from their art as well.