iPads are great for drawing, but they can be made even greater with the right screen protector. Whether you want extra protection for on-the-go drawing sessions, or you want something that resembles real paper, iPad screen protectors come in many different styles and types.
Let's dive into the best iPad screen protectors for drawing and digital artists that can help you create the best art possible on your tablet.
Note: most of these screen protectors have variations for many different types of iPads. Make sure you buy the correct one. If the ones linked in this article aren't compatible with your type of iPad, simply search Amazon for the brand name and your iPad type.
This post may contain affiliate links, which means I may earn a commission if you decide to purchase through my links.
1. Matte iPad Screen Protector
I LOVE matte iPad screen protectors for drawing and digital art. Instead of a sleek and slippery screen, a matte protector will make your screen feel a bit more like paper.
Of course, it won't feel exactly like paper, but it's not too far off. The tooth of the matte screen gives it a rougher feel without sacrificing the ability to move your stylus around your screen with ease. Just like paper.
It also has an anti-glare effect, which can be really nice when you're drawing.
I honestly think that a matte screen protector is a must-have for any digital artists drawing with their iPads. It adds the perfect texture to your screen that makes drawing so much easier.
If you haven't tried a matte screen protector before, I highly suggest it. They're cheap and worth way more than what they cost.
There are a number of different matte screen protectors to choose from on Amazon.
One that I bought for my recent iPad is the Bellemond removable paper screen protector. I've been so happy with it!
This screen protector is similar to other matte screen protectors in that it has a matte surface. It's also removable!! This means that you can take it off when you aren't using it. I don't suggest taking it off a lot though, and don't take it off myself.
The reason I don't take it off is because I'm worried I'm going to get dirt stuck underneath it when I put it back on. I also draw so often on my iPad that taking it off never seems worthwhile, but it's pretty cool that its possible.
If you're looking for a matte screen protector that's removable, definitely check this one out!
Check out the Bellemond Removable Paper Screen Protector on Amazon!
As we know, nothing is perfect. Even matte screen protectors come with a downside you'll want to be aware of.
Given the rougher surface of matte screen protectors, they can wear down your Apple Pencil tips faster than normal. It comes with the territory.
Luckily, this won't be a big deal if you prepare for it properly. Always have extra tips available. You can buy replacement Apple Pencil tips on Amazon.
As long as you have extra Apple Pencil tips at the ready, and you don't break the bank getting them, this downside of matte screen protectors won't be a problem.
2. Poetic Revolution Shockproof Protective iPad Case
If you like to draw on-the-go, you might want to consider a screen protector that can survive some rough and tumble use. No need to worry about finding dirt stuck in your home button, or that your screen has made unfortunate contact with a rock.
This Poetic Revolution case will protect your iPad wherever you decide to draw.
The reason why I've included this case in a list of screen protectors for drawing is because it comes with a screen protector built into it. It's a wrap around, full iPad protection experience!
If you're more worried about your iPad breaking than you are about the texture of your screen, this is the screen protector/case for you. It will keep your iPad protected without interfering with your screen, leaving you a great surface to draw on.
What I love about the screen protector that's built into the Poetic Revolution case is that it doesn't feel like a protective bubble. Even though I love Otterbox, there are times when their cases feel protective. Like, the screen cover of their cases seem to lift off the screen and give an obvious, protective feel.
This isn't the case with the Poetic Revolution. The screen protector hugs the screen of your iPad nicely and doesn't have any bubbles. This is a must for any artists who need a flat iPad surface for their work.
If you're not interested in a matte screen protector, but want something that can withstand the bumps of life instead, this Poetic Revolution case is something you'll want to consider.
Check out the Poetic Revolution iPad Shockproof Case on Amazon!
3. JETech Screen Protector
If you don't want a matte finish, and you aren't worried that your iPad is going to get damaged, I suggest getting a slim and sleek iPad cover. This is basically the cover that pretends like it doesn't exist at all. Yes, a disappearing screen protector is what we're looking for.
Having some sort of screen protector on your iPad is KEY. Replacing a cracked iPad screen can be expensive, which means that you'll want to avoid it as much as possible. Even if you aren't the clumsy type, a good screen protector will ease your mind should something go wrong.
So, if you fall into this camp, you'll want a screen protector that you barely notice. One that seems like just another iPad screen.
There are a lot of choices for screen protectors like these. If you don't want to sift through all of them, the JETech is a great choice. It's sleek, covers your whole iPad screen, and gets the job done.
Check out the JETech iPad Screen Protector here!
If you're a digital artist, it's SO important to have the right surface to draw on with your iPad. My top choice is a matte screen protector like the Paperfeel. This will give you a rougher, paper-like surface for you to draw on, which is a dream for artists. I'm in love with my matte screen protector and think it's an essential for every digital artist to try.
If matte screen protectors aren't your jam, get one that will save your iPad from any bumps and bruises. Or, if you're more of the sleek type, grab a classic glass cover that will give you a smooth surface to draw on, while also giving your iPad screen the basic protection it needs.
No matter what iPad screen protector you choose, make sure to keep drawing!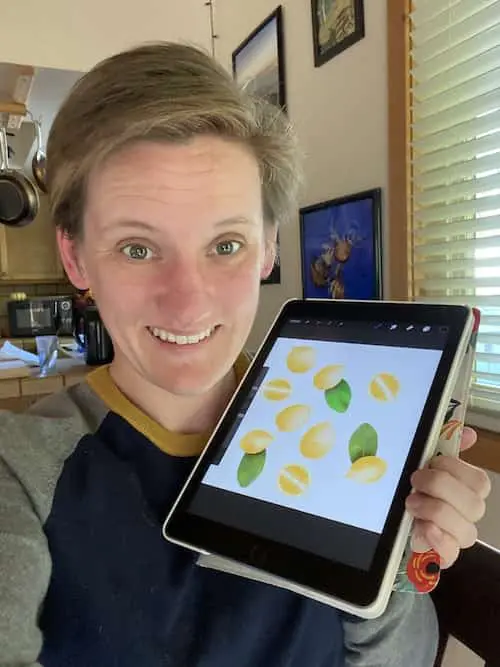 Diana has been an artist for over 26 years and has training in drawing, painting, digital drawing and graphic design. Diana's latest obsession is digitally drawing with Procreate and creating t-shirt designs with Canva. Diana has experience selling her art across a number of platforms and loves helping other artists learn how to make money from their art as well.