This post may contain affiliate links, which means I may earn a commission if you decide to purchase through my links.
If you've been trying to decide between embroidery or cross stitch, you may have wondered which one's harder. Well, the answer to that is multi-faceted, that's because certain aspects of embroidery or cross stitch might be harder or easier depending on your skills and what you like to do.
Embroidery can be harder than cross stitch if you struggle with having more choices about where your stitches will be placed and how they will look. Cross stitch can be harder than embroidery if you struggle with counting rows and keeping track of individual stitches.
Personally, I find cross stitching to be easier than embroidery. That's because I don't mind counting stitches and I like having the simplicity and uniformity of the stitches.
On the other hand, other people might find embroidery easier because it doesn't require counting and allows for more creative choices.
Whether you find embroidery or cross stitch harder will largely depend on your current skills and preferences. So, let's run through some of the factors you'll want to consider.
Counting Stitches
Cross stitch can be harder than embroidery if you don't like counting stitches.
Unless you're improvising your cross stitch design, a lot of cross stitch patterns will require you to count the number of stitches you need and keep track of how many stitches you've created.
If keeping track of your stitches is challenging, cross stitch may be frustrating for you.
Personally, if I want a more mindless project to work on, I don't usually grab my cross stitch. The counting tends to drag me away from the riveting plot of my reality TV show.
If you don't like counting, but you still want to cross stitch, a good alternative is stamped cross stitch.
Stamped cross stitch doesn't require as much counting because the pattern is already printed on your surface for you. This can be a great help for keeping track of your stitches without counting over and over again.
There are stamped cross stitch kits on Amazon or your local craft store.
If you're hoping to cross stitch without a kit though, it'll likely be a counted pattern that requires you to count and keep track of your stitches. If this will be hard for you, it's likely that cross stitch will be a bit harder as well.
Stitch Uniformity
Even though counting stitches can make cross stitch more challenging, it results in something that actually makes cross stitch easier…uniformity.
You see, the reason we have to count cross stitch stitches is because each stitch has a predetermined place it needs to be. Even though there are a number of different cross stitch stitch types, the most basic stitch uses four holes to create an X with your thread.
For me, it's really satisfying to know that each stitch has a home. It creates a certain amount of order and uniformity to a project that I find really pretty.
On the other hand, embroidery doesn't have predetermined spots for stitches. This means that you have to decide how long each stitch is, which direction each stitch is going in, and how this stitch will fit in with the rest of the stitches you're creating. Not to mention choosing your stitch type!
With embroidery, I find that there are a lot more creative decisions to make. Personally, I find this harder than cross stitch, where each stitch has a predetermined place to be.
If thinking a lot about where your stitches need to go, how long they should be, and what they look like would stress you out, embroidery might be harder than cross stitch for you.
The Verdict
Both cross stitch and embroidery are hard in different ways.
Having uniform, predetermined stitches can make cross stitch easier to plan out and execute on without having to think through how the length, direction, and size of your stitches will all work together.
That said, unless you're doing a stamped cross stitch project, it can be challenging to constantly count your stitches when making your project.
On the other hand, having creative freedom to create a variety of different embroidery stitches can be a fun way to create the unique piece of art you're looking for with your embroidery project. Each stitch can be what you need it to be without having to count or ensure that each stitch is in the right place.
That said, it can be challenging to have so many options with your embroidery stitches. What size should they be? What direction should they point in? How dense should they be? What type of stitch should you make? Making all of these creative decisions can be challenging if you're wanting more structure.
At the end of the day, learning something new comes with challenges. No matter how easy or hard the activity is.
If you're new to either cross stitch or embroidery, be patient with yourself and enjoy the journey.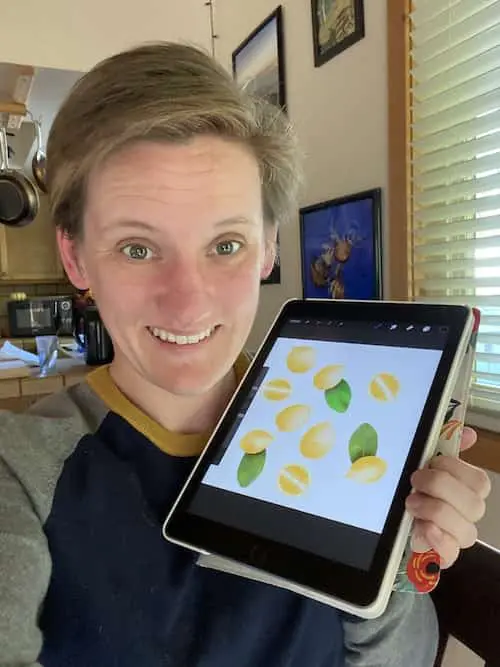 Diana has been an artist for over 26 years and has training in drawing, painting, digital drawing and graphic design. Diana's latest obsession is digitally drawing with Procreate and creating t-shirt designs with Canva. Diana has experience selling her art across a number of platforms and loves helping other artists learn how to make money from their art as well.