This post may contain affiliate links, which means I may earn a commission if you decide to purchase through my links.
Note that I received a free Liene 4×6 photo printer, but that did not influence this review. This review is my true and honest opinion.
As a digital artist, I'm always looking for cheap and easy ways to get my art off the screen and onto a piece of paper. That's where printers come in. When I received the Liene 4×6 photo printer, I took it as a win-win. A quick way to print my latest piece of art, as well as the picture of the pretty tree I took on my walk. Score! But, does this printer live up to the hype?
The Liene 4×6 Photo Printer exceeds expectations for the quality of prints produced. The printer is small, efficient, and can be used with either a computer or phone. Overall, it's a great choice for high quality, one-off pictures and digital art that you want to print from home.
Honestly, I didn't have the highest expectations for the print quality of the Liene. I've struggled to print my art on photo paper in the past and figured that this would be the same old story.
Well, I was happy to be proved wrong!
The print quality was amazing, which is very important for a photo printer…clearly!
While print quality is one of the most important factors to consider when buying a photo printer, it's not the only factor you need to consider. Set up, cost, connection, and size matter too.I did have a few hiccups here and there while setting up the Liene, which we'll be sure to dive into.
Costs of the Liene Photo Printer
At the time of this writing, the Liene photo printer costs less than $130, especially during a sale. The device comes with an ink cartridge and 20 pieces of paper. One cartridge can print up to 40 pictures, making the cost per print about 50 cents depending on the current pricing of refill packs.
The cost of the Liene printer itself is affordable, especially given the high quality prints it produces. Check the current cost of the Liene 4×6 Photo Printer and see if they are running any sales.
When you buy the printer, you'll receive 1 ink cartridge and 20 pieces of photo paper. When you buy the printer, you'll receive 1 ink cartridge and 20 pieces of photo paper. A lot of printers don't come with ink and paper, so this is a big plus!
Each ink cartridge can print about 40 photos, so you'll need more paper before you run out of ink.
Liene sells ink and paper together in sets, which makes life easier.
Ok, so let's talk about cost-per-print with the Liene printer.
At the time of this writing, each Liene print is about 50 cents. Keep in mind that the cost-per-print can fluctuate depending on the current price of Liene's ink and paper refill sets, so be sure to check that out for the most accurate pricing.
The cost-per-print with the Liene is higher than you'll find at print services who charge anywhere from 9-30 cents a print.
That said, when you consider shipping costs, or the gas you'll use driving to the store to pick up your photos, you'll find that those 9 cent prints actually cost more than you thought.
Being able to print your photos at home, whenever you need to, is a luxury that's worth 50 cents a print. Of course, this is specifically a photo printer and not an all purpose printer like the HP Envy printers or HP OfficeJet printers, so these prices are only for each 4×6 print.
When you need 1 or 2 photos, who wants to go through the hassle of placing an order with a print company and waiting for it to be printed and shipped? Not me!
It's also important to note that 50 cents a print is pretty typical for at-home photo printers. The HP Sprocket Studio 4×6 Photo Printer comes in around the same cost. The Liene actually does a great job of competing with the big behemoth printer companies as far as costs are concerned.
5/5 cost rating. The Liene 4×6 Photo Printer is about the same price, if not cheaper than other photo printers. The cost-per-print is about the same as other printers on the market.
Photo Quality of the Liene Photo Printer
The quality of the photos produced by the Liene 4×6 Photo Printer is fantastic. In less than 90 seconds, this printer produces prints that are as nice, if not nicer, than what you can receive from popular print companies. The fabulous print quality is a huge perk of this printer.
Like I mentioned in the intro, the quality of the photos produced by this Liene printer exceeded my expectations. It was quite a nice surprise!
Of course, print quality is one of the most important things to consider when buying a printer. If you get awful prints, what's the point?
Luckily, you don't have to worry about that with this printer.
It's also fun to watch the printing process, which takes about 90 seconds per print to complete.
Each color is laid down individually with its own pass through the printer. It's alarming the first time you see it, but know that you'll wind up with the photo you're expecting at the end of it all.
5/5 print quality rating. The print quality is an area where this Liene printer really shines.
Set Up and Use of the Liene Photo Printer
The set up of the Liene 4×6 Photo Printer is straightforward and easy to understand. The initial setup takes time, but once that's finished, it's quick to set up the printer every time you need to use it for a print. This printer has been designed in a clever way to be time and space efficient.
Set aside 15-20 minutes for the initial setup of your new Liene photo printer. There are quite a few pieces to unwrap and put together. But, hey, I've spent much more time struggling with setup, so 20 minutes isn't too bad.
What's fantastic is that this setup only happens once.
After you've done the initial setup of your printer, it only takes a few seconds to prepare it every time you want to print a photo. It's extremely quick!
The design of this printer is really clever. Every time you need to make a print, turn it on, lock in the paper cartridge, and 90 seconds later you'll have a print.
When you're done, the paper cartridge magnetically attaches to the top of the printer for space efficient storing.
5/5 setup and use rating. Setup is straightforward and easy to understand. After the initial setup, very little time and effort is required to prepare the printer for each use.
Methods of Printing Photos with the Liene Photo Printer
Printing methods is where the Liene 4×6 Photo Printer falls short. Currently, photos can only be printed from computers or laptops with Windows operating systems. Macs are not supported. The Liene app doesn't function well, which leaves printing from a phone as the only option if you're a Mac user.
The first time I tried to figure out how to print my photos with the Liene printer, I was ready to give up. I did figure it out and haven't had any problems since, but this is definitely a hiccup in the Liene process.
Here are all of the ways you can print your photos with the Liene photo printer:
–Computer: currently, the Liene photo printer can only be used with Windows computers. As a Mac user myself, I was pretty disappointed to learn this.
I generally print things from my computer, so not having this option was a bummer. If you do have a Windows computer though, this option will be available to you.
Hopefully they will make developments in the future to include Mac computers.
–-App: Liene has a phone app for iOS and Android. This is what drove me up the wall. Skip the app! You don't need it and it doesn't work.
I tried connecting my printer to the app numerous times. Each time, it said the printer was offline despite having followed all of the necessary steps.
The app doesn't get a good rating in the app store, so it seems to be a common experience. Luckily, you don't actually need the app to print your photos.
–Phone: the Liene printer can wirelessly connect to your iOS or Android phone. Simply connect to the printer's wireless hotspot. Choose the option to print your photo and select the Liene as the printer to use. Simple as that!
Printing from my phone is extremely quick, easy, and seamless.
If you don't have a Windows computer, you need to be ok printing all of your photos from your phone when using the Liene printer. I wish they had options for Mac users to print from their computers, but that's not an option right now.
Once I ditched the app, I didn't have any issues printing from my phone and I got used to it pretty quickly. I still wish I could print from my computer, but it hasn't been a dealbreaker for me. The ease of use, clever design, and high quality photos make it worth it for me.
2/5 methods of printing rating. I hope that Liene fixes the issues with their app and offers more print options for Mac users in the future. Printing from a phone is very quick and easy, but it would be great to have other options.
Final Thoughts About the Liene 4×6 Photo Printer
I would give the Liene 4×6 Photo Printer a 4/5 rating overall. This printer produces high quality photos at a price that's competitive with other at-home printers on the market. It has a clever design that is space efficient and allows for quick and easy use every time you need to print a photo.
The only area where this printer falls short is in the methods of printing section. Currently, only Windows users can print from their computers and the Liene app doesn't function as expected. This leaves Mac users with the only option of printing their photos from their phones.
Ever since I got this little printer, I've been having so much fun printing my photos and art from my home office. No more struggles with print quality and paper jams.
This Liene printer is a budget friendly option for busy people who want to spend less time printing and more time creating the art they love.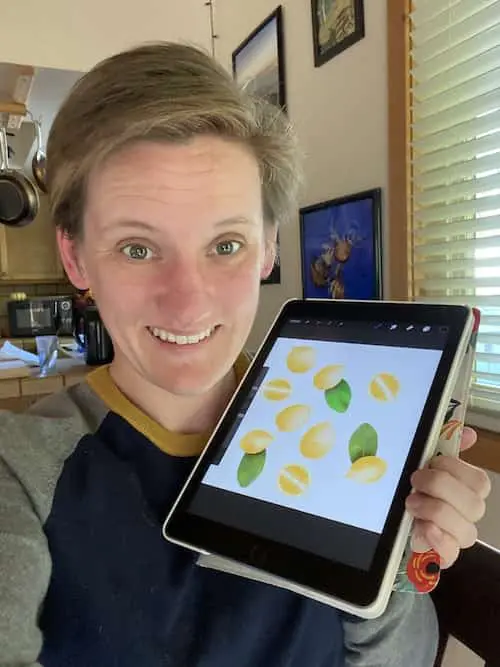 Diana has been an artist for over 26 years and has training in drawing, painting, digital drawing and graphic design. Diana's latest obsession is digitally drawing with Procreate and creating t-shirt designs with Canva. Diana has experience selling her art across a number of platforms and loves helping other artists learn how to make money from their art as well.