This post may contain affiliate links, which means I may earn a commission if you decide to purchase through my links.
There's nothing worse than pencil stains and indents that won't go away. When you're doing a pre-sketch for a drawing, painting, watercolor, or more, you want the lightest pencil that won't leave a trace behind.
9H pencils are the lightest drawing pencils you can get because they have the hardest lead. That said, 9H pencils can be difficult to see and use. Pencils ranging from 2H to 4B tend to be great choices for sketching as they aren't too hard or too soft.
This post is about the lightest sketching pencils you can find which, objectively are 9H pencils. That said, they aren't my favorite for sketching because they are so darn light that they are hard to see.
I actually prefer sketching pencils within the 2H to 4B range for my own sketching. 2B is one of the best middle ground pencils. It's not too soft, not too hard pencils.
If you really want the absolute lightest drawing pencil though, you'll want to look for a 9H.
Even though 9H pencils are so great for sketching, they can be tricky to find at times. Even my favorite pencil brand Faber-Castell, who makes some of my favorite pencils (even vegan ones that are super awesome) don't carry 9H pencils. I'm not exactly sure why, but 9H pencils are sadly underappreciated in the pencil manufacturing world.
So, instead of sending you on a wild goose chase for 9H pencils of your own, I've collected a list of some of the best (and only, to be honest). Here are my top choices of drawing pencil brands that make amazing 9H pencils for you to use for sketching.
Whether you're sketching on a canvas to paint over later, or just want a light pencil, a light pencil can be valuable to add to your collection.
Derwent Graphic 9H Pencils
Derwent is a top notch art brand that makes high quality drawing pencils. While a lot of companies stop their pencil packs before they reach 9H, that's not the case with Derwent. You can buy a pack of hard drawing pencils from Derwent that range from B-9H.
Now that we've brought up "B," let's talk about what these pencils do and how they differ from "H" pencils.
The Difference Between H Pencils and B Pencils
A pencil labeled with the letter H stands for hard lead, while a pencil labeled with the letter B stands for black lead. B pencils are softer than H pencils and range from HB, which is the hardest B pencil, to 9XXB, which is the softest B pencil.
In between the H pencils and the B pencils is the F pencil. The F stands for "fine point" and is harder than the Bs, but softer than the Hs.
Like I said, if you get the Derwent set of hard pencils, you'll get pencils ranging from B-9H. This includes an HB and an F.
If you're in the market for a 9H so that you can sketch without fear of leaving marks, getting the whole range of H and F pencils is a good idea. They're all hard enough to make them good for sketching, but having a wide range of them will give you more flexibility as you work.Who doesn't love choices, right?
Staedtler Mars Lumograph 9H Graphite Art Drawing Pencil
Staedtler Mars is the company that makes my favorite erasers, which are actually my go-to erasers for tackling stubborn colored pencil marks. Aside from their classic and amazing erasers, they also make great 9H pencils.
Staedtler Mars is a neat brand because they make high quality products for both artists and students. Nothing like using a protractor one minute and then a 9H the next, all while sticking to the Staedtler Mars name and having them be high quality.
I used Staedtler Mars all throughout my childhood as an artist and a student and still love them today, not just for nostalgia sake. They make great products.
Dainayw 24 Piece Drawing Pencil Set
If you're on a budget and want a lot of pencils for your money, you'll want to check out this Dainayw 24 piece drawing pencil set. In the art world, it's common to get what you pay for. It's often better to cough up some extra money to make sure you get good quality materials that actually produce beautiful work.
Well, this Dainayw set is low cost, while also being great. If you read the reviews, you'll see that a lot of people like them. Quality-wise, you'll do better with the Derwent or Staedtler Mars, but you'll also pay more for them. Decide what your budget is and what your drawing needs are and pick the right product for you.
Hilitand 24 Piece Drawing Set
Hilitand is another brand that offers a 24 piece pencil set that goes all the way up to 9H. They're about the same price as the Dainayw set, but don't have as many raving reviews. They don't have bad reviews; they just have fewer reviews in general.
Again, if you want a lot of pencils and don't want to spend a lot for them, a 24 piece pencil set is a great idea.
Honestly, that's about all of the 9H pencils you'll find on Amazon. No joke. For being such great and useful pencils, I'm not really sure why they aren't more widely available. But, luckily, I did the searching for you and there are at least a handful of good choices to choose from.
However you decide to use your new 9H pencils, just make sure to make some great art.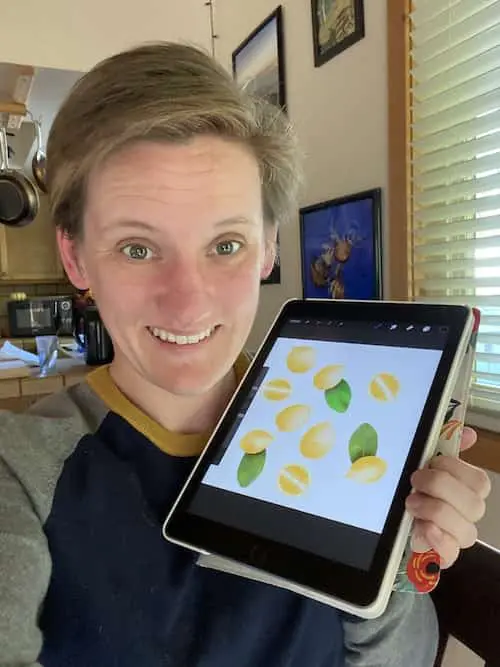 Diana has been an artist for over 26 years and has training in drawing, painting, digital drawing and graphic design. Diana's latest obsession is digitally drawing with Procreate and creating t-shirt designs with Canva. Diana has experience selling her art across a number of platforms and loves helping other artists learn how to make money from their art as well.