This post may contain affiliate links, which means I may earn a commission if you decide to purchase through my links.
Print on demand (PoD) is a great business model for people who don't want upfront costs, inventory, or high risk. Many artists and designers have been able to make real money from their print on demand stores, whether they sustain them as side hustles or full-time businesses.
It's possible to make money with print on demand with hard work, the right fulfillment partners, store platforms, marketing tactics, and products. Having as many high quality designs that you can upload to as many platforms as possible will increase your chances of success and driving revenue as well.
Print on demand is worth it if you have the right resources, marketing strategies, and perseverance. There are a LOT of choices and paths to take when you start your PoD journey. It can feel really overwhelming.
To be clear, this is NOT a passive process or easy. Being successful with making money from PoD takes a lot of smarts and hard work.
We're going to break everything down into simple steps depending on your budget, desired income, and the level of hands on involvement you want to have.
In this post, we're going to talk about how you can make money with PoD with no website of your own or inventory.
Let's dive into the details of PoD.
Is Print on Demand Free? The Low Cost Way to Get Started with PoD
Platforms like Printful, Printify, Gelato, ect. have no upfront costs. You only pay whenever an order is placed or you need a product printed. Platforms like Redbubble, Merch by Amazon, and Zazzle never charge you for products. Instead, they pay you a royalty when one of your designs sells and handle the production, shipping, etc.
This can be confusing, so let's dig into each of these business models, explaining the pros and cons of each.
Getting Started with Fulfillment Companies like Printful, Printify, Gelato, etc. on Etsy
Printful, Printify, and Gelato are fulfillment companies.
There are many others including Printed Mint, Shirtly, Gooten, just to name a few.
Printful and Printify are the ones I personally used and the ones I suggest getting started with. Gelato is also another great option I've been trying out recently.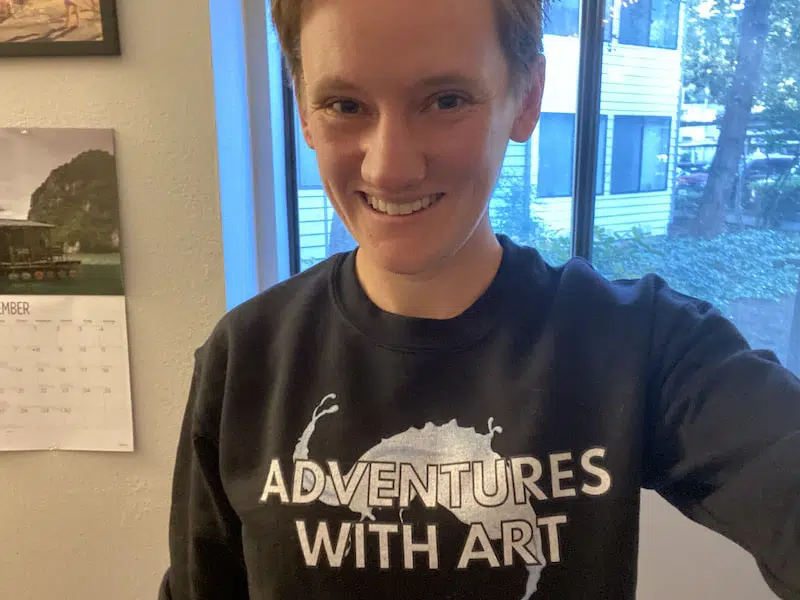 In order to use one of these fulfillment companies, you need a store with Etsy, Shopify, Amazon, or your own website. Shopify, Amazon, and hosting your own website all require upfront costs or subscriptions, so we'll be focusing on Etsy.
Etsy isn't entirely free, but their fees can be less than hosting your own online store, depending on what self-hosted options you're looking at. I also find that Etsy can be more user friendly for those just getting started with PoD.
Run the math, look at all of the features, and consider what you want for your business before making any decisions.
Having run both an Etsy store and a self-hosted web store myself, my Etsy store required much less web skill.
A lot of fulfillment companies also integrate with Etsy, which means that orders get automatically synced with your fulfillment company when an order comes in. You can read my post about PoD companies that integrate with Etsy to learn more.
Here's how it works when you have your fulfillment company integrated with your Etsy store. We'll use Printful and Printify as an example.
1. You get an order on Etsy.
If you're starting from scratch with a brand new Etsy store and want to use Printful, make sure to check out my guide for setting up Etsy with Printful.
Ok, you get an order, whether it be for an awesome art print, hoodie, dog bandana, or any of the other products you're selling.
Here are some examples of a variety of products I've gotten from these companies with my Procreate art on them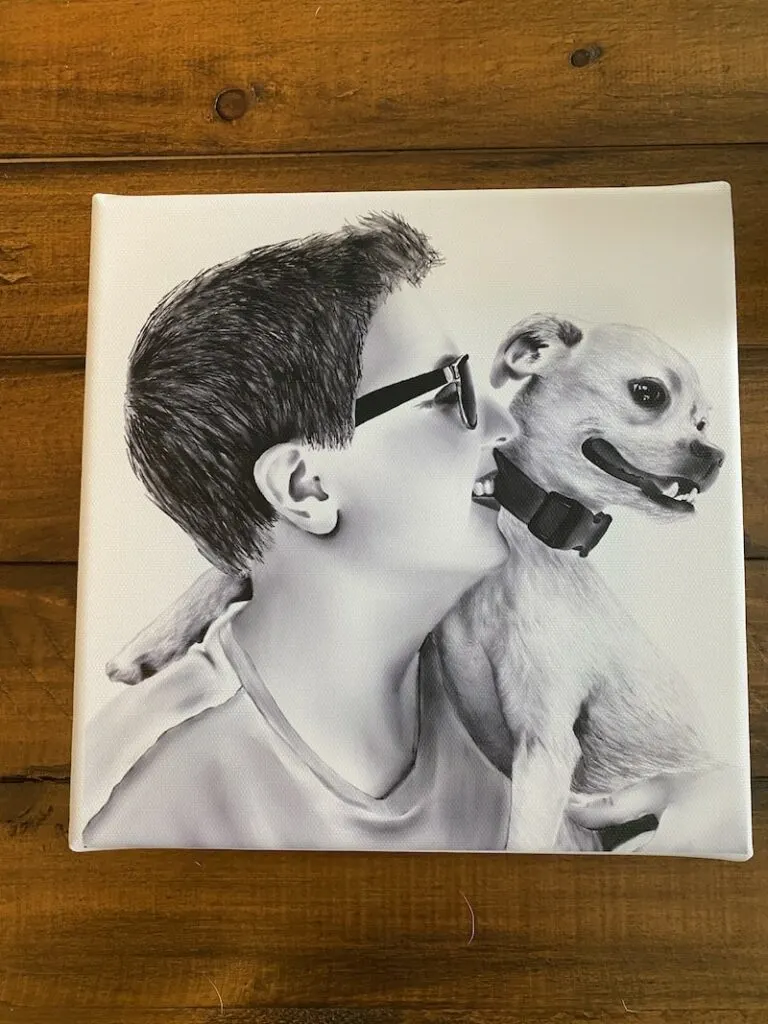 2. Printful or Printify recognizes it and inputs it into their system.

It's important to note that you don't need to choose one platform over another. Read more about how you can use Printful and Printify together if you want to use both companies with your store.
3. Printful or Printify charges you for the product that was ordered and starts processing it.
If you're wonder how order fulfillment works, you can also read about how Printful can automatically fulfill your Etsy orders.

4. Your order ships and it is automatically marked as complete within your Etsy store.

It's important to note that Printful and Etsy will NOT handle your customer service for you. You can read more about PoD and customer service to learn more.

5. Etsy charges you fees for the product you just sold.
A lot of people get frustrated about Etsy fees, but it's a part of the game. Simply adjust your prices to make sure that you still make a decent profit off of each of your products after Etsy takes out it's fees.
It's important to understand that we're talking about fulfillment companies. You get an order and they fulfill it. You as the seller are responsible for customer service, marketing, branding, and everything that goes into running an online store.
You also have to deal with any return requests that come in. PoD companies won't usually take returns unless the item has been printed wrong or damaged in some way. So, handling returns is something that you'll have to think about as a seller.
If all of this sounds overwhelming, start by getting familiar with the platforms. Signing up for Etsy, Printful, and Printify will give you the chance to bop around and see how everything works.
Get in there and play around. See how nice your designs look on the Printful mugs. Or how fun your patterns look on the Printify dog beds.
Printful has some great mockups you can use with your products. As an artist, it's cool to even see your art on a mug, shirt, canvas, or more.
If you're looking for additional mockups, Placeit is my favorite place to turn. They have TONS of amazing mockups you can use for SO many different product categories. These mockups look realistic, professional, and downright awesome.
Start by ordering a few products for yourself. Get a feel for how the platforms work, while having a fun time seeing your art materialized on a few products.
This will go a long way in boosting your confidence to launch your PoD store.
Why Printful and Printify?
There are a number of fulfillment companies. Why choose Printful and Printify?
High Quality and Wide Ranging Products
Printful and Printify both offer a wide range of products and produce them with quality in mind. Between the two of them, you'll have access to a lot of different brands and product types.
From mugs and t-shirts, to aprons and pet accessories, there are options for every niche you want to fill.
I also love the quality. In my years of running an online store, I didn't receive one complaint about the quality of their products and their printing. In fact, I got a lot of compliments.
Automatic Processing
We already talked about the fact that PoD businesses aren't passive. Yet, I'd rather spend my time designing new products instead of manually fulfilling orders that come in.
Printful and Printify have really seamless, user-friendly, and automatic systems that pull in orders from Etsy when they come in, process them, ship them out, and update everything on the Etsy end.
You could be gone on a camping trip without cell reception, come back to civilization, and realize that orders have come in, been processed, and fully completed while you were gone. Pretty cool.
I highly suggest having accounts BOTH with Printful and Printify. This will give you a lot more options for your store and, given that the platforms play well with each other, it won't cause you additional stress.
Getting Started with Royalty-Based Companies
If you don't want to run your own Etsy store, you can use royalty-based platforms that take on more of the business burden, like customer service. Royalty-based platforms tend to be less profitable per order than businesses run through fulfillment companies, but they are more hands-off and stress-free.
Here's how these platforms work.
1. You upload designs and apply them to that platform's products
2. When sales come in, you get a royalty
3. The platform handles everything from processing the order to dealing with customer service issues. You are completely hands-off when a sale is made.
This sounds like a dream! Why would you ever choose an Etsy store and a fulfillment service that comes with the burden of customer service and managing a storefront? Not to mention the fees.
Well, what you gain in stress-free store management, you often lose in profit.
While it's a more hands-on and customer-facing process to have your own Etsy store that runs with a fulfillment company like Printful or Printify, you have more control over your prices, profits, brand, and overall online store experience.
It's easier to make a higher profit per order when running your own store through a fulfillment company than when you're working through a royalty based platform.
Running your own Etsy store and utilizing a fulfillment company to complete the orders can give you more control over your pricing, which can result in more money in your pocket. If you can tolerate dealing with customer service every once in a while, you'll possibly see a boost to your income.
I had a mug design that I sold on my Etsy store as well on royalty-based platforms. When an order came in through Etsy and was fulfilled through Printful, I usually made a profit of about $10. When I make a sale of this same mug on Redbubble, I make about $2.50.
I lost about $7.50 when I sell the mug on Redbubble instead of Etsy.
That's the benefit of using multiple platforms. Some customers will find a listing on Etsy and others will find it on Redbubble.
Above is an example of some of my Redbubble prices that I change periodically. As you can see, it can be tricky to find that balance between having a reasonable prices that customers will pay and making enough profit margin to make it worth it.
As you would guess, I don't sell a lot of duvet covers…my designs aren't really suited for duvet covers anyways, so I don't focus on them.
I DO focus on stickers though. While the margin can be small for stickers, they add up.
Check out my full guide on selling stickers with Redbubble to learn more.
Since you don't need to worry about customer service or store management with royalty-based stores, it's easier to manage multiple platforms.
You'll still want to take the time necessary to learn how to optimize your listings for each platform, but the store maintenance for each platform is much less than running an Etsy store.
Here's a list to get you started. They're in order of my personal preference. We'll talk about the first few in more detail. It's especially important that you read the section about Merch by Amazon if you're interested in it.
1. Redbubble
2. Merch by Amazon
3. TeePublic
4. Zazzle
5. Society6
6. Spoonflower
7. Cafe Press
8. Fine Art America
9. Sun Frog
Selling with Redbubble
Redbubble has a lot of great products and a really user-friendly platform. It's easy to upload a lot of designs to their platform, enable them on any number of products from t-shirts to puzzles, and see the sales roll in.
Something I love about Redbubble is that their platform is good at highlighting relevant products to customers. I do very little marketing for my Redbubble products aside from a few Pinterest pins from time to time. Even so, I get a number of orders a day, 99% of which come from optimizing my listings so that they show up in Redbubble's search.
Once you get a large volume of designs uploaded into your Redbubble account, you could end up with a royalty check coming through every single month for little work. It's pretty great.
Something that can slow you down with Redbubble is that you have to manually adjust and position your design on each product they offer. At this point, they offer almost 50 products, so it can take between 5-10 minutes to upload each design.
But, once your design is uploaded, it's there forever. If it becomes popular, it can passively earn you money for years to come.
Also keep in mind that they add products all the time. This is great! It's also something you'll want to watch out for though.
Whenever Redbubble adds a new product, you'll need to go back into your listings to enable it and make sure your design is positioned correctly. Redbubble won't do this automatically.
You'll also need to establish your profit margin for that new product.
You are free to adjust the pricing of your products so that you receive larger royalties with each sale. There's a limit to this though. You won't make any sales if you charge $100 for a mug.
The sweet spot for pricing on Redbubble usually leaves you with making about $2-$4 on apparel and house items and about $1-$2 on stickers. So that you don't get confused, they call your earnings "artist margins," not "royalties."
Stickers are VERY popular on Redbubble and it's common to see a whole string of $1 sticker orders. Like I mentioned, $1 is nothing to get excited about, but when sales are fully passive, those $1 sales add up and are worth the zero effort I'm putting in.
Redbubble is a fun platform and can make money overtime, even if you only ever sell stickers.
Selling with Merch by Amazon
Merch by Amazon is one of my most lucrative PoD platforms but, if you're new to the platform, I'd be cautious about jumping into it. It's a saturated market and requires approval to get in. Once you're established and have learned the platform enough to make sales, it can be a great PoD option.
When Merch by Amazon first began, it was like the wild west. Everyone uses Amazon, so the ability to sell products on their platform was like a dream come true. And it was for a while.
Some of the people who joined Merch by Amazon in the early days saw HUGE profits. Designers were making full-time livings on the Merch by Amazon platform alone. And many designers still do. It has gotten a lot harder though, especially for people who are just joining the program.
Success with royalty based PoD platforms is linked to volume. Quality matters too, yes. You can't upload thousands of awful designs and expect to make money.
But, if you create high quality designs in high volume, you're looking at a successful royalty-based PoD business.
Merch by Amazon became SO popular and SO saturated that it has become a really hard space to succeed in, especially if you don't have a long history with the platform.
They used to only offer t-shirts, but now they've expanded into hoodies, pop sockets, phone cases and more. If you can jump on a new product right when it's released, you might have a chance of beating out the competition.
Even still, the longstanding alums have an upperhand. Amazon introduces new products on a rolling basis, sometimes over the course of a few months. By the time you get access to a new product, the big dogs may have already saturated it.
I have over 500 designs listed on Merch by Amazon, which is not nearly enough. I've seen my sales steadily decline over the years as the platform became more and more popular and I've focused my efforts elsewhere.
It does take time, effort, SEO expertise, and volume to succeed with many royalty-based platforms, especially Merch by Amazon.
An important thing to note is that Merch by Amazon isn't as passive as the other royalty-based PoD platforms on this list. I've probably uploaded over 2,000 designs to the Merch by Amazon platform over the years, yet my catalog stands around 500 right now.
If your design doesn't sell after a certain amount of days, they delete it from the platform. This is great for making sure that bad designs get flushed from the system, but it also means that you need to make sure that your catalog stays current and optimized.
This is a good practice in general, for any print on demand platform.
If something isn't selling, you should probably figure out why and try to fix it. That said, it can feel like a waste of time to start from scratch when designs are deleted.
There's also a barrier to entry with Merch by Amazon. You have to apply and wait to be accepted. This could happen in a few days, or in a few months. I've heard of people waiting a year.
Merch by Amazon has been good to me for a number of years. I put a TON of work into it though. Work that I wouldn't do now if I was just starting out. I got into the program early, which really helped me.
Over the years, I've stopped working on my Merch by Amazon store and I've seen my product catalog and income fall. That's what I expected and a choice I made.
Just be aware that, even though royalty-based PoD platforms seem more passive, they do require work if you want them to grow and be profitable for the long-term.
If you're new to PoD, I wouldn't suggest starting with Merch by Amazon. It's worth it to send in an application, but I'd use Redbubble to dip your toes into the print on demand world.
Selling with TeePublic
TeePublic is a lot like Redbubble and can be a good platform for a passive PoD business. Uploading designs is fairly straightforward and they have fewer products than Redbubble, which makes the process a bit faster.
My only frustration with TeePublic is that they run sales all of the time and you have no control over it. They do it so often that their earnings list has two columns, one for when a sale is running and one for when it's not.
Depending on what product you're selling, your royalties might be cut in half when a sale is running. A sale you have no control over. I mean, earning 50 cents on a pin isn't much to celebrate, but it's better than earning 25 cents. I'll take it, but you have to sell a lot of pins for that to add up to anything.
Despite my complaints about TeePublic's royalty rates and sales, they are still one of my favorite platforms because they make uploading quick and your designs can sell for years to come. Like Redbubble, if I can upload a design once and benefit from it for years to come, I'm on board. Who knows, all of those 25 cent earnings might get me somewhere after 10 years.
How Much Money Can You Make with Print on Demand?
There are really no limits to how much money you can make with print on demand. Some sellers make small amounts and consider their PoD stores to be side hustles or hobbies, while other sellers make very substantial incomes. It's a lot of hard work though.
There are a number of things that differentiate the side hustle earners and the full-time living earners. This can include marketing experience, design ability, social following, and more. But, the most important thing to point out is this:
Most people that make a full-time living with print on demand treat it seriously and work hard at it.
Yes, a lot of things about PoD are passive, which makes it an attractive business model. But, "passive" really is the wrong word. All it means in this context is that you can make money while you sleep, go on vacation, take care of a new baby, etc.
That's pretty great.
Yet, the way to get to the point where you can make money while you sleep takes a lot of time, effort, and knowledge. There's nothing "passive" about PoD. Well, if you want to be successful, at least.
The people that turn their PoD stores into lucrative businesses spend a LOT of time crafting their products, researching marketing techniques, and optimizing their stores.
At this point, a lot of PoD sellers are investing money back into their businesses as well. Ads, marketing campaigns, hosted websites, Shopify stores. They are focusing on the skills and strategies needed to turn a side hustle into a legitimate business.
On the other hand, many sellers are happy that their PoD stores are side hustles that bring in enough money each month to pay a few bills.
What You Need to Know to be Successful with PoD
The more you understand and embrace marketing and SEO, the more success you'll see with print on demand. Even a basic foundation in marketing and SEO can go a long way in making your products stand out from the crowd.
The more eyeballs you can get your products in front of, the more potential sales you can have.
If you don't even know where to start with marketing and e-commerce SEO, sign up to get a discount on a yearly membership with Skillshare. Skillshare is designed with artists and entrepreneurs in mind. They have a ton of marketing and business classes geared towards artists exactly like you.
I absolutely love Skillshare. Not only have I learned a lot of new art skills through their classes, I've also taken my print on demand stores to the next level. Their business classes are top notch and highly tuned to the needs of artists. All of their classes are taught by professionals who are successful entrepreneurs themselves. You'll get insider tips that could make the difference between your store succeeding or flopping.
Making money with print on demand is completely possible, whether you want to be hands-on, or take a more passive approach. Start by dipping your toes in the water by uploading a few designs to Printful or Redbubble. See where it takes you. It just might be to the bank.
Go forth and create great art!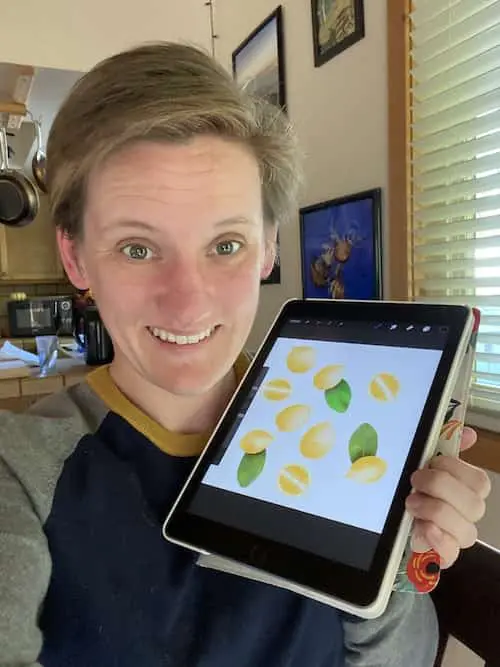 Diana has been an artist for over 26 years and has training in drawing, painting, digital drawing and graphic design. Diana's latest obsession is digitally drawing with Procreate and creating t-shirt designs with Canva. Diana has experience selling her art across a number of platforms and loves helping other artists learn how to make money from their art as well.