You won't be doing yourself any favors as a seller if your product mockups look fake and unrealistic. Even if your customers know that you're a print on demand seller who doesn't have inventory, it's extremely important that your mockups give an accurate depiction of your product.
To make mockups look real, be careful to choose mockup photos that don't look staged, overused, and fake. Also be careful to position your image so that it follows the shape of the product. For example, for a mug mockup, curve the image so that follows the curve of the mug.
The two suggestions above are the MOST important things you'll want to keep in mind when creating your mockups.
If you get those wrong, you'll be sunk. Don't worry; we'll dive into how to position your image and how to choose the best mockup photos so that you don't fall into either of those potholes.
We'll also talk about a few more tips and tricks you should keep in mind when creating realistic mockups.
This post may contain affiliate links, which means I may earn a commission if you decide to purchase through my links.
1. Choose Your Mockup Photos Wisely
The key to realistic mockups is choosing a product photo that doesn't look fake, cheesy, or overly staged. You also don't want to choose product photos that are commonly used by other sellers. The mockup photo you choose can make or break your listing's success.
80% of the battle to create mockups that look real is picking the right product photos to use as your base.
Your design may be perfect in every way – creative, unique, positioned correctly, etc. – but if everything around it is awful, you're out of luck.
Don't settle for any old product mockup that you find on Google. Do your due diligence to find high quality product mockups that look realistic and really show off your product.
You also want to make sure that you choose mockups that aren't overused.
If you choose a mockup photo that is splattered all over Etsy, you will have a harder time making your listing stand out to buyers. Also, your mockups will look unrealistic because it will be clear that anyone and everyone is using them.
So, where do you find high quality product mockups that look realistic and aren't overused? Here are some of my favorite options.
Placeit.net
If you have a few bucks to spend, Placeit is an amazing investment. They have thousands of mockups to choose from that are all professionally created. Quality will never be a question with Placeit mockups. Also, with so many options, you can scroll through to find ones that aren't being overused.
I LOVE Placeit. It's easy to use, high quality, and has more options than you'll ever need. PlaceIt is worth it if you want a LOT of great mockups to choose from.
If you're serious about making product mockups that look real, you can stop reading now and sign up for Placeit.
Printful
Printful is a print on demand company, but they also offer amazing mockups. Especially if you already use Printful to fulfil your orders, using their mockups is a natural and easy choice.
The downside of using Printful's mockups is that they are overused. While Printful's collection of mockups is growing, they still only offer a handful to choose from.
More often than not, you'll see a lot of Printful's mockups floating around Etsy and other online shopping platforms.
But, if we're focused on mockups that look real, you'll have luck with Printful's mockups. They are really nice and high quality.
Important note: you need to be an active Printful member in order to download their mockups. Luckily, signing up for Printful is free and it's a great platform if you've been looking to dive into the PoD world.
Canva
Canva has accumulated a lot of great product mockup photos that you can use with your designs. In comparison to other mockup services, using Canva to create your mockups will give you more freedom in how you place and manipulate your designs.
To find Canva's product mockups, simply click on the Images tab and type "mug mockup" into the search bar. Replace the word "mug" for whatever type of product you're hoping to make a mockup of.
Drag and drop your design into Canva, place it on the product, and you're done!
Important note: you'll need to have Canva Pro in order to have access to all of their mockup photos. You can get a free trial of Canva Pro here.
Again, having a solid mockup photo is the first and most important step in making product mockups that look real. That said, you can screw things up if you don't apply your design to your mockup properly.
Let's dive into some tips that can help you prevent that.
Make Sure the Design on the Mockup Exactly Matches the Design on the Product
You need to make sure that the sizing and positioning of your design on your mockup photo exactly matches how it will appear on your product. If you don't, not only will your mockup look less realistic, it will also lead to a lot of customer complaints.
When creating mockups, you need to be REALLY careful that everything matches up with the reality of your product.
The whole point of the word "realistic" is to create something that resembles the "real life" version you're trying to mimic. If you make mockups that don't match the product, it's not realistic.
You'll also have a lot of unhappy customers who thought that the design was bigger, smaller, a different color, ect. This leads to a lot of unhappy customers and refunds, which is never a good thing.
Don't Pick Complicated Mockup Images…Unless You Use Placit
Avoid product mockup photos that show the product at a weird angle, in a shadow, or twisted and crinkled in any way. The easiest product mockup photos to work with are the ones that show products straight on in even lighting.
Let's say that you choose a mockup photo of a shirt that is folded and wrinkled. Even though the shirt looks natural and realistic, it will be hard to apply your design to this mockup in a realistic way.
In order to be successful, you'll have to manipulate your design so that it follows the folds and wrinkles in the same way that it would in real life. If you simply plaster a flat design across the shirt, it won't look realistic.
In addition to wrinkled shirts, you'll also want to avoid mockup photos of anything at a weird angle, that is covered in shadows and/or highlights, and is worn in an unusual way by the model.
For the best results, choose mockup images that show the front or side of the product in a clear and even way.
There's a HUGE exception here though. Placeit does a really great job of manipulating designs so that they accommodate any wrinkles or folds in your product photos.
You can see one of my own examples below.
The way that Placeit can so naturally place designs onto products of any kind is incredible. This is another big perk of getting Placeit for your mockups!
If you decide that you don't want to use Placeit, but you still end up choosing a mockup photo that's more complicated, I suggest manipulating it with Procreate so that you can have more control over the positioning of your design.
Here's how:
1. Download the mockup photo and your design and import them into Procreate.
2. If needed, stretch your mockup photo so that it covers your whole canvas
3. Select the layer that your design is on and click the Transform tool
4. Move your design onto your product and size it correctly.
5. Choose the Freeform option or the Warp option to manipulate your design in a way that accommodates the unique characteristics of your product.
Clearly, this is more work than it's worth. But, if you have a mockup photo that you really love and you're struggling to make the design look realistic on it, Procreate could be your best bet.
Do Your Research
The best way to get a feel for the qualities of realistic mockups is to spend some time browsing Etsy or other online stores. Pretend you're a buyer and think through the mockups you see. Do they look realistic? If yes, why? If no, what about them comes off as fake?
There's a LOT you can learn from other online sellers, simply by looking at their photos and listings. Be really mindful whenever you see a mockup and run through a mental checklist of what works and what doesn't.
Use this research to improve your own mockups as you aim to make them as realistic as possible.
Creating realistic product mockup photos might seem daunting, but it's pretty easy once you get the hang of it. As long as you have a great base image to work with, you are conscious of perfectly matching your mockup to the real-world product, and you continually learn from other mockups that are out there, there's no doubt that you'll have some amazing, realistic mockups to show off in your online store.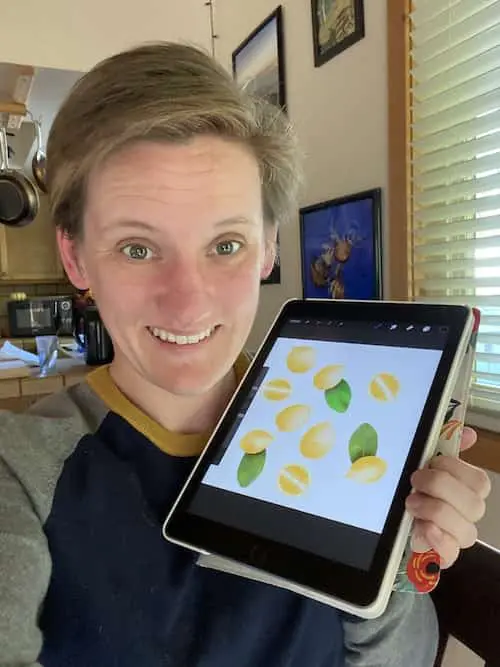 Diana has been an artist for over 26 years and has training in drawing, painting, digital drawing and graphic design. Diana's latest obsession is digitally drawing with Procreate and creating t-shirt designs with Canva. Diana has experience selling her art across a number of platforms and loves helping other artists learn how to make money from their art as well.