Colored pencil art doesn't get the praise it deserves. While everyone gushes over oil paintings, stunning colored pencil artwork goes unnoticed. It's really a shame. If you're a colored pencil artist, you probably know the feeling. Even though professional colored pencil work isn't something you typically see in galleries or museums, is there still a market for it? Can you sell your colored pencil artwork and make a good living?
There is a market for colored pencil art, especially for customized portraits on online platforms. Colored pencil art isn't as saturated, so it's easier for artists to make a name for themselves if they are producing high quality work and building an audience.
If you're a colored pencil artist and you want to make money from it, there's definitely a place for you in the seller's world. There are a couple of things to be aware of in order to be successful, so let's dive in.
Does Colored Pencil Art Sell?
Colored pencil art doesn't sell as well as other types of art. Looking at sellers in the first row of Etsy, some of them do not sell colored pencil work at all, while the ones that do have less than 150 sales at this time. Colored pencil art is hard to find on other platforms like Amazon and eBay.
Etsy is where I look when doing research about the types of art being sold and how saturated the market is. When looking for "colored pencil art," the results are underwhelming. There are some great and talented artists but, for the most part, there's not a lot being offered.
This is good because there is a LOT of opportunity for an artist to come in and dominate the listings.
This is bad because it could be a sign that colored pencil art isn't in demand. Let's look at the numbers to find out.
Looking at data from eRank, "colored pencil art" gets almost 140 searches a month on Etsy.
That's not a lot. A lot of searches don't convert into sales. To be fair though, it's not nothing. If you can get onto the first page of listings pretty easily, you could end up with a few sales a month, but you probably wouldn't end up with staggering sales.
At risk of sounding optimistic, I think that colored pencil art is a market waiting to explode. I mean, there is some amazing work out there and I have no doubt that people would want to buy it. I would! We are so used to paintings selling, that we haven't given colored pencil art its time to gain in prominence.
It's just that we need artists to sell it, and sell it well.
Looking through Etsy, it's clear to me that we need more colored pencil listings and we need more artists focused on marketing. Marketing doesn't have to be a huge effort and we'll talk about a simple way to supercharge your views and following later.
What Type of Colored Pencil Art Sells?
In the colored pencil market, there is a trend towards customized portraits of people and pets. Colored pencil prints also do well given that one piece of artwork can be sold over and over again. This allows for a lower price point, which is more accessible to buyers.
Custom portraits are really neat and are definitely in demand. There has also been a market for personalized work and probably always will be. Getting your marriage, family, pets, and favorite moments immortalized in a custom piece of artwork is really special.
The issue I have with custom colored pencil work is the effort it takes. Even if you work quickly, colored pencils are a slower medium. You need to be careful about finding that sweet spot with your pricing where you're still affordable to buyers, but you're also compensating yourself fairly for your time and effort.
I'm a huge fan of selling prints. A piece of artwork can be made once and then printed over and over again, giving yourself a passive source of income and the time and space to create more work. I don't see a lot of colored pencil work being sold as prints on Etsy. I think it's an underserved market with a lot of opportunity.
Creating work that can be sold over and over again is the way to explode your business and your profits.
I'm a big supporter of Printful and have used it to grow my Etsy store in a passive way. Printful is a print-on-demand fulfillment company that offers prints, but they also offer mugs, apparel, phone cases, and more. Have you ever wanted to see your work on a t-shirt being worn out in the world? Yeah, it's pretty neat. What's even more neat is that they print your work as orders come in. No inventory or upfront costs.
What I love about Printful aside from their large product line and high quality production service is that they make it easy to automate everything. Once you integrate Printful to your Etsy store, everything is hands-off. When you get an order, Printful will automatically begin production of it and ship it out. It will even close out the order on Etsy.
You could be camping in the woods for a weekend without internet access and come back to realize that a few orders have been placed, processed, shipped, and closed out while you're gone. Talk about awesome, passive income. Click here to sign up for your free Printful account. Grab a few test orders for yourself to see what Printful can do.
How to Get Your Colored Pencil Art Seen
Pinterest is a great place for colored pencil artists to post their work in order for it to be seen by potential customers. Users see Pinterest as a visual search engine and a great place to get ideas for home decor and art, making it a great place for potential buyers to connect with sellers.
Pinterest is a marketing dream for artists. It's a beautiful platform where art really shines. When users save, re-pin, and share your work, it spreads across the Pinterest community and organically attracts new eyeballs.
Many people use Pinterest to brainstorm; saving ideas for a future home remodel or DIY project. But, some users click through and buy the artwork or products they discover. Others will rediscover their favorite pins when they look through their boards in the future, which could also lead to sales.
Overtime, Pinterest accounts develop a following, which can grow to thousands and then millions of people. These followers will see the pins from the accounts they follow more quickly than other pins, leading to more engagement.
Hands down, Pinterest is a great place to be as an artist.
Looking at the eRank data, almost 5,000 searches for colored pencil art are made on Pinterest a month. This is in comparison to almost 140 searches on Etsy.
This data is nothing to sneeze at.
It can take some time to build a consistent and large Pinterest following but, as an artist, your efforts will pay off in more views and exposure.
The Pinterest algorithm likes it when accounts are very active, posting 5-10 or more posts a day. I know, this is overwhelming. It's ok to start off small and grow as you go.
The market for colored pencil art is unsaturated and leaves a lot of opportunity for new artistic sellers who want to take a piece of the pie. With the right Pinterest marketing, a focus on prints that can be sold again and again, and great product listings that entice buyers to click and buy, you could quickly start seeing success in the colored pencil art world.
Whichever path you choose, make sure to go forth and create great art!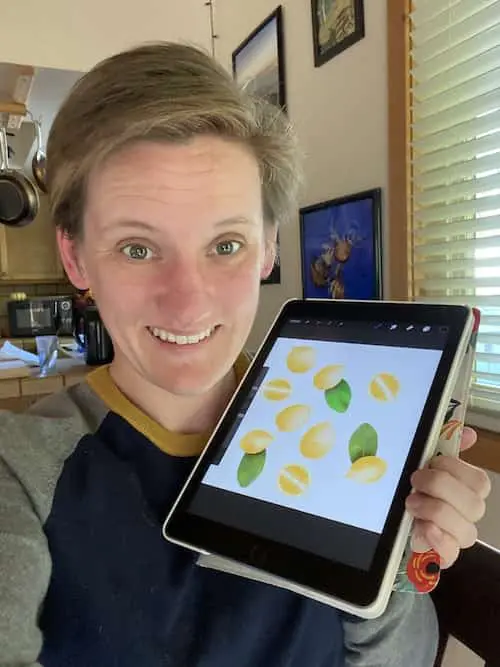 Diana has been an artist for over 26 years and has training in drawing, painting, digital drawing and graphic design. Diana's latest obsession is digitally drawing with Procreate and creating t-shirt designs with Canva. Diana has experience selling her art across a number of platforms and loves helping other artists learn how to make money from their art as well.