Neon color palettes are a great way to brighten things up in Procreate. Even though there are traditional pencils and pens in neon colors, digital art is where neon colors really pop. Use a black background, turn up your screen's brightness, and let those neon colors shine!
We're diving into the best neon color palettes for Procreate that will take you back to the 80's.
Important note: to make the most of your neon colors, it's really important to make the most of your canvas' background and your brushes.
If you use a neon color on a cream background with a watercolor brush, it won't be as vibrant as using a neon color on a black background with a glow brush.
This is why we'll also be looking at glow brushes you can pair with your neon colors for the ultimate neon effect.
Some of these glow brush packs also come with unique brushes that you won't want to miss (neon fire, anyone? Yep, you read that correctly!)
Alright, let's get started by jumping into some great neon color palettes for Procreate you can use. The first one is free, which is even better!
If you're not sure what to do with the color palettes you find here, don't worry. I have a full guide on creating Procreate color palettes that includes instructions for importing any pre-created palettes.
This post may contain affiliate links, which means I may earn a commission if you decide to purchase through my links.
1. Bardot Brush Free Color Palettes
I love everything about Bardot Brush. Adorable website; adorable Instagram posts; adorable products. She's just great. Her color palettes are no exception.
On her free color palette page, you can find beautiful palettes of all types. Download any that appeal to you and make sure to take note of the neon ones.
These neon palettes aren't "in your face" neon, but they'll really pop with a dark background and the right brush. Bardot Brush's entire page of color palettes is worth checking out, whether you need neon colors, pastels, basics, or more.
Check out Bardot Brush's free color palettes here!
2. Neon Light Color Palette
If you want a full, 30-color, neon palette to add to your list of Procreate palettes, this Neon Light Color Palette from Creative Fabrica is a beautiful and fun choice. I mean, don't you want to just look at these colors all day?
This color palette comes with neon colors spanning the entire rainbow. Pairing these neon colors with some of the brushes we'll talk about next will leave you with some amazing neon work to show off.
Check out the Neon Light Color Palette here!
3. Cyberpunk Neon Color Palette
This Cyberpunk Neon Color Palette from Design Bundles also comes with 30 neon colors to add to your collection. It has neon colors covering every shade of the rainbow.
Choose the lighter ones for a more intense feel, or choose the darker ones for a more subdued neon effect. Having lighter and darker options can be a great way to make your work dynamic and multi-dimensional.
This is a solid collection of neon colors that makes a great addition to any Procreate palette menu.
Check out the Cyberpunk Neon Color Palette here!
4. Neon Lights Free Color Palette
This is another free neon color palette! Woohoo! If you want to dip your toes into the neon world without paying for it yet, this Neon Lights Free Color Palette is a great option.
It doesn't have yellows or oranges, but it has the other neon colors you'll need.
Check out the Neon Lights Free Color Palette here!
Now that we've talked about some great color palette options for neon colors, let's look at some brushes to pair them with. Remember that the right brushes are essential for making sure that your neon colors really pop.
5. Procreate Neon Brushes (with a Bonus Color Palette!)
These Procreate Neon Brushes from Design Cuts have a really nice glow to them. Paired with a neon color, they will make your art shine and glow on your iPad screen.
To make things even sweeter, when you get this brush pack, you'll get a bonus color palette you can use too!
This is one of the areas where digital art really shows its strengths. These glowing, neon effects are ones that you can easily create with Procreate, despite looking complicated and magical.
Check out the Procreate Neon Brushes pack here!
6. Procreate Glow Brushes
Let's keep the glow party going! These Procreate Glow Brushes from Design Cuts come with some really unique brushes that can add a lot of creativity to your work.
There are standard glow brushes that will give your neon colors the typical neon effect you would expect. But, there are also textured glow brushes that can give your neon colors a different edge.
There are pixelated glow brushes, blurry glow brushes, streaky glow brushes, grid glow brushes, polka dotted glow brushes, and more.
If you want to use glow brushes, while also having some unique options, this is a great brush pack to use.
Check out the Procreate Glow Brushes pack here!
7. Lights Procreate Brushes
To round out our list, let's end with one of the most unique brush packs on the list.
What I love about the Lights Procreate Brushes pack from Design Cuts is that it comes with some standard glow brushes, but it also has some amazing fire brushes. Yes, fire brushes!
Think of all the things you can do with neon fire!
This brush pack also comes with some unique electricity brushes and space brushes. Now, if neon fire sounded cool, neon electricity and space dust sounds even cooler.
To bring the cool factor over the top, let's add in some bonus color palettes that you can use for your work.
Check out the Lights Procreate Brushes pack here!
There are a lot of ways to use neon colors with digital art that just aren't possible with traditional art. Once you dive in, playing around with glowing neon effects can be a really fun artistic challenge to take on.
This list of neon color palettes and glow brushes for Procreate will give you everything you need to get started with some neon adventures on your iPad.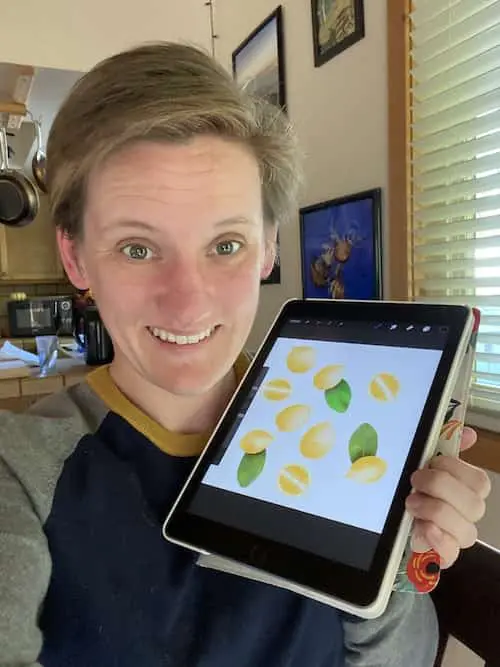 Diana has been an artist for over 26 years and has training in drawing, painting, digital drawing and graphic design. Diana's latest obsession is digitally drawing with Procreate and creating t-shirt designs with Canva. Diana has experience selling her art across a number of platforms and loves helping other artists learn how to make money from their art as well.