This post may contain affiliate links, which means I may earn a commission if you decide to purchase through my links.
If you have a ukulele or guitar, you're probably the creative type and you've eyed that little string instrument with a paintbrush in your hand. Your ukulele means a lot to you though, so you don't want to make a mistake and accidentally ruin it with your paint.
If you've ever wondered how to paint your ukulele, you've come to the right place. We're diving into the top tips for painting your ukulele so that it shines with creative expression, while also keeping its beautiful sound.
1. Decide Whether You Need to Take Your Ukulele or Guitar Apart
2. Sand the Surface of Your Ukulele or Guitar Lightly
3. Apply a Thin Layer of Gesso to Your Ukulele or Guitar
4. Keep Your Paint Layers Very Thin
5. Finish Up with a Layer of Varnish
If you're nervous about painting your instrument, we're about to turn those nerves into confidence. Let's dive into the supplies, techniques, and insider tips you need to have a painting success.
Before we get started, I want to point out a fantastic video that artist and teacher Ten Hundred did about painting ukuleles.
Ten is not only has a YouTube channel, but is also a teacher on Skillshare. It's teachers like him that make me love the Skillshare platform. They have phenomenal artists that give you insider tips about how they do what they do.
And, you get their expert teaching absolutely free. Simply click here and you can get a trial of Skillshare, absolutely free. That's an incredible deal. Imagine having access to classes led by teachers like Ten Hundred absolutely free for a whole two months. Yeah, it's pretty great. Sign up for a free trial today!
Ok, let's dig into the details of painting your ukulele or guitar.
1. Decide Whether You Need to Take Your Ukulele or Guitar Apart or Not
It's really important to plan out your entire ukulele or guitar design ahead of time. Plan it out two or three times. Be absolutely certain of what you want to do.
Depending on your design, you'll realize whether you need to take your ukulele or guitar apart or not. I don't know about you, but I'm an artist, not an instrument repair girl. I can guarantee that if I took apart a ukulele or guitar, it would never come back together again.
Ukuleles are small and it'll be hard to paint around the strings. You might be able to get away with it for the stem, but probably not the neck. The same is true for the guitar and, in the case of a guitar, the size of it might make it awkward and tricky to navigate.
If you DO have dreams to paint your entire ukulele or guitar and need to take it apart, just prepare for it. Take a lot of photos, label the parts, and even take a video of yourself taking it apart so that you can backtrack your steps when you put it back together again.
Here's the best of both worlds. Buy a ukulele kit or guitar kit from Amazon. They come in pieces, ready to paint, and also include detailed instructions about how to put them together. If you're worried about taking apart your own ukulele and being left with a trash pile of loose parts, get a DIY ukulele or guitar kit that can walk you through the process.
Check out this DIY ukulele kit on Amazon here!
Check out this DIY electric guitar kit on Amazon here!
Alright, now it's time to map out your design.
In his video, I LOVE how Ten Hundred takes a picture of his ukulele, imports it into Procreate, and then maps out his design digitally. This gives you a lot of options to re-do the design over and over again, tweak the positioning, and make your mistakes before it really matters.
If you look through our posts at Adventures with Art, you'll see that Procreate is one of my favorite art tools of all time. It's an amazing digital drawing program that has an insane amount of powerful uses, including prepping your ukulele. If you want to learn more, check out my post about whether Procreate is worth it for beginning digital artists.
Whether you decide to use Procreate or not, be sure to map out your design until you're blue in the face. You don't want to have to get a new ukulele or guitar, or try to cover up your work.
2. Sand the Surface of Your Ukulele or Guitar Lightly
If you get a DIY ukulele or guitar kit, you won't have to worry about sanding. The instruments in those kits come in their plain, natural, glory. If you already have a finished instrument though, you'll want to lightly sand it before you get started.
The glossy, satin finishes that are on the surface of ukuleles and guitars doesn't lend themselves to painting. In fact, they're designed to repel substances that could hurt your instrument. While you can paint your guitar or ukulele as is, it likely won't turn out as well as it could have had you sanded it down and followed these steps.
Use sandpaper to lightly sand away that finish. You want to be light handed and make sure that you apply pressure evenly.
3. Apply a Thin Layer of Gesso to Your Ukulele or Guitar
Now that we've sanded your guitar or ukulele, you want to prime it for painting. Gesso is a clear mixture that is often used on canvases and wood to prepare them for painting. Not only will this lead to a better painting experience, it will preserve both the wood of your guitar and the painting itself.
Gesso is a standard in the painting world, but we don't often consider it when we start painting obscure things like ukuleles and guitars. For the purposes of gesso, think of your instrument as any other wood panel that you might be painting.
Check out some great gesso on Amazon here!
4. Keep Your Paint Layers Very Thin
Once you're ready to paint your wooden instrument, use acrylic paint, and be sure to keep your paint layers thin. Apply as little paint as possible to cover your surface and get the effect you're looking for. If you apply your paint too thick, it could impact the quality of the sound.
Painting a Guitar or Ukulele Can Affect the Sound
Especially if you apply your paint in thick layers, painting could have an impact on the tone or sound you get from your guitar or ukulele. Many times, the changes aren't obvious, but if you have a sensitive ear for your instrument or a high quality instrument, you might notice the change.
If you're even thinking about painting your guitar or ukulele, you probably aren't someone who keeps it in a glass case and analyzes it everyday for its tonal quality. If you are, I would say you should jump ship now and abandon the idea of painting your wooden instrument altogether.
But, if you want a good sounding instrument and the idea of painting it sounds like a fun creative tradeoff for a small potential dip in sound quality, then go for it. If you apply your paint in very thin layers, you likely won't even notice the difference.
If you're really concerned about screwing up your sound quality by painting your instrument, buy a different one to paint. The DIY guitar and ukulele kits aren't that expensive on Amazon and can either be great first practice runs, or quench your thirst for musical painting.
5. Finish Up with a Layer of Varnish
Once you're finished painting your ukulele or guitar, you'll want to finish it so that your work is protected. If you plan to play your instrument, this is really important for avoiding nicks and chips to the paint. If you aren't planning on playing it and just keeping it on display, this finishing layer will give your ukulele or guitar a nice shiny glow. Basically, it will make your art look its best.
Any acrylic finish will work. I suggest Krylon ColorMaster Acrylic Crystal Clear. They have a satin finish, which looks nice, but you can also choose between gloss, flat, matte, and other textures. Krylon has a great reputation and one bottle of their finish will last you for a lot of pieces of artwork. Applying a finishing coat is an absolute MUST. Don't create amazing and beautiful art and then leave it vulnerable to damage. Get a bottle of Krylon and know that your art is safe.
Check out Krylon on Amazon here!
Painting a guitar or ukulele is a big, but fun undertaking. Once you know the right steps to take, you'll be on your way to an instrument that also serves as a beautiful piece of art. There's no doubt that you'll be the hit of the party at your next campfire or open mic night. As an artist, I LOVE projects like these that merge two creative inspirations together. Looking at your beautifully painted guitar or ukulele might just be the inspiration you need to write the next musical hit.
Go forth and create great art!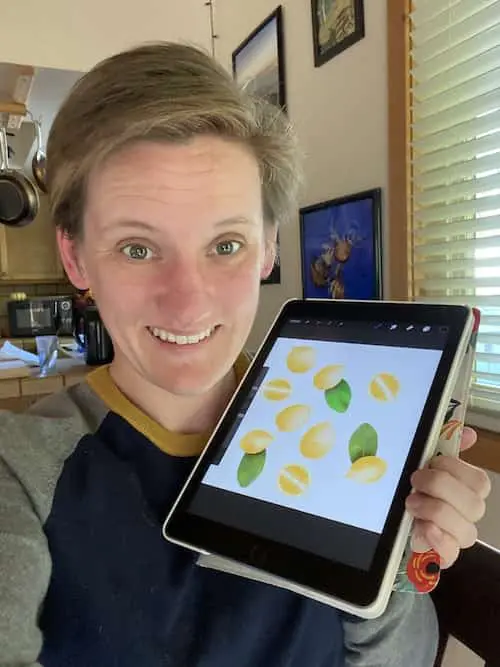 Diana has been an artist for over 26 years and has training in drawing, painting, digital drawing and graphic design. Diana's latest obsession is digitally drawing with Procreate and creating t-shirt designs with Canva. Diana has experience selling her art across a number of platforms and loves helping other artists learn how to make money from their art as well.