This post may contain affiliate links, which means I may earn a commission if you decide to purchase through my links.
Painting is permanent, which can turn a relaxing art project into a stressful series of choices. Will the paint get darker with a second coat of paint? Once you do it , you can't take it back. What will happen? Let's find out what you should expect after adding a second coat of paint, both acrylic and watercolor, to your work.
Applying a second coat of paint will not make the paint darker, but the paint may appear more vibrant if your first coat of paint was thin. For both acrylics and watercolors, a second coat of paint can help you achieve the bright and vibrant version of the paint color you're using.
The pigment in your paint is the pigment in your paint. The number of coats you lay down will not change that.
That's why, technically, you can't say the paint got darker with more coats. The pigment didn't change.
That said, applying more coats can make the paint look more vibrant, depending on how you applied your previous coats of paint.
For example, if you applied very thin coats of paint, it may become more vibrant as additional coats are added. This is because you're building up the pigment and allowing it to "show it's true colors" so to speak.
Once you've achieved full vibrancy, adding coats of paint won't change the color anymore, as the paint pigment is being fully expressed.
Another thing that happens when you apply thin layers of paint is that the paper can show through. While this doesn't actually impact the paint itself, the color of the paper showing through does make a difference in how we view it.
So, if you want to have vibrant paints, be sure that you're applying enough coats to cover your paper completely.
Especially when it comes to seeing the paper through your paint, watercolors and acrylics function really differently.
While the principles above still apply, there are some important differences between these types of paints that you'll want to keep in mind before applying a second coat. Let's talk about them now.
Applying a Second Coat of Acrylic Paint
When you apply a second coat of acrylic paint, you'll only notice an increase in your paint's vibrancy if the first coat was thin or allowed the paper to show through. A second coat of acrylic paint can let you fill in any holes and smooth out any inconsistency that might be in your first layer.
Again, it's not that your paint is getting darker with a second coat, per say. It's that you may not have laid down enough paint on your first coat to have allowed the full vibrancy of your paint's pigment to shine.
What's even more likely is that your first coat of paint was inconsistent. It's hard to lay down a coat of paint in an even and consistent way on the first go around.
You will have sections that are uneven because your paint started to run out; there will be streaks that don't look smooth; the paper will show through in certain areas.
Applying a second coat of paint not only lets you ensure that the vibrancy of your paint is maximized, it also lets you smooth out any areas that need it.
Take a look at the example below. As you can see, there isn't a big difference between the version that has one coat of paint and the one with two.
When I made the example with one coat of paint, I was careful to have enough paint on my brush and reloaded my brush as needed when I went along.
Even so, adding another coat of paint was beneficial to my final outcome. No doubt the example with two coats of paint looks better.

Alright, so now that we've talked about acrylics, let's look at watercolors. Watercolors are a very different story.
Applying a Second Coat of Watercolor Paint
When you add additional coats of watercolor, it impacts its transparency and allows less of the paper to show through. With each coat, pigment is built up and becomes more vibrant. Given watercolor's transparent nature, adding more coats impacts watercolors more than acrylics.
One of the main reasons to use watercolors instead of acrylics is to have more flexibility with the transparency of the watercolor paints. You can create different effects that you can't create with acrylics.
This is why leaving pencil marks behind when making a watercolor piece is such a big issue.
This brings different considerations to mind, especially around adding coats of paint.
If your first layer of watercolor paint was really watery and light, adding a second coat that is heavier and thicker could make a huge difference. You'd be adding a lot of pigment, which would increase the vibrancy of your paint a lot.
On the other hand, if your watercolor coats are similar, you may not see a huge difference from one coat to the next. Look at the example below.
With watercolor, there's so much to be said for how the coats are laid down and how much paint is laid down in the process.
Mastering this is tricky and a big part of what watercolor is all about.
Again, technically, you aren't making the paint darker whenever you lay down another coat of watercolor. The pigment is still the pigment.
You are reducing its transparency with every coat and impacting how vibrant the pigment appears.
At the end of the day, applying a second coat of paint doesn't make the paint darker. It can impact how it looks depending on the amount of paint you laid down in the first coat, how consistent your first coat was, and how much paint you lay down in the second coat.
If you're worried about the impacts of laying down a second coat of paint, do some experiments and see what happens. Grab a scrap piece of paper and see how adding more coats with differing amounts of paint impacts your results.
Most importantly, have fun with it and create art you love.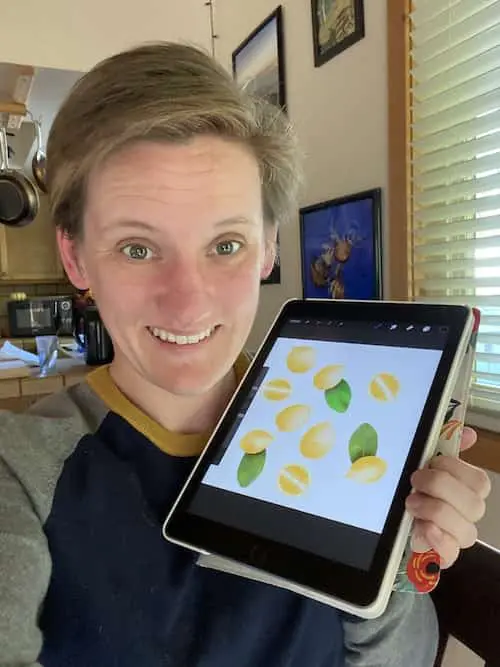 Diana has been an artist for over 26 years and has training in drawing, painting, digital drawing and graphic design. Diana's latest obsession is digitally drawing with Procreate and creating t-shirt designs with Canva. Diana has experience selling her art across a number of platforms and loves helping other artists learn how to make money from their art as well.