This post may contain affiliate links, which means I may earn a commission if you decide to purchase through my links.
This post contains sponsored content in partnership with Sellfy and Printify. All opinions are 100% my own.
As an artist, having the ability to sell your art prints over and over again without the hassle of printing and shipping is a dream. That's where print on demand comes in and, luckily, there are a lot of companies that do a really good job with art prints. Here are some of the best print on demand companies to choose from:
1. Printify
2. Sellfy
3. Printful
4. Gelato
5. Redbubble
6. Fine Art America
Selling art prints can open up a world of opportunities when you have the right print on demand (PoD) partner. If you're excited to dive into the world of selling your art for the first time, or just want to limit your trips to the post office with your current business, keep reading to learn how print on demand can be a game changer for selling your prints.
1. Printify Art Prints
Printify is one of the PoD companies I personally used for my own art store. They have been my printing partner for a number of years now due to their high quality products and easy to use interface. They're great to work with!
Like all of the companies on this list, Printify doesn't only offer art prints. They have apparel, mugs, hats, pillows, and more. Their product catalog is expanding all of the time, so if you're interested in selling other products aside from art prints, be sure to scan through their current offerings.
Printify offers art prints in a number of different sizes, framed or unframed. They also offer prints in matte, satin, canvas, and acrylic finishes. They even have wall decals. They call their prints "posters" but these posters come in all different sizes, from small to large.
If you want to sell art prints with Printify, it's important to note that they're a print provider, not an online store.
This means that you need to have your own Etsy, Shopify, or other online store where customers can find and order your prints.
The great news is that Printify can automatically sync to a lot of online store platforms. Once you have your online store synced, there's no need to manually input your orders.
When you receive an order for a listing that you created with Printify through your synced store, Printify's system will recognize it and automatically start processing it.
Like magic!
If you're new to print on demand, sign up for a free Printify account and buy a few samples for yourself. Not only will they make Christmas gifts, they'll give you a good idea of how Printify works and the quality they produce.
2. Sellfy Art Prints
If you like the idea of Printify, but you don't want to worry about integrating your PoD platform to a separate online store, Sellfy could be a great choice for selling your print on demand art prints.
Sellfy actually offers many of the same types of products as Printify and works in a similar way. Like Printify, they can automatically fulfill your orders from any number of their fulfillment centers across the world.
They have posters, framed prints, and canvas prints that can all be fulfilled with their print on demand service.
The difference is that everything is hosted within your Sellfy account and Sellfy storefront. No need to manage an additional Etsy, Shopify, or other online store as well.
Print on demand aside, Sellfy is also a great option for any artists who want to sell other types of products. Digital products, subscriptions, courses, physical products beyond print on demand; Sellfy has options for so many different product types.
I love this model for artists who are looking to earn money from their art because it accommodates everything that artists have to offer.
If you have a painting you want to sell, you can sell it on your Sellfy storefront
If you have a tutorial or course on how to create that painting, you can sell it on your Sellfy storefront.
If you want to turn that painting into a print on demand art print, you can sell it on your Sellfy storefront.
Suddenly, that one painting has turned into multiple income sources.
Sellfy is a great choice for your print on demand art prints, but what's even better is thinking beyond that to everything else that Sellfy offers.
Check out Sellfy and see what you can create!
3. Printful Art Prints
Printful is similar to Printify. They have a different range of products than Printify though, so it can be good to use both Printful and Printify together in your store so that you have access to as many products as possible.
You'll want to look at Printful's catalog so that you can see how their print options differ in variety and price from Printify's.
Here's an example of one of Printful's canvases I ordered of one of my pieces of Procreate art. I'm really pleased with the print quality and canvas quality. It also came well packaged and wrapped, which I appreciated.
Like Printify, Printiful is a print provider that will require you to have your own store attached to it – Etsy, Shopify, etc. And, like Printify, it syncs well with a lot of e-commerce platforms.
When an order comes in for a listing you created with Printiful through your synced store, it will automatically sync with Printful's platform and begin production.
Be sure to read my in depth guide about setting up listings with Printful and Printify if you want to know how all of the details work. Sign up for your own free Printify and Printful accounts so that you can follow along.
Printful is a great company and a lot of PoD sellers rely on it. As you can see, there are a lot of great options on this list. A lot of it has to do with experimenting with different providers, seeing what options you need for your art prints, and choosing what works for you.
4. Gelato Art Prints
Gelato is another print provider like Printify and Printful. It's platform works in very similar ways to Printful and Printify, so I won't repeat the process.
Look how beautifully this print turned out!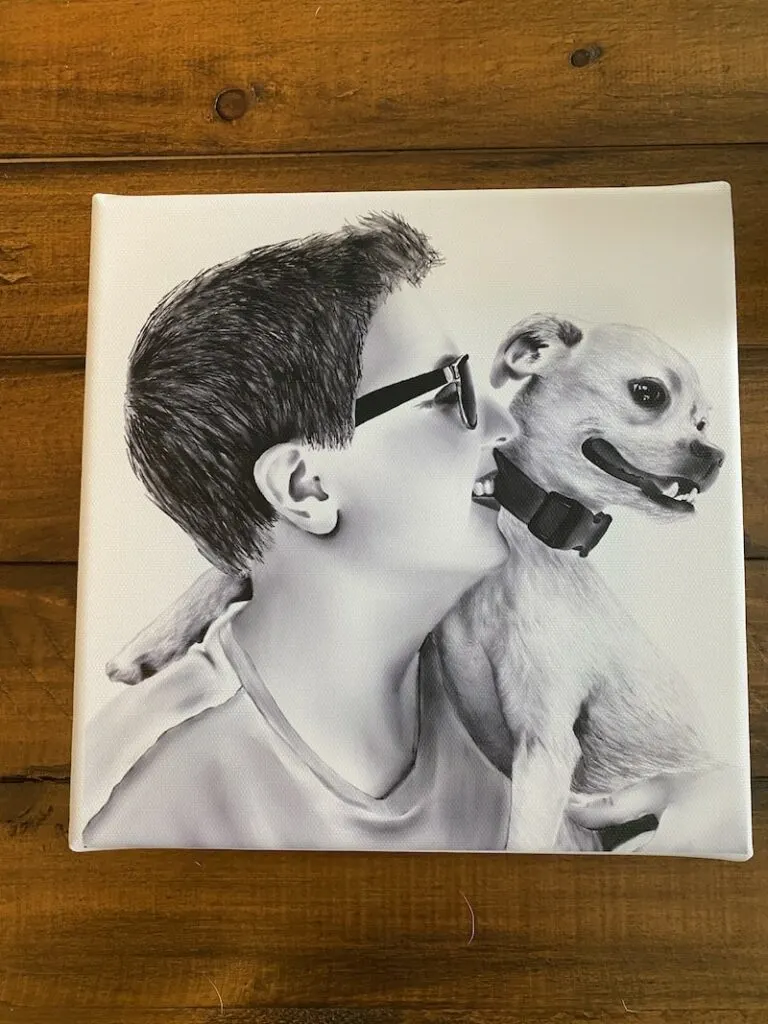 I've been super pleased with the print results I've gotten from Gelato. They also have a wider range of print options than other companies, like foam prints, metal prints, canvas prints, and more. They also have your standard poster prints.
Below is an acrylic print from Gelato. So cool, right?!
Aside from prints, Gelato has a wide range of neat products to check out. It's easy to get lost and starry-eyed in their catalog.
5. Redbubble Art Prints
Redbubble is NOT a print provider in the same way as the previous ones we've talked about. When you use Redbubble, you sell your art through their Redbubble store and platform. When you get a sale, you receive a royalty.
Profits tend to be lower with Redbubble and other services that offer royalties. It makes sense though. All you need to do is upload your listing and they do all of the customer service and heavy lifting for you. It's 100% passive on your end unless you want to do additional marketing for your work.
I personally make less on Redbubble than my Etsy stores that use Printful, but it's an "upload it and forget it" type of platform. The money I get is like a fun bonus!
Redbubble is AMAZING for artists. While a wide array of designs do well on their platform, I've always seen it as a haven for artistic, quirky, and unique work. A lot of people look to Redbubble for something special; not the generic things they can get on Amazon.
When you upload a design to Redbubble, you'll see that you can enable it on a lot of different products. A lot of your designs can be adjusted for each product without having to manually change the file for each one.
That said, if you're looking to primarily sell art prints, be mindful of Redbubble's specs for their wall art products so that your work is optimized for them.
Redbubble is fun and easy to use. My suggestion is to do what I did, which is to upload your designs to Redbubble on the side, while having an Etsy store hooked up to Printful as your main gig.
6. Fine Art America Art Prints
Fine Art America is great for artists, as the name implies. Their platform is like Redbubble whereby you upload your designs and utilize their store and platform. When you make a sale, you receive a royalty.
Fine Art America has a lot of options to choose from in all product categories, but especially in the wall art category. I would choose them over Redbubble if wall art is the only type of product you want to sell.
Wood prints, acrylic prints, tapestries, canvases, standard prints, and more.
Their platform is clean, easy to use, and offers a great way to make passive income as an artist.
If you're hoping to make money as an artist by selling art prints, there are a number of print on demand companies that can help you get started. Luckily, all of these platforms are free to get started with. Sign up for accounts, poke around, and dream of your future art print business!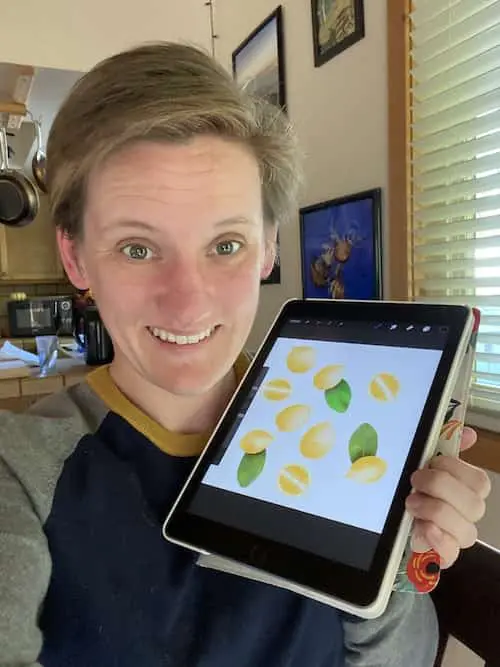 Diana has been an artist for over 26 years and has training in drawing, painting, digital drawing and graphic design. Diana's latest obsession is digitally drawing with Procreate and creating t-shirt designs with Canva. Diana has experience selling her art across a number of platforms and loves helping other artists learn how to make money from their art as well.