This post may contain affiliate links, which means I may earn a commission if you decide to purchase through my links.
This post contains sponsored content in partnership with Gelato. All opinions are 100% my own.
Print on demand can be an awesome business model, and Etsy can be an awesome platform to host it on.
I've used many of these print on demand companies for a long time and, in my experience, they're great when paired with Etsy.
If you can find print on demand fulfillment companies that integrate with Etsy, you'll be spending less time trying to enter orders manually. Which print on demand services integrate with Etsy? Which ones should you consider?
Making sure that your Etsy store is integrated with great print on demand fulfillment companies can make a difference in the products your offer, your time management, and how your run your online store. Let's dive into some great choices to integrate with your Etsy store and start your business off on the right foot.
1. Printify: Print on Demand Integration with Etsy
Printify is one of my favorite print on demand platforms that integrates with Etsy. They have a LOT of products. I mean a LOT. Like, over 750. They're also adding new products every week.
As you can see, Printify has a wide selection of products.
I absolutely love all of the options that Printify offers. Not only in regards to product types, but also location of print providers.
The majority of the platforms on this list will choose the location and print provider for you, mainly because they run their own fulfillment centers. With Printify, you get to choose.
If I want to sell a t-shirt, for example, I can choose my print provider based on price and location. These companies are not owned or run by Printify. They are other print providers that Printify works with.
You, as a seller, will always work with Printify. You don't have to worry about dealing with the individual print providers.
Take a look at the example below. While creating a product, I can decide which print provider I would like to use based on price, shipping costs, production time, product offerings, and more.
So, Printify has a lot of great products and print providers, but what about their Etsy integration? Is it any great shakes? Yes, it is!
Printify's Etsy integration is easy to set up and manage. Once your integration is set up, Printify will automatically scoop up any Etsy orders that are linked to your Printify account and process them.
It's like magic.
No need to manually input orders. As long as the integration is setup properly, any Etsy order placed for your linked Printify products will automatically show up in your Printify dashboard and be processed.
Printify's setup is great for people who want more freedom and choice with the production of their products. Choosing a print provider based on location, price, processing time, etc, is a unique feature that's rare to find in the print on demand world.
If you're a beginner in the print on demand space, Printify has an Etsy bootcamp that can be really helpful as you're getting started! Use my coupon ADVENTURES70 for a 70% discount on the course!
2. Printful: Print on Demand Integration with Etsy
Printful is another one of my favorite print on demand fulfillment companies, in large part because of how seamlessly it integrates with Etsy.
I rarely need to touch, adjust, or deal with my Printful orders that come in. If the integration is setup correctly, when the order is placed, they're swooped up by Printful and processing starts. It's awesome!
Click here to sign up for your own free Printful account. You can do it from your desktop or phone. Even if you're not sure if you'll go with Printful yet, having an account will let you test out your designs on products and get a feel for how the platform works.
Of course, you will always have to deal with customer service on the Etsy end. People cancel (depending on your policies), enter the wrong addresses, fail to read about your processing times, on and on. People are people and no print on demand service can fix that. In my experience, the integration itself is great though!
Important note: a lot of these print providers seem to offer similar products, but they aren't as similar as they seem. For example, you'll notice that a lot of them offer "apparel." That's really vague and broad.
Many of them offer differing types of apparel, even within the same categories, women's shirts for example. There are TONS of different types of women's shirts. They may offer different brands, styles, cuts, and more. And for differing prices.
That's why it can be so helpful to use more than one print on demand service. That way, you can comparison shop and pick various services depending on the product you're looking for.
That's why I HIGHLY suggest having both a Printful account and a Printify account, if not more. As you can see from what we just talked about, print on demand companies work in different ways. Depending on what products you're creating, you may want to go with one platform or the other.
Luckily, it's easy to integrate your Etsy store with both platforms. To find out more, read my post about using both Printful and Printify at the same time.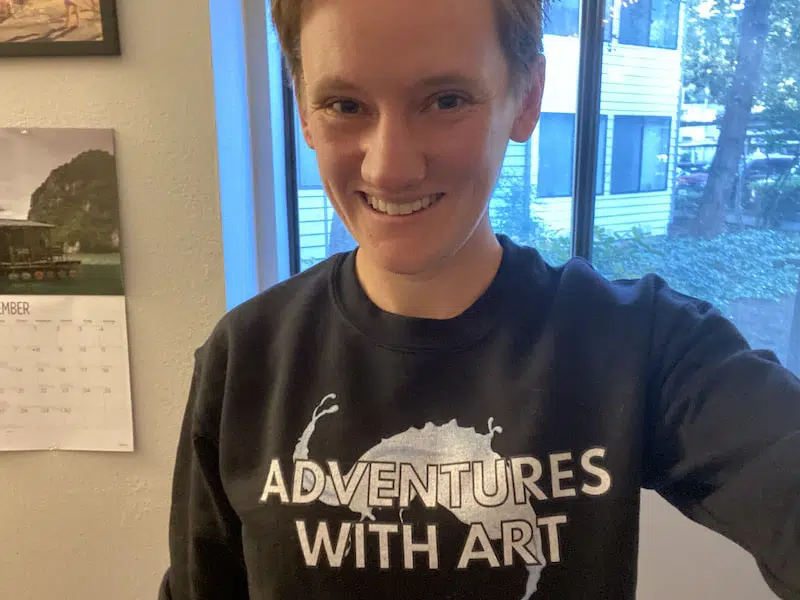 You'll notice that Printful is a bit pricier than some of the other options on this list. Despite that, they are the platform I primarily use. For me, the ease and automaticity of their service is worth it. They also offer great print quality, which is no small thing.
Keep in mind that, unlike Printify, Printful staffs their own warehouses and print facilities. They have various facilities places around the world at this point, but they are run directly by Printful. You can't choose between multiple print providers like you can with Printify.
That may be more or less important to you depending on your needs.
For me, I've personally been happy with Printful and their products!
3. Gelato: Print on Demand Integration with Etsy
Gelato is another stellar option if you're looking for a print on demand provider that integrates seamlessly with your Etsy store.
To get started, let's take a look at some of their products. I don't know about you, but that's always my favorite part.
I've ordered some art prints from Gelato, which I've been super pleased with. The stretched canvas print below is from a pencil drawing I did in Procreate. I was really happy with the high quality of the print, especially for the price.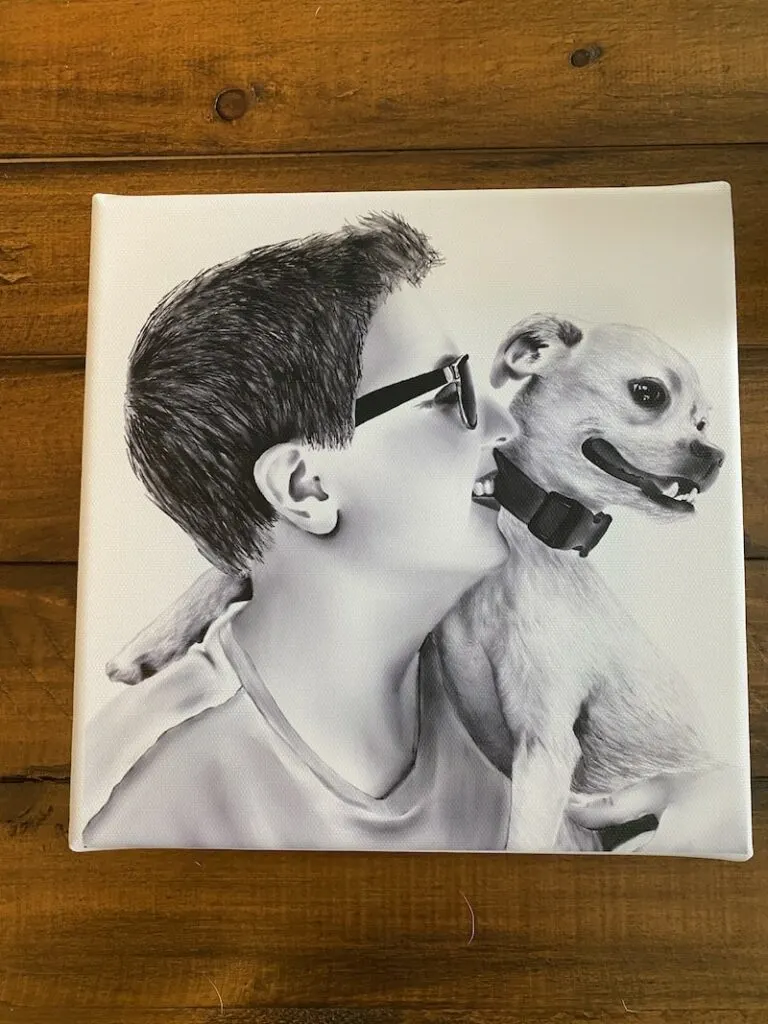 I've also ordered an acrylic print, which is something I hadn't tried out before. Well, despite how much I love posters and canvases, acrylic prints have suddenly moved up the rankings. I mean, they are just so beautiful!
The design below was made with an ink pen in Procreate. Look how beautifully it printed on the shiny acrylic surface! I imagine that photographs or colorful artwork would really pop.
Moving away from my much-adored prints, let's look at apparel. I gave them a challenge by ordering a sweatshirt with a detailed and colorful photo on it. Yet, they knocked it out of the park!
While these are just a few examples, Gelato has a big catalog of products including clothing, decor, accessories, and so much more.
Personally, I've had my eye on the wall calendars because creating a wall calendar filled with my Procreate drawings sounds super cool.
I've also been extremely tempted by their wallpaper. Yes, they have wallpaper! Can you imagine designing a beautiful pattern in Procreate and then printing it on wallpaper?
Alright, stop dreaming and get back to the point. So, we know that Gelato has the products covered – check! What about the Etsy integration?
Luckily, their Etsy integration is awesome too.
Once you've signed up for a Gelato account and connected your Etsy store to it, you can get started creating Etsy listings with some awesome Gelato products. You can even import your existing Etsy listings into your Gelato account, which is SO helpful and efficient!
I know this is a lot, so what if you're suddenly feeling overwhelmed by integrating your Etsy store with Gelato and getting started with making new products? Well, Gelato has thought of that! They actually have onboarding specialists that can help you get started.
Since I've mentioned the Gelato team, let me just say that I've personally had a great experience with their customer support team. Whenever I've had a question or needed something related to an order, they've been quick to respond and give me the info I need.
While I've used Printful and Printify the longest, once I started using Gelato, it quickly became one of my go-to PoD providers. They integrate with Etsy, their products are high quality, and their team is awesome. Check, check, check, sounds great to me!
4. Printed Mint: Print on Demand Integration with Etsy
I love Printed Mint's vibe. Just scroll through their website and you'll end up with a smile on your face. They have so many great products and they offer a lot of unique products that you won't find from other places.
Their services are just as adorable as their website. Just take a look at the packaging for their mugs!
For no extra cost, they will package your mugs in cellophane, with your choice of bow at the top. Then, they'll surround it with crinkle paper of the color of your choice, put it in a cute box and let you put a customized and branded sticker at the top. Talk about adorable and professional!
I've actually used Printed Mint for a lot of mugs and been happy with the results. They have good customer service, great print quality, and a wide and varied product selection.
They are a bit pricey though, even in comparison to Printful.
They also don't automatically process orders when they come in. Yes, they offer Etsy integration, but when an order comes in that's synced with Printed Mint, it gets saved as a draft. You need to go in manually to authorize the charge, choose the shipping speed, and finalize the order.
There are ways to pre-determine the payment and shipping so that orders get sent into production automatically, so that's an option if you're looking to skip the "draft" mode.
The priceyness and lack of fully automatic processing is why I don't use Printed Mint more often. I do love their products and high quality service though, so I do use them for certain products.
Sign up for Printed Mint here!
Before we move on, I want to make a disclaimer. The top 3 providers we've already talked about are the ones I've used for my own PoD business on Etsy. I can't personally vouch for the rest of the providers on this list, but they DO integrate with Etsy, so I wanted to be sure to include them.
4. Gooten: Print on Demand Integration with Etsy
I didn't use Gooten for my own Etsy store, but I have heard good things about them from other sellers. Yeah, I run in some PoD circles 🙂
Gooten has some fun and unique products, which I've toyed around with offering, like acrylic prints. They look like glass, but they're not. Cool, right? They also have body pillows, baby beanies, car seat covers, napkins, neck ties, and more. Really, their product catalog is really fun to look through.
In fact, looking through their catalog again is making me wonder why I haven't taken the plunge with Gooten.
Gooten does integrate with Etsy. Gooten works with a number of different print providers. When an order comes in, Gooten's system will automatically route each order to whichever provider makes sense based on where your customer is located.
5. Shirtly: Print on Demand Integration with Etsy
As the name implies, Shirtly produces…shirts…and other things! They have an assortment of apparel and accessories. Shirtly is great for basics. They don't have a huge catalog of apparel, but they're worth checking out.
If you're planning on having a store that primarily sells t-shirts, Shirtly is a great option. They understand t-shirts and they make them well. I've heard good things about their work in my PoD circles.
6. Print Aura: Print on Demand Integration with Etsy
Print Aura has a range of products from apparel to drinkware and wall art. They do have a wide variety of options, especially t-shirts. That said, they can be pricey and their platform is more clunky than the others. If I had to choose, I would pick Printful over Print Aura. They offer similar products, but their prices and interface don't rival Printful's.
If you're interested in what Print Aura has to offer, they integrate with Etsy and automatically process and ship your orders when they come in.
7. Art of Where: Print on Demand Integration with Etsy
Art of Where has a nice range of products and a sleek interface and website. In addition to the standard array of apparel, Art of Where has products you won't find elsewhere like fabric, origami bags, silk scarves, and wood prints.
What I like about Art of Where is that they care about handmade products that support their local community. They are based in Montreal, Canada and they do everything themselves, from sewing the products to printing the designs.
This can be great if you're looking for more of a friendly face in your production partner than a large, ambiguous business.
Art of Where does integrate with Etsy and always you to link your products to their platform.
Sign up for Art of Where here!
There we have it! Those are the main print on demand platforms that integrate with Etsy that can help you automate your success. Explore all 8 of these options and see which ones work the best for you. Again, my favorites are Printful, Printify, and Printed Mint.
That doesn't mean that the other options won't be exactly what you need for your business, but they are a good place to start if you're just beginning to navigate the PoD world.
Which Print on Demand Services Offer White Label Products?
White label products are those that show your own branding instead of the branding of the product. Without white labelling, your shirts, mugs, and other products will have tags and stamps associated with the brands that produced them. When you choose to white label your products, they'll show your brand name instead.
White labelling can be beneficial if you're really looking to establish yourself as a brand. It can also add a level of professionalism.
By no means is white labeling something you need to do. I don't white label my products and many PoD sellers don't either. The reason why? It costs more.
Generally, there's a fee of a few dollars a product to customize the branding of the products you sell. Also, white label products aren't offered by all fulfillment providers.
When people talk about white labelling, they're often referring to the products themselves. But, if we're going to be specific, we have to say that all of the PoD providers listed here offer some degree of white labeling.
When you buy a product, they generally will not include information about their own company. Even though Etsy requires you to disclose your production partners (and you should anyways for transparency's sake), packages won't arrive to your customers with your fulfillment company's brand stamped all over the place.
Be sure to look at each provider's shipping options so that you know what your customers will be receiving.
No matter which company you choose, know that it takes some trial and error to become successful with print on demand. Order some sample products, try to make a few listings, get a feel for what works. Try to have fun with it and don't put too much pressure on yourself to get it right on the first try. Keep trying new things and you'll figure out the products and providers that work best for you and your business.
Go forth and create great art!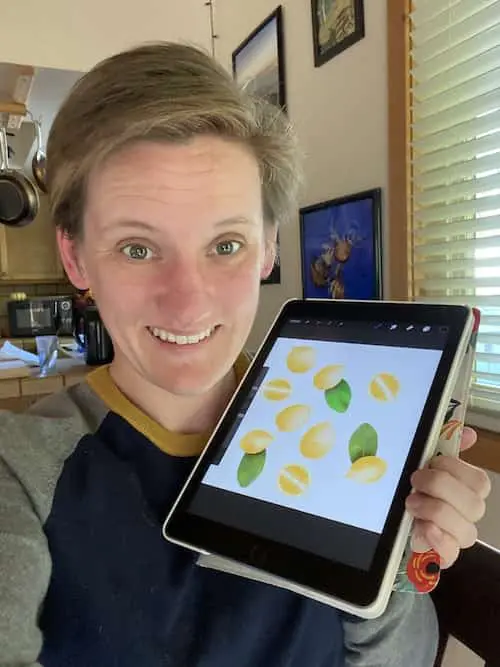 Diana has been an artist for over 26 years and has training in drawing, painting, digital drawing and graphic design. Diana's latest obsession is digitally drawing with Procreate and creating t-shirt designs with Canva. Diana has experience selling her art across a number of platforms and loves helping other artists learn how to make money from their art as well.