If you sell your art through a print-on-demand model, you might have fallen in love with one fulfillment company and decided not to branch out. But, what if you could? Printful and Printify are both print on demand fulfillment companies that are extremely popular and that I personally used for my Etsy business. Do you need to choose between Printful and Printify? Or, could you use both Printful and Printify at the same time, in the same store?
You can use both Printful and Printify for the same store at the same time. If you do use both, it's important to know which product listings are connected to each of these print on demand platforms so that you don't get confused about where your orders are getting fulfilled.
I'm a big fan of both Printful and Printify, but they each have their pros and cons. That's why it's SO great that you can use both of them within the same store. Whenever you're creating a new listing for your store, you can evaluate what type of product you're looking for, at what price, and within what timeframe. Having this freedom is a huge help and a great way to have the choices you need to set your store up for success.
Let's dive into the complications of using both Printful and Printify at the same time and also the big benefits.
This post may contain affiliate links, which means I may earn a commission if you decide to purchase through my links.
As you're reading this post, it will help a lot if you already have Printful and Printify accounts that you can follow along with. Luckily, signing up is free and easy. Sign up for Printful by clicking here and sign up for Printify by clicking here.
Using Multiple Print on Demand Companies: the Pros and Cons
Using multiple print on demand companies has its benefits because it lets you have more freedom over the products you pick and the prices you pay for them. It has its downsides because it can mean that you have more to keep track of and manage.
To get right to the point, there are more pros to using multiple print on demand companies than cons. That said, you should know what the potential hiccups could be so that things run seamlessly and you aren't caught off guard.
Firstly, let's talk about the basics of how to set up a store that uses both of these great print on demand platforms at the same time.
How to Use Printify and Printful Together
Printify and Printful can integrate with a number of platforms including Etsy, Shopify, eBay, and more. This means that, when an order is placed, it will get automatically sent to either Printful or Printify for production without the need for manually inputting it.
We'll talk about this more later, but what this means is that you won't need to spend a lot of time remembering which listings are connected with Printify and which are connected with Printful. As long as your listings are integrated into the platform properly, your orders will automatically be sent where they need to go, be processed, and sent out.
Printify and Etsy even mark your Etsy order as complete, making it a fully hands-off experience. It's a dream!
This is a pretty streamline process, but you need to set everything up correctly. Firstly, connect your store with both Printful and Printify.
How to Integrate Your Store with Printful
1. Login to your Printful account and click on "Stores" in the menu on the left hand side
Click on the button that tells you to integrate Printful with your store's platform
Find your store's platform within the list and click "Connect"
Follow the prompts and your store will be integrated!
You can have multiple stores in your one Printful account. You'll see them in a list under the "Stores" tab. Simply connect as many stores as you have!
Don't forget to sign up for Printful here!
How to Integrate Your Store with Printify
Login to your Printify account and click on your profile icon at the top right
Click on "My Stores"
3. Click on "Add new store"
4. Find your store's platform and click "Connect"
Follow the prompts and your store will be integrated!
Don't forget to sign up for Printify here!
Now, here's the really important part:
You need to create each of your products within either Printful or Printify for it to automatically sync to the platform.
This is how the magic works and why you can use two print on demand companies at once. Even though your store is integrated with both Printify and Printful, it doesn't mean that all of your listings are. No, the platforms simply need to gain an initial connection with your store.
Nothing will happen unless you connect each of your listings to either Printful or Printify. Once you create a product through Printify, for example, the Printify platform will sync with it..
Whenever a customer orders that listing, it will be sent only to Printify, not Printful. See? Magic.
This might be annoying, but this point is worth repeating. Without understanding this, none of this will work:
You need to create products you want fulfilled with Printify within the Printify platform and products that you want fulfilled with Printful through the Printful platform.
If you create your products directly through Etsy, Shopify, or your other store platform, they will not be synced with Printify or Printful.
If this sounds overwhelming, don't worry. Let's walk through it. For the sake of the example, let's say you are listing a mug and you use Etsy. The process is similar for all store platforms.
How to Create Synced Listings in Printify
Login to your Printify account and make sure your store is selected. Click on the shop button next to the profile button at the top right to be sure.
Look through Printify's catalog and find a product
Scroll down and pick a manufacturer.
A note here. When picking a manufacturer, you want to factor in price, shipping, production time, and manufacturer location. I am located in the United States, so picking a manufacturer in the US is my top priority. If your customers are also based in the US, you don't want to deal with custom fees and longer shipping times to get your products produced in other countries.
Click "Start Designing" on the manufacturer of your choice.
Add your design. If you aren't sure of sizing, look in the description of the product for a guideline.
Click "Save Product"
Now you'll see your product within a list of other products you've created. Click "Edit Listing"
Choose your mockups, add a description, set your prices, and then, in the last tab, click "Publish"
Printify doesn't cover everything you will need in your Etsy listing, so go into the Etsy listing that was just created and add your tags, product attributes, and anything else you might want.
Save your listing, make sure it's live, and you're good to go!
Whenever someone buys that listing, it will automatically sync to Printify!
Now let's talk about how to set up listings with Printful.
Login to your Printful account and click on "Stores" in the menu bar on the left
Find the store you're looking for in the list and click "Add Product"
Scroll through Printful's product options and click the product you want to add to your shop
Add your design to the product and position is within the template and print area
As a note for mugs and other products with multiple variations, scroll down a little bit below the template. You'll see the variations for this product. Click on each variation and position the designs separately. Product variations may differ in the size of their print areas, especially with products like mugs where the product variations are different sizes.
Once you're happy with the design, click, "Proceed to mockups"
You'll see an array of options for mockups. I suggest not going overboard here. Product pictures are great, but if you have too many mockups, customers can get overwhelmed and feel like you're trying too hard
Click "Proceed to details." Unlike Printify, you'll be able to add your product tags
Click "Proceed to pricing" and set your prices accordingly
Click "Submit to store" and let it redirect you back to your dashboard
You'll notice that your new product is at the top of your product list. But, you aren't done yet. Give it a few seconds to process and then, under the title and product number, you'll see a "Edit in Etsy" button
Finish up your product listing within Etsy and then publish it
That's it! Whenever someone orders this listing through your store, it will automatically be sent to Printful for processing.
The moral of the story:
The listings you set up through Printify will be sent to Printify and the listings you set up through Printful will be sent to Printful.
As long as you're careful to create your products within the right platform, you'll be all set.
As an important note, it's important to be confident in whichever platform you're choosing for your product from the get go. If you have a product with Printify and then decide you want that product to be fulfilled with Printful instead, it can be messy to disconnect it from one platform and sync it to the other.
It's doable, but I've had hiccups with it.
One option is to simply delete the listing and redo it with the other print provider. You DON'T want to do this though if your listing is already ranking and getting love from Google or Etsy. If you delete it and create a new listing, you'll be starting from scratch.
The Pros of Using Multiple Print on Demand Companies
The biggest upside to using multiple print on demand companies is that you have SO many more choices when picking products. You also have more freedom to comparison shop, choosing the prices, products, and variations you're looking for.
Here's just a sampling of the products that each platform offers. If you want to see how your own art looks on the products of each of these platforms, don't forget to sign up for Printful and Printify accounts.
Printify
An assortment of apparel for adults and kids
Art prints
Mugs, tumblers, water bottles
Pillows and blankets
Dog tags and pet beds
Magnets, stickers, and buttons
Bags, totes, and backpacks
Socks and underwear
Phone cases
Christmas decorations
Aprons
Apple Watch bands
Baseball caps and beanies
Printful
An assortment of apparel for adults and kids
Art prints
Mugs
Leggings
Pillows, blankets, and towels
Socks and underwear
Visors, baseball caps, and beanies
Laptop cases
Backpacks, tote bags, fanny packs, and drawstring bags
Phone cases
Jewelry
Flip flops
Bean bags
Aprons
You'll notice that a lot of the product categories are the same between Printify and Printful. But, if you dig into the products themselves, you'll see that they're different brands and different styles.
It's not as simple as picking a woman's shirt. There are tons of different types of women's shirts. What style of women's shirt are you looking for? What cut? What type of material? What price?
When you start digging into the specifics of each product category, you'll realize that Printful and Printify actually have very different things to offer from each other. While they do have some overlapping products, they show a lot of differences in the styles and brands they carry.
They offer different brands of products in different styles, which is most obviously seen in apparel. Even with something as simple as mugs though, you'll see that Printify offers a wider selection than Printful; they offer a black mug and a latte mug just to name a few.
Where the products overlap between the two companies, you'll often see a difference in price. It may only be a few dollars, but that difference can add up over the course of a lot of orders. A great benefit of using both Printful and Printify is that you can price match them when creating your listings.
There's a constant, hot debate between the quality of Printify and Printful. There are a lot of YouTube videos comparing the results from both companies. Take a look at the videos, or order a few samples, and decide for yourself.
I also have a guide on creating all over print shirts with Printful and Printify if you're interested in the fun world of all over print clothing.
The Cons of Using Multiple Print on Demand Companies
The biggest downside of using multiple print on demand companies for your store is needing to keep up with each of their production timelines, changes, and other business fluctuations. Especially during busy times of the year like Christmas, it could take more monitoring.
The benefits of using multiple print on demand companies outweighs the downsides. Access to more products, ability to comparison shop, and greater flexibility overall are worth it. It just takes a little more mental effort.
If there end up being issues with any of your orders, you'll need to know which platform that order was sent to and understand how to navigate their customer support.
During busy times like the holidays, there's no doubt that you'll need to keep an eye on your orders more closely. Both of these companies do a phenomenal job during the holidays given the volume of orders they get, but there are always so delays and hiccups. In a buying season as crazy as the holidays, there always will be.
If you use Etsy, the easiest way to keep track of this is by checking off the box for your production partner within your listing. It's a requirement of Etsy anyway. If you need to know who your listing is integrated with, just look at the settings.
If you don't use Etsy and your store platform doesn't require you to disclose it, I would write it in your product description. It's good for your customers to know where their products are coming from and it will help you keep track of everything.
Personally, I had success using multiple print on demand companies. Both Printful and Printify work really well together and, as long as you have your store and listings set up like we've talked about, you shouldn't have any issues.
What are you waiting for? Sign up for Printful and Printify and give your store the boost it needs with new products and more competitive prices.
Go forth and create great art!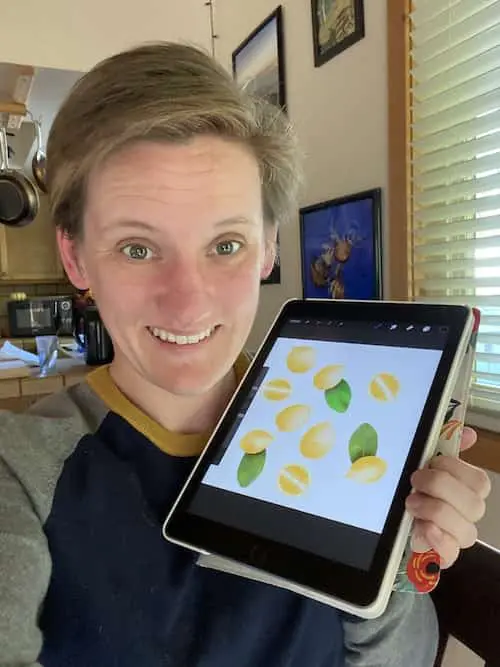 Diana has been an artist for over 26 years and has training in drawing, painting, digital drawing and graphic design. Diana's latest obsession is digitally drawing with Procreate and creating t-shirt designs with Canva. Diana has experience selling her art across a number of platforms and loves helping other artists learn how to make money from their art as well.