Printful is one of the top print on demand companies used by artists who want to sell their work on apparel, mugs, gifts, and more. Given how naturally Printful integrates with Etsy, it makes sense that it has become a big player in this industry. That said, how does Printful work with Etsy, exactly? What do you need to know to set up your Etsy store for Printful success?
Connect your Etsy store to your Printful account by linking them within your Printful dashboard. Once the integration is set up, all Etsy listings must be created through Printful so that Printful automatically processes and ships out all Etsy orders as they come in.
Setting up the integration between Etsy and Printful is a straightforward process, but there are a number of steps you need to do correctly in order for it to work. Here's what you need to know to make sure that Printful works seamlessly with Etsy from day 1.
This post may contain affiliate links, which means I may earn a commission if you decide to purchase through my links.
How to Integrate Your Etsy Store with Your Printful Account
In order to use Printful with your Etsy store, you need to integrate them so that they can talk with each other. Here are the steps you need to take to establish a connection between your Etsy and Printful accounts.
1. Sign Up for a Free Printful Account
If you haven't done so already, sign up for a Printful account, which you can do here.
There's no need to sign up for Printful with the same email address that's connected with your Etsy store in order for the integration to work. That said, it would probably make your life easier if you use the same email address.
Whichever email address you choose, make sure it's one that you check often. This is where Printful will send you emails whenever an order comes through, and order ships out, or if there is an issue with an order.
While issues are rare, you'll want to know about them quickly when they do happen. This is why it's important for Printful to have an email account that you check often.
Once you sign up with your email, Printful will ask you to accept their terms. It will also ask you why you're creating a Printful store.
2. Confirm Your Email Address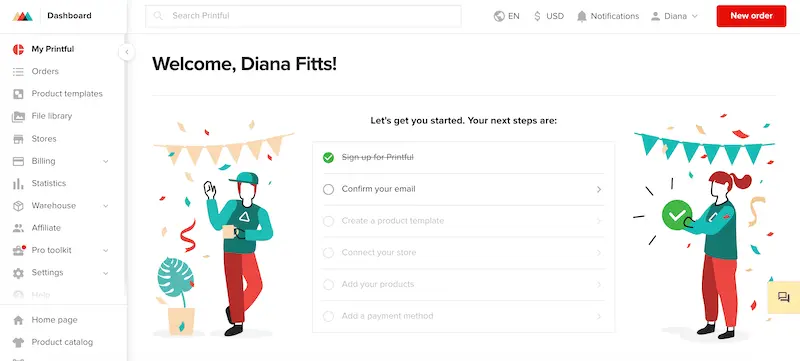 Printful will send an email to the email account you signed up with to confirm your account. It can take a few minutes for your email to arrive, so grab a cup of coffee, pet your dog, meditate, or do some art while you wait.
Once your email arrives, confirm your account and move on to the next step of the process.
3. Create a Product Template…maybe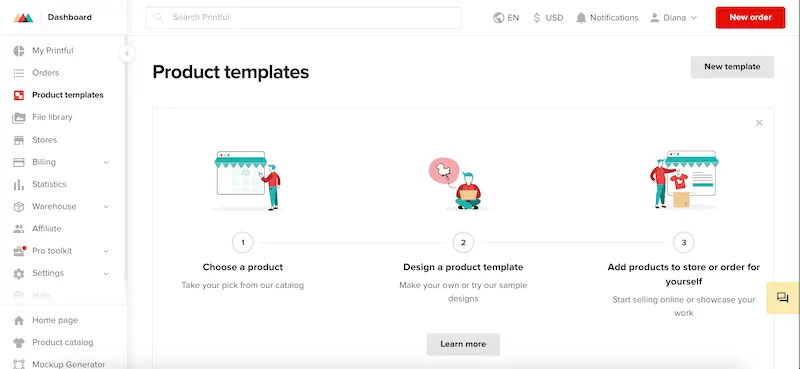 As you'll notice, the next step in Printful's checklist is to create a product template. I feel like this is a little premature though. In my head, it makes more sense to connect your store and get that squared away before creating products for it.
Also, true confession, I didn't use Printful's product templates. We'll talk about how to add products to your Etsy store via Printful later in this post, which I do without the use of the product templates.
If you do want to create a few product templates at this stage of the process, go ahead and have fun with it. Simply click on the Create product templates link in the checklist, or on the Product Templates tab on the left hand side.
From there, follow the instructions to add your art to Printful's products. Again, we'll go into more detail about creating Printful products later.
4. Connect Your Etsy Store to Printful
When it's time to connect your Etsy store to Printful, you can either click on the Connect your store link in the checklist, or the Stores tab on the left hand side.
Click Choose Platform
Click on the Etsy option
Click on the Connect to Etsy button
This will prompt you to login to Etsy. Once you login to Etsy, it will ask you to authorize the connection between your Etsy account and your Printful account.
Click the button to allow access and you'll be all set!
YAY! Your Etsy store is integrated with Printful! …….now what?
Even though your integration is now set up correctly, you also need to set up your products correctly. If you don't, the integration will have been for nothing.
Let's walk through the process of creating products with Printful and Etsy.
How to Create Products Through Printful that Integrate with Your Etsy Store
It's important that you create your products in the right way so that they take advantage of the Etsy and Printful integration. In order to do this you need to create your products in Printful, not Etsy. This is counterintuitive, so I'll repeat it.
You need to create your products in Printful, not Etsy.
When you create a product in Printful, you'll have the option to publish it to your Etsy store. When someone orders that product in Etsy, Printful will already know what the product is, what the design is, and how you would like it produced.
It might sound strange, but it will make more sense once you see how it plays out. Let's walk through the steps of creating a product with Printful and publishing it to your Etsy store.
1. Click on the Stores Tab on the Left Hand Side
2. In Your Stores Page, Click on the Add Product Button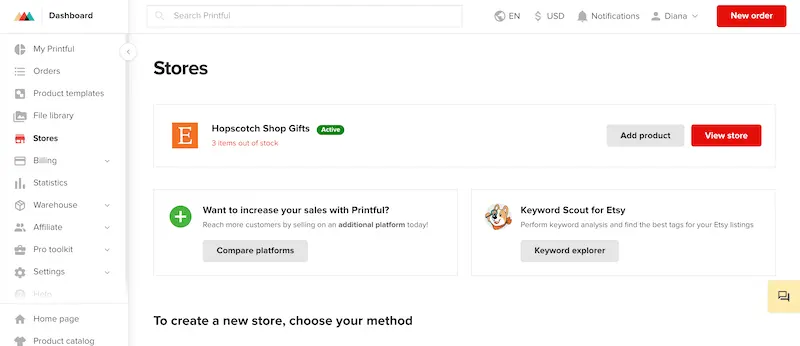 You can also click into your store and click on the Add Product button near the top.
3. Choose a Product to Add to Your Etsy Store.
Like I said before, you will design your product in Printful and then publish it to Etsy. During this step, choose the product that you plan to have available in your Etsy store.
For the sake of this example, we'll use a t-shirt.
Important note: you need to choose 1 product. You can't choose a shirt and a mug, for example, and add it to the same listing. You can only sync 1 product per Etsy listing.
4. Position Your Design on Your Product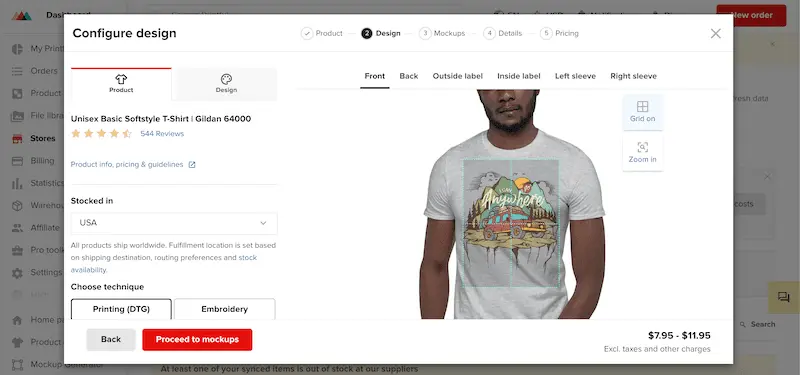 If you click on the Drop Your Design Here icon that's positioned on your product, you'll see your design library pop up. If this is your first product, you won't have anything in there yet. Once you build up your products, this is where you'll find all of the previous designs you've uploaded.
This makes it more efficient to add the same design to future products without having to re-upload it each time.
You can also click on the Design tab, which will bring up more design options, like adding text, clip art, or images.
For apparel, be aware of your options for where you can place your designs. For many t-shirts, for example, you can print on the front, back, left sleeve, and/or right sleeve. You can also customize the inside and/or outside labels. There WILL be an additional cost for every additional area that you decide to print on.
5. Select Your Product Variants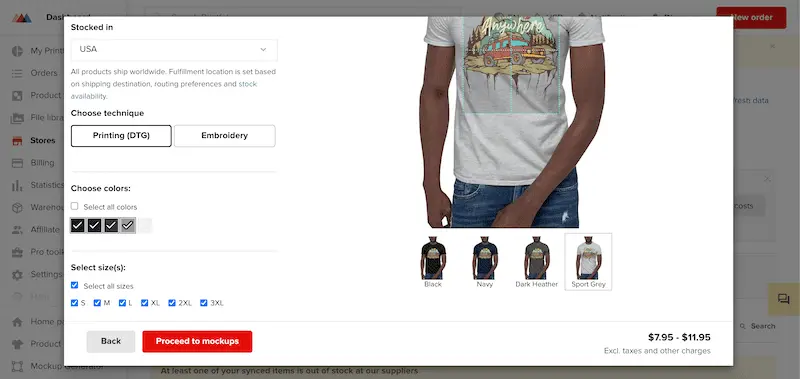 If you're on the Design tab, click back to the Product tab. Scroll down a little bit and click on all of the product variants you want to offer. This will include any sizes and colors that are offered for the product you chose.
Make sure you include everything. It's no fun to try to add variants later.
6. Click on the Proceed to Mockups Button
Once you're happy with your design and all of your product variants, click on the Proceed to Mockups button at the bottom left.
7. Pick Your Mockups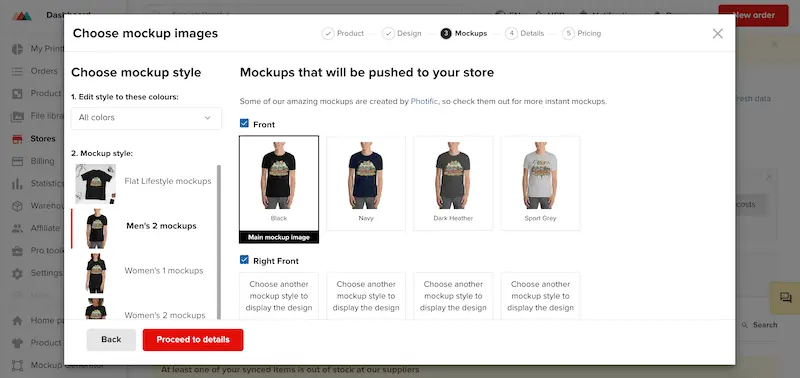 Picking the mockups for your products is a lot of fun. Printful has a lot of mockups to choose from, and they're adding to them all the time. There's a nice range depending on what you're looking for, from plain product displays, to lifestyle setups, and real-life models.
You'll be able to choose 1 full set of mockups including all of your product colors (these will be sizes if you're designing mugs, or other products that have distinct sizes that look different from one another).
When you scroll down, you'll see that you can select additional mockups. Not another full set, but a few select mockup photos that you want to include.
If you're not thrilled with the Printful mockups, or simply want different mockups, checkout Placeit.
Placeit is a website that can create a TON of mockups across a TON of different products. I used Placeit for some of my best selling Etsy products, and I feel like it did a good job of helping my products stand out from the crowd.
Even though Printful has a lot of great mockups, a lot of Etsy sellers use Printful, which means that customers can get used to seeing their mockups.
While Placeit is popular too, they have SO many mockups that you can scroll pretty far through their options and wind up with something that isn't too common across Etsy.
Vexels is also a great place to get mockups! Check out Vexel's mockup generator to see all of the awesome options they have for merch mockups.
If you do decide to go with your own mockups, hold on to them. You'll add them to your listing later.
8. Click Proceed to Details
Once you're happy with your mockups, click the Proceed to Details button at the bottom left. Again, make sure you're sure about your mockups before you do so. You will be able to change them later, but it's not very fun. Better to get them right the first time.
9. Add Your Product Details
When you arrive at the details screen, you'll see sections to add your title, description, tags, and product section. This will be published to your final Etsy listing, so write it as you would for any other Etsy listing.
What I love about Printful is that they automatically add important details about your product – material composition, fit, etc. No need to go seek that out. This is extremely helpful and makes it much more efficient to upload product listings.
You'll also see a section for the Sizing Guide. I LOVE this! If you check the box in this section, Printful will automatically add the sizing guide to your Etsy listing. It will appear as the final photo in the series of photos in your listing.
Keep scrolling down and you'll see a spot for your tags. These are the keywords that will help your Etsy customers find your listing.
Continue to scroll and you'll see a spot to mark your style of apparel, if you are creating a piece of apparel. You'll also see a section area that will allow you to place your listing into a certain section in your Etsy store.
Scroll down to the bottom of the page and you'll see shipping costs. This is fantastic given that you'll be determining your prices on the next page. We'll talk about Printful shipping prices a little later.
10. Click Proceed to Pricing
Once you're happy with your product details, click the Proceed to Pricing button. Unlike the mockups that are time consuming to change after the fact, it's easy to change your product details later in your Etsy listing. Even if this section isn't 100% perfect yet, you can simply adjust it within Etsy later.
11. Determine Your Product Pricing
This is something that's also easy to change down the line in your Etsy listing, but might as well determine it now given how easy Printful makes it to see your costs vs. profits.
As you'll see, Printful will tell you your profits as you change your retail prices. This is really helpful for determining the sweet spot of pricing your listings. This model assumes that you'll be charging your customer for shipping, so you'll need to factor that in if you offer free shipping.
Note the price differences between your product variants. For a lot of apparel choices, the 2XL and 3XL options cost more than the other sizes, which means that you'll want to adjust your pricing accordingly. You'll also want to watch out for this with mugs.
12. Click to Submit to Store
When you click the Submit to Store button, you'll be returned to your Printful products dashboard, but your new product will be added.
Printful will start submitting your new product to Etsy, which will take a minute or two.
When it's done processing, click on the Edit in Etsy button that appears in the bar where your product is listed.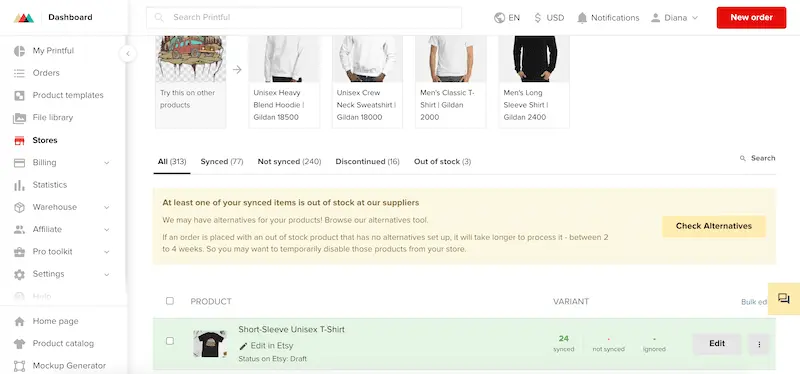 13. Edit Your Product in Etsy
Go through your Etsy listing and edit it as you normally would. You'll notice that the mockups, titles, descriptions, tags, and prices are reflective of what you determined in Printful. Look everything over, add things as needed, and make sure everything checks out.
14. Choose Your Shipping Prices
From the outset, it might seem complicated to navigate Printful's shipping prices and make sure they're reflected in your Etsy store for every individual Printful listing. Luckily, Printful makes it pretty easy.
How does shipping work with Printful and Etsy?
When you create a product through Printful, it will create a shipping profile in your Etsy store. This shipping profile will reflect the product and the price for shipping that product. If you intend to charge your customer for shipping, this is fantastic. Simply make sure you've selected the correct shipping profile, and you'll be good to go.
These shipping profiles will also note the correct processing times given the product you've chosen. This makes it easy to automatically assign the correct amount of processing time for each of your products without having to do it manually.
Important note: be sure to adjust the processing times in your shipping profiles during the holidays, or any other times when Printful states that there could be delays. If you forget to do this, you could wind up with a lot of emails to your customers explaining shipping delays.
On a regular basis, I usually pad in an extra day or two in my shipping profiles just to be safe.
Once you've determined your shipping, you can hit Publish and be done! So, once you hit Publish, what happens?
Let's walk through it.
Did you know that you can buy your own Printful products? Check out my guide on buying your own print on demand products to learn more!
What Happens When You Get an Order with the Etsy and Printful Integration?
When you create products in the way we described above, they'll be connected to both Etsy and Printful, which means that the platforms are integrated for that product.
When you get an order for one of these products from Etsy, Printful will be triggered and pick up the order information.
This can take up to an hour, so don't panic if your order doesn't show up in Printful automatically.
If your order hasn't shown up in Printful after a few hours, you'll want to contact support to see if there's an issue. Issues rarely happen with this. I can't even think of 1 instance where Printful hasn't picked up an order from my Etsy store.
Once your order is picked up by Printful, you'll get an email and you'll see it pop up in your Orders dashboard.
Next, you simply wait. There are times when Printful sends out orders lightning fast, while there are other times where they take all of their allotted processing time.
Once your order ships out, you'll get another email letting you know that your order is complete. What happens next? Nothing! Something I love about Printful is that it will update the backend of Etsy for you. No need to manually mark your order as shipped and send the tracking info to your customer. Printful takes care of it for you!
This is a HUGE selling point of Printful. Getting the email that an order has shipped out, and not needing to do anything else to finish up the order, is SO handy.
In fact, Printful's entire process can work without any hands on work at all. When you get an order on Etsy, Printful will automatically pick it up, process it, ship it out, and close it out on Etsy. Start to finish without any effort on your end.
As a longtime Etsy seller, I can confirm that it's pretty great.
How Does Payment Work with Printful?
When you get an order for a Printful product, Printful will charge you for the cost of that product. They'll also charge you for shipping that product to your customer. Ideally, this will be less than what you sold the product for in your Etsy store, so your profit is the difference between the two.
You can set up your Printful account to charge your credit card every time you receive an order. Or, you can tell Printful to charge you a set amount and store it in your Printful account.
Let's use $100 as an example. If you choose this option, Printful will charge you $100 and store it in your Printful account. They'll pull from this $100 stash until you run out. Then, they'll charge you another $100 and add it to your stash again. This option is simply a way to limit the amount of individual product charges you get on your credit card, which can be nice.
The fact that Printful charges you per product, and not a large upfront fee, is fantastic. It's a fantastic thing about print on demand in general. No inventory, no upfront costs, just online store bliss.
Let's get back to the integration.
Printul's Etsy integration works really well. It's one of the best I've seen, actually. Their integration is one of the big reasons why I'm a fan of Printful and use them for so many of the products in my Etsy store.
Ok, but even if you end up loving Printful as much as I have, you might want to use other print on demand companies from time to time.
If your store is integrated with Printful, can you do that? Can you use other print on demand companies with your Etsy store? Heck yes!
I used other print providers for certain products and it's totally possible. If your Etsy store is integrated with Printful, there are just a few things you'll want to look out for.
Can You Use Other Print on Demand Companies if Your Etsy Store is Integrated with Printful?
It's possible to have an Etsy store that uses multiple print providers and/or is integrated with multiple print on demand companies.
In fact, I talk all about how to set it up in this post about using both Printful and Printify in the same Etsy store.
As you saw from the process we described in this post, it's a very intentional choice to create a product with Printful. It's not something you can accidentally do. This is true of other print on demand platforms that integrate with Etsy.
That means that you don't have to worry about your products getting mixed up between the platforms. Your Printful products will only go to Printful, your Printify products will only go to Printify, and so on and so forth.
Even though you don't have to worry about your products getting mixed up, there ARE a few things to look out for if you're using multiple print on demand platforms in the same Etsy store.
-Printful will send you an email. If you get an order on Etsy that is not synced to Printful, you'll still get an email from Printful about the order. Instead of their typical "We got it!" message, they'll tell you that you need to take action.
Basically, the system has recognized that an order has come through that isn't synced with your Printful catalog and it wants you to know about it. This is actually a great thing. In the chance that this is supposed to be a Printful order, but something is wrong, you'll want to know about it so you can fix it.
Simply check the email Printful sends, make sure it's meant for a different print provider, and move on. In your Printful dashboard, the order will still appear, but there will be a red bar on it that says "Not Synced." Nothing will happen with this order unless you manually connect it to a Printful product and enable it.
-Other print providers will recognize your Printful orders. In the same way that Printful will recognize non-Printful orders that come through your Etsy store, other print on demand companies that you're integrated with might do the same.
Again, don't worry about these orders being processed. Your order will only process with the print provider that you set it up with.
Just be aware that you might see your orders in multiple print providers. It's nothing you need to worry about, but it can take you by surprise in the beginning.
The Etsy and Printful integration is top notch and can be a great way to automate the running of your online store. I hope you have fun using it!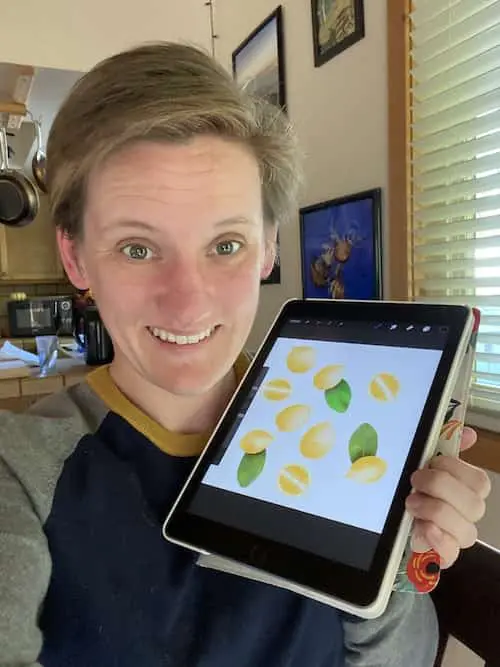 Diana has been an artist for over 26 years and has training in drawing, painting, digital drawing and graphic design. Diana's latest obsession is digitally drawing with Procreate and creating t-shirt designs with Canva. Diana has experience selling her art across a number of platforms and loves helping other artists learn how to make money from their art as well.