This post may contain affiliate links, which means I may earn a commission if you decide to purchase through my links.
Procreate blending brushes are key components of any good brush collection. Without them, objects and designs would lack dimension, depth, and realistic touches. Luckily, there are a lot of great blending brushes that you can use to make your art pop. Here are my top choices.
Important note: blending brushes are used with the smudge tool. Simply click on the smudge icon in the toolbar and choose any one of the brushes that we'll be talking about below.
Any of these brushes can also be used as regular brushes, so it's like getting 2 brushes in one. While these brushes are optimized for blending with the smudge tool, they can also be used with the paintbrush for painting.
1. Procreate Smudge Brushes Pack
This Procreate Smudge Brushes pack was specifically designed for blending with the smudge tool. That means that, when you click on the smudge tool, click on it again to select a specific brush that you want applied to your smudging. Pick one of these brushes and you're good to go!
To be clear, any type of brush can technically be a smudge brush. You simply need to select it within the smudge tool. That said, not all brushes are optimized for use with the smudge tool. The brushes on this list are, which is a big perk.
Talking about brushes that work specifically with the smudge tool brings up an interesting discussion about blending in Procreate. To smudge, or not to smudge?
Well, it depends on the type of blending you're looking for. It also depends on whether you want to lay down more color as you blend or not. With the smudge tool, you will manipulate the color that is already there.
It is possible to blend with a paintbrush as well. You'll likely need to smudge a bit afterwards to clean up the lines though. When you blend with a paintbrush, it's similar to watercoloring. As you blend, you lay down more color.
Blending with a paintbrush and blending with a smudge brush both have their place. It's important to experiment with them so that you know what both types of brushes can do. That way, in the moment, you'll have an easier and quicker time deciding which ones to use.
Having a brush pack that's specifically designed to use with the smudge tool is really neat. For this price, it's something you'll want to consider. Here's what you'll get:
-Palette Knife
-Spray Paint Splatter
-Watercolor
-Subtle
-Old Brush
-Acrylic Paint
-Crosshatching
-Mezzotint
-Halftone-Esque Stippling
-Grit
-Charcoal
-Pencil
-Pencil Hatches
-Cloud Texture
-Cloud Shaper
-Spray Paint
-Ink Wash
-Ink Splatter
That's 18 Procreate smudge brushes that you can use for blending.
This brush pack is unique, useful, and a great deal for the value. If you want to take your Procreate smudge game to the next level, I highly suggest checking it out.
Check Out the Procreate Smudge Brushes Here!
2. Blending Brushes for Procreate
The name of this brush pack couldn't be more obvious or descriptive. You'll be getting blending brushes…really good ones, in fact! What I love about the Blending Brushes pack is that you get brushes with a number of different textures.
This gives you a way to add character and depth to your blending without having to add additional texturizers.
What I also love about this pack is that it was made by one of my favorite artists. If you haven't checked out the YouTube channel for Art with Flo, you need to. She has amazing Procreate tutorials that easily and quickly show you how to create beautiful art. This is a great way to test out your new blending brushes!
Back to the blending brush pack. At the time of this writing, this brush pack is extremely cheap given the amount of brushes you get. Here's what's included:
-Standard Blender
-Soft Blender
-Soft Blender 2
-Ragged Blender
-Smeary Blender
-Spackled Blender
-Smokey Blender
-Grainy Blender
-Blotchy Blender
That's 9 Procreate blending brushes that you can use for all of your blending needs.
Art with Flo has a number of other products available on Design Cuts. She's a Procreate queen, and her products reflect that, so they're definitely worth checking out.
Check Out the Procreate Blending Brushes Pack Here!
Ok, I'll stop fangirling and move on to our next blending brush option.
3. Blender Procreate Brushes
Don't you love how all of the names of these brush packs so clearly state what they do? I'm all for creativity, but when it comes to naming brush packs, I like knowing what I'm in for. As the name perfectly suggests, this is another great pack of blending brushes.
There are a lot of brushes in this pack (30, to be exact) and they're all really fun. I just love all of the different textures that are included. These brushes aren't named according to their textures; they're named from B1-B30.
They do have great examples of each on their sales page though, so be sure to check that out to see all of the textures of blending brushes you'll get.
Check out the Blender Procreate Brushes Pack Here!
4. Flooded Watercolor Brushes for Procreate
Remember that any brush can be used with the smudge tool as a blending brush. So, even if a brush isn't specifically designed for blending, it might end up doing a pretty good job of it anyways.
That's the case with the brushes in this Flooded Watercolor Brushes pack. And, heck! If you're into watercoloring with Procreate, you'll have landed some great watercolor brushes as well.
When you use watercolor brushes with the smudge tool, it's almost like when you paint with water in traditional mediums (without the mess or bleeding of colors). You'll get a really neat painted effect to your blending, which can add a light and airy look to your art.
Here are the brushes you'll get in this set:
-Toothy Painter
-Diluted Floral Brush (Smooth)
-Diluted Floral Brush (Rough)
-Extra Watery Wizardry
-Watercolor Wizardry
-Color Jitter Wizard
-Old Scruff Painter
-Floody Flow
-Mega Flood
-Floody Smudge Redux
-Mostly Water Brush
-Full Flood
-Dipped Flood
-Softer Watercolor Round
-Watery Pigment Bleed
-Scattered Sponge
-Fluff Brush
-Splatters
-Hard Edges Flood
-Diluted Edges
-Watery Brushy Blend
Bonus Brushes
-Sketch Pencil
-Press Paper
-Fiber Paper
-Bumpy Paper
You'll also get a reference guide that will give you tips and tricks for using these brushes. As you can see, this is a brush pack that's full of great brushes and resources. Use it for blending, watercolor, or whatever you need.
Check Out the Flooded Watercolor Brushes for Procreate Here!
One of my favorite things to do with blending is shading. I have a full guide about shading on Procreate that you can check out if you want to take your shading and blending skills to the next level!
5. Procreate Gradient Brush Set
We're rounding out this list with a brush set that could seem like an unconventional choice for Procreate blending brushes. BUT, these brushes can be a HUGE help with blending. Since blending is our goal here, I figured this would be a great brush pack to add to the list.
The Procreate Gradient Brush Set is full of brushes that automatically create gradients (ie. perfect shading every time).
Creating gradients can take a lot of blending and brush manipulation. To have brushes that can do them automatically is really neat. Simply set the size and color of one of these brushes, plop it down, and you're done.
This is a great way to create quick and easy gradients and blends with your colors. Something that would normally take a long time.
We'll run through the names of all of these brushes, but you'll also want to check out the sales page to see everything that these brushes can do. The creator has some great tutorials built right into the sales page that you might want to check out.
The entire pack includes 30 brushes that are named and organized into categories. Here are the categories:
-4 Round Brushes
-1 Half-Round Brush
-3 Diagonal Brushes
-4 Linear Brushes
-3 Horizontal Brushes
-3 Vertical Brushes
-2 Blend Diagonal Brushes
-1 Blend Invert Brush
-5 Metal Brushes
-1 Ray + Radiation Brush
-1 Background
-A bonus brush set that includes textures
In general, this brush pack is really cool. For blending, it's even cooler. I definitely suggest checking it out if you want a quicker and easier way to achieve gradients and mixed colors.
Check Out the Procreate Gradient Brush Set Here!
Blending in Procreate can be tricky, but it can be a lot easier with blending brushes that are specifically designed for that. I hope this list has given you more than enough brushes to choose from for your next blending Procreate project.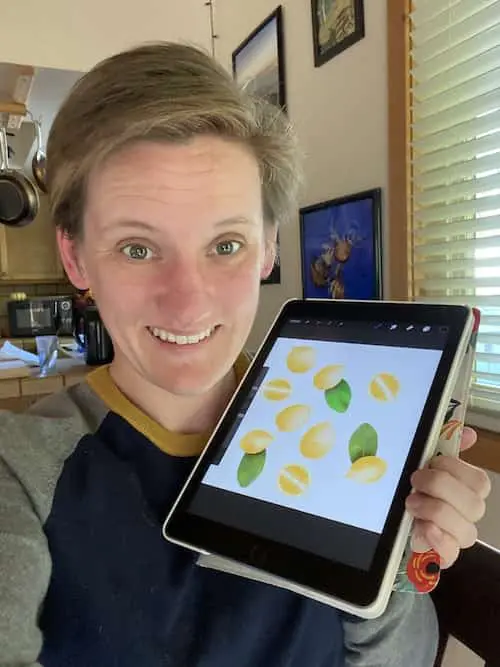 Diana has been an artist for over 26 years and has training in drawing, painting, digital drawing and graphic design. Diana's latest obsession is digitally drawing with Procreate and creating t-shirt designs with Canva. Diana has experience selling her art across a number of platforms and loves helping other artists learn how to make money from their art as well.