Drawing faces can be really hard, especially when you get to the eyes. Luckily, Procreate makes it a lot easier.
Unlike using traditional paper, Procreate lets you erase as many times as you need without leaving marks, use the symmetry tool to create identical eyes on each side of the face, and tons of brushes that lend themselves to luscious lashes and eyeballs.
Alright, that's all great and all, but there's actually something else about Procreate that makes it EXTREMELY easy to draw eyes.
What's that you ask? STAMPS!
There are some incredible eye stamps, both free and paid, that make the eye creation process as simple as tapping your Apple Pencil on your iPad screen. I'm not kidding!
If you don't believe me, keep reading. We're diving into the best Procreate eye stamps that you can use to create simple, beautiful, easy, and stress-free eyes for all of your portraits and characters.
This post may contain affiliate links, which means I may earn a commission if you decide to purchase through my links.
1. Portrait Toolkit for Procreate and Affinity
If you're looking for help with drawing eyes, might as well throw the rest of the face in there too! This Portrait Toolkit will give you everything you need to make your portrait-drawing life easier.
Not only will you get a lot of eye stamps, you'll also get stamps for your character's head, mouth, ears, nose, and more. With every part of the face included, just stamp your way to an amazing portrait!
Here's everything that's included in the Portrait Toolkit for Procreate and Affinity:
-20 head stamp brushes
-20 eye stamp brushes
-20 ear stamp brushes
-20 nose stamp brushes
-20 mouth stamp brushes
-2 skin tone palettes
-PDF reference guide and PDF version of all brushes so that you can draw these face features with traditional paper and pencil
As you may have noticed, there are 20 different versions of every type of face element. This means that you have 20 different options for styles and expressions.
No need to worry about having one set of face features that all look the same. With 20 of them, you'll have more than enough choices when trying to make unique and customized portraits that suit your liking.
This Portrait Toolkit is a real gem as far as Procreate brush sets are concerned. It offers a ton of value for a low cost. If you specifically need eye stamps, you should definitely check it out – you won't be disappointed!
Check out the Portrait Toolkit for Procreate and Affinity here!
2. Ultimate Portrait Bundle for Procreate
This Ultimate Portrait Bundle for Procreate is called "ultimate" for a reason. Similar to the brush pack we just talked about above, this portrait bundle includes everything you'll need to draw an entire portrait with stamps.
Heads, eyes, noses, mouths, ears – the whole kit and caboodle!
But, unlike the previous brush pack, this portrait bundle comes with some extra goodies that really round out the whole portrait drawing process.
When you get this bundle, in addition to the basic facial stamps, you'll also get skin brushes, hair brushes, and eyelash brushes. I don't know about you, but I really struggle with these things. Having brushes that can help with the process is a HUGE perk!
Here's everything that's included in the Ultimate Portrait Bundle for Procreate:
-81 facial feature brushes and stamps for the head, eyes, lips, nose, ears, brows, and lashes
-3 skin brushes
-5 hair brushes, including an eyebrow brush
-1 skin color palette
-3 templates to show you face proportions
-3 video tutorials walking you through the portrait building process
This portrait bundle not only gives you the eye stamps you're looking for, but also all of the other stamps you'll need to build faces. You'll also get other essential brushes, like skin and hair, while being walked through tutorials on how to put all of these great elements together.
Check out the Ultimate Portrait Bundle for Procreate here!
3. Build a Face Brush Set
Art with Flo is one of my favorite procreate artists to follow. Her art is beautiful, her tutorials are helpful, and her brush sets knock it out of the park.
This Build a Face Brush Set doesn't disappoint! It's a great collection of face stamps, including eye stamps, that will give you an amazing portrait or character in just a few short taps.
In comparison to the other brush packs we've talked about, this one from Art with Flo is more scaled down and affordable, while still maintaining high quality. If you don't have a large budget and don't want to be overwhelmed with too many options, this is the brush pack for you.
Here's everything that's included in the Build a Face Brush Set:
-3 head stamps
-7 eye stamps
-5 eyebrows
-6 nose stamps
-7 lip stamps
-3 ear stamps
-1 guide for placing your facial features
I really love the simplicity of this brush set. The stamps are well done and make it really easy to stamp together a beautiful looking face.
Check out the Build a Face Brush Set here!
4. Procreate Eye Brushes
Now that we've talked about complete portrait building bundles, let's scale things back and talk about eye stamps and eye brushes specifically. That's why you're here, right?
To kick off our eye specific options, let's talk about these amazing Procreate Eye Brushes.
When you get this pack, you won't get stamps for the whole eye in the same way that you did in the previous packs we talked about. Instead, you'll get various brushes that are specifically designed for building every part of the eye, one by one.
There are stamps for the iris, a tapered eyelash brush, sparkly brushes to put that shine in the eye, and even a vein brush that will give your eye that realistic look.
Here's everything that's included in the Procreate Eye Brushes pack:
-4 iris stamps
-1 pupil stamp
-1 veins brush
-1 eye shadow brush
-2 sparkly brushes
-1 highlight brush
-1 eyelashes brush
-2 skin texture brushes
-1 skin lighter brush
This eye brush pack is more suited for those of you who want a more DIY experience, all while having the tools you need to be successful. The iris stamps themselves are enough to make this pack worth it!
Check out the Procreate Eye Brushes pack here!
5. Free Eye Stamp Pack
Who doesn't love seeing the word "free" in this list of eye stamps?! This particular eye stamp pack is a great choice if you need help with drawing irises, especially creative ones.
Aside from your standard irises, this free eye stamp pack comes with cat irises, heart irises, and mystic irises. Pretty neat!
Here's everything that's included in the Free Eye Stamp Pack:
-6 eye iris stamps
-1 eyelash brush
What I particularly like about this free eye stamp pack is combining it with one of the portrait building packs above. While all of the portrait building packs we've talked about are great and extensive, a lot of them don't have a ton of options for irises.
By combining this free eye stamp pack with one of the other portrait builders, you'll have everything you'll need for beautiful and easy eyes.
Check out the Free Eye Stamp Pack here!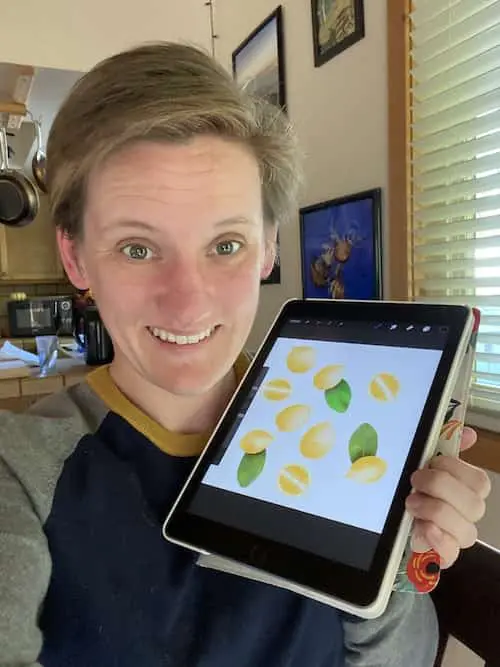 Diana has been an artist for over 26 years and has training in drawing, painting, digital drawing and graphic design. Diana's latest obsession is digitally drawing with Procreate and creating t-shirt designs with Canva. Diana has experience selling her art across a number of platforms and loves helping other artists learn how to make money from their art as well.