With traditional materials, stippling can be really slow and tedious as you draw every single dot individually. With Procreate, stippling can be SO much faster when you have the right brushes.
Procreate stippling brushes can lay down a lot of dots at once, saving you the headache of drawing every dot individually in your piece of art.
Also, Procreate stippling brushes always lay down dots of the same size. No more worrying that you'll put too much pressure on your pen and end up with a bigger dot than the others.
Lastly, let's talk about the best part. Even though they're used digitally with Procreate, these stippling brushes don't look fake and manufactured. You'll notice that every stippling brush we talk about looks VERY natural.
Achieving a natural look is something that Procreate excels at. It's also something that Procreate brush creators care a lot about. You'll be blown away by how much these Procreate stippling brushes resemble traditional stippling.
Stippling is DEFINITELY an area where technology shines. Being able to have uniform dots that are equally spaced and laid down in large quantities is a game changer. That's why, if you're interested in stippling, you'll love this article.
We're diving into all of the best Procreate stippling brushes and stippling brush packs you can use to create quick, easy, and beautiful stippling art in Procreate.
Some of these stippling brushes and brush packs are paid (and totally worth the money), but some are absolutely free! Let's get started.
This post may contain affiliate links, which means I may earn a commission if you decide to purchase through my links.
1. Procreate Stippling Brushes Kit
If you want to start stippling in Procreate, don't just grab one brush and call it a day. Even though it seems like you would only need one, straightforward stippling brush that's a collection of dots, you'd be missing out.
In reality, there are SO many different types of stippling brushes that will give you different sized dots at varying densities. This is a MUST if you want to create dynamic stippling art with all of the freedoms to create the effects you're looking for.
Well, this Procreate Stippling Brushes Kit will meet all of your stippling needs. It comes with 15 Procreate stippling brushes with different types and numbers of dots.
Some are high density and great for darker areas of shading, while others are more spaced out and great for areas closer to your light source.
I put this stippling pack first because you could purchase it, stop reading here, and be set with all of your stippling needs. These 15 brushes make up a comprehensive stippling collection that gives you more than enough choices for your art.
Grab the Procreate Stippling Brushes Kit here!
2. Stipple Machine
Visual Timmy has an awesome set of Procreate stippling brushes that come in a wide variety. Dense stippling, light stippling, large stippling, small stippling – you got it.
You'll get your standard stippling brushes, which you'd expect. These are great, basic stippling brushes to have in your collection.
You'll also get some unique brushes that you won't find in other stippling sets, like the stippling duster and stippling shader.
You can get get this standalone Stipple Machine set, or you can get Visual Timmy's entire collection of Procreate brushes. The full set has over 400 brushes, including this stippling set. If you use the code ADVENTURESWITHART you can get 15% off the Stipple Machine set, or the entire Creator XL Bundle.
Check out the Stipple Machine set and the Creator XL Bundle here!
3. Hand Stippling for Procreate
What I like about this pack of Procreate stippling brushes is that they're specifically designed to work with pressure sensitivity. For example, some of the brushes have dots that become larger with more pressure.
There's no doubt that these brushes are unique and really fun to use. With the pressure sensitivity, it's almost like having multiple brushes in one.
The Hand Stippling for Procreate set comes with 13 brushes with fun names. Here's what you'll get:
Not Overlapping Stipple Dense Brush
Not Overlapping Stipple Brush
Cool Stipple Brush
Stip Shade Brush
Stip Control Brush
Swarm Stipple Brush
Mass Stipple Brush
Spares Stipple Deets Brush
Stipple Deets Brush
Line 'n Stip Brush
Slippery Normal Brush
Brubbly Ink Brush
Sketch Pencil Brush
Grab the Hand Stippling for Procreate pack here!
3. Free Stipple Brush Pack for Procreate
If you want to get your feet wet with stippling brushes, but not ready for a full collection yet, you'll want to check out this free stipple brush pack.
This brush pack includes 2 stippling brushes, one that has a higher density of dots and one that doesn't.
These are the perfect basic brushes to get you started with stippling. If you enjoy them, you might decide to purchase one of the other packs we've talked about. Or, you might find that these two stippling brushes meet your stippling needs.
When you get this free download, you'll need to create an account with Pixel Surplus. This will not only give you access to these free stippling brushes, but all of the other freebies they have to offer.
Here's what you'll get with the Free Stipple Brush Pack for Procreate pack:
Stipple Intense Brush
Stipple Super Intense Brush
Grab the Free Stipple Brush Pack for Procreate pack here!
4. Fine Liner Brushes & Patterns Procreate Brush Pack
The Fine Liner Brushes and Patterns pack is really unique and fun. When you purchase it, you won't only get a good assortment of stippling brushes, but other inking brushes as well.
You'll get typical inking brushes, pattern brushes, star brushes, cross brushes, stripe brushes, and more. These brushes are incredible for creating retro ink designs.
The stippling brushes don't disappoint either though. You'll get traditional stipple brushes that create clouds of dots, but you'll also get line stipple brushes and stipple brushes that are specifically designed for shading.
Yeah, this is an AWESOME brush pack. Here's everything you get with the Fine Liner Brushes & Patterns Procreate Brush Pack:
3 Standard Stipple Brushes
1 Light Stipple Brush
2 Stipple Shader Brushes
1 Undulating Ink Outline Brush
1 Tapered Ink Outline Brush
1 Asterisk Brush
4 Cross Brushes
2 Star Brushes
1 Dot Brush
3 Dash Brushes
3 Line Brushes
1 Zigzag Brush
1 Scribble Pattern Brush
2 Stipple Pattern Brushes
4 Line Pattern Brushes
3 Zigzag Pattern Brushes
1 Drip Pattern Brush
Grab the Fine Liner Brushes & Patterns Procreate Brush Pack here!
5. Dots Obsession Procreate Brush Pack
We're ending this list of Procreate stippling brushes with a really creative and whimsical brush pack that will not only make you fall in love with stippling, but also with dots in general!
The name "Dots Obsession" is appropriate here. This pack includes a whopping 71 brushes…all of them made of dots!
Some of these dot brushes are traditional stippling brushes, while others are creative dot patterns.
If you've been wanting to dive into stippling, but take some creative license with it, this brush pack will appeal to you. Some of these dot brushes are really unique, which will make your art unique as well.
Here's everything you get with the Dots Obsession Procreate Brush Pack:
20 Random Dots Brushes
27 Fixed Hand Drawn Small Dots / Stippling Brushes
24 Fixed Dots Brushes
Grab the Dots Obsession Procreate Brush Pack here!
Stippling is a really fun technique to dive into. With Procreate, diving into stippling is even easier than with traditional materials. Grab one of these great stippling brush packs and have some fun with dots!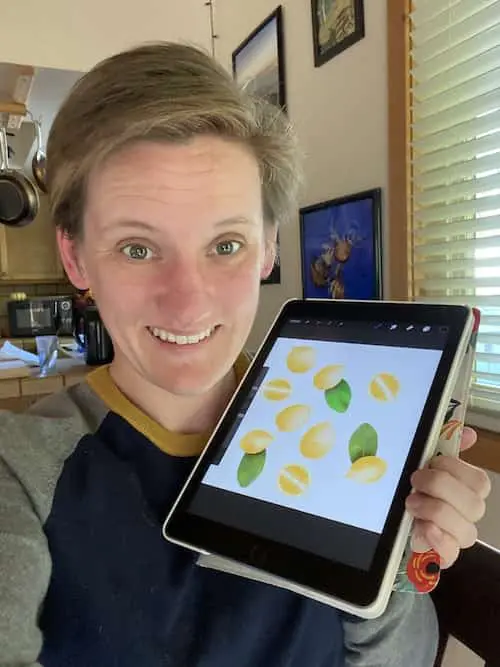 Diana has been an artist for over 26 years and has training in drawing, painting, digital drawing and graphic design. Diana's latest obsession is digitally drawing with Procreate and creating t-shirt designs with Canva. Diana has experience selling her art across a number of platforms and loves helping other artists learn how to make money from their art as well.