This post may contain affiliate links
Whether you're tracing a new copy of your art, or outlining your finished art piece, it can be hard to choose the right tracing and outlining brushes in Procreate…until now.
We're diving into the best brushes you can use for all of your Procreate tracing and outlining needs.
And, don't worry, you don't need to break the bank. Some of these brushes are free. To add to the fun, some of these tracing and outlining brushes are even included with Procreate already!
Let's get started.
1. Procreate's Monoline Brush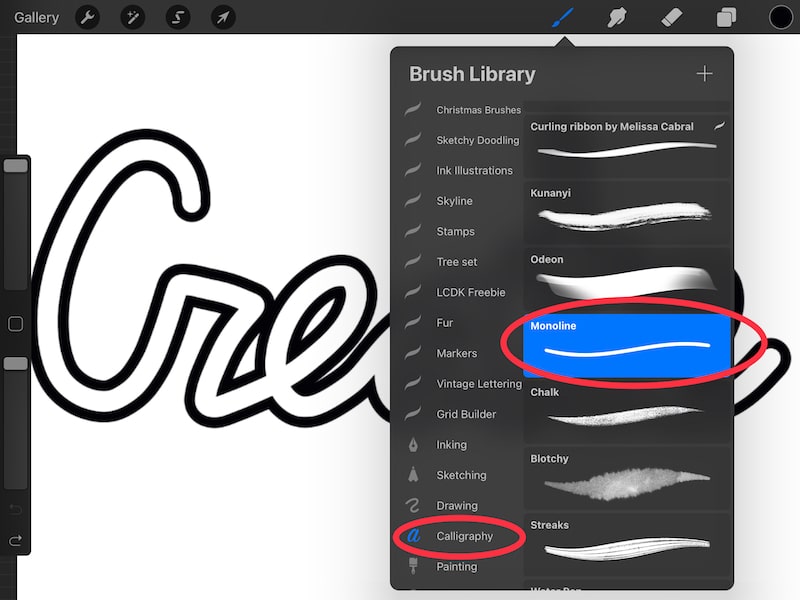 Our first outlining and tracing brush is already included with your Procreate app! It's a popular brush that you may already be familiar with – the monoline brush.
To find it, open your brush library and open the Calligraphy folder. Scan the options until you see the Monoline brush.
There are some key characteristics about the monoline brush that make it a great outlining and tracing brush. Most of the brushes on this list will have these qualities as well, so let's go over them now.
1) The brush is solid with no texture
There are some brushes, such as the painting brushes, that have fun textures and dynamic qualities.
That's great, but we don't want a "fun" Procreate brush for our outlining and tracing. Give me a boring brush, please!
This monoline brush is as boring as it gets, in such a beautiful way.
When you draw with the monoline brush, it's a solid stroke that has no texture or frills. This makes it a perfect brush for creating inconspicuous lines for tracing, or beautifully clean lines for your outlines.
2) The brush scales to be very small, but not obnoxiously large
With both tracing and outlining, there are times you'll need to have very thin lines. Other times, you'll want a bolder and thicker stroke.
Even though all brushes can be scaled from small to large, I like the range that the monoline brush gives. I also like it because the small version of the monoline brush can serve such a different purpose than the larger version.
This isn't true of all brushes.
The small monoline brush can be great for delicate or discrete tracing or outline work. On the other hand, the larger monoline brush is anything but delicate and discrete. It's a great choice for bold outlines that make a statement.
3) The brush is NOT pressure sensitive
When tracing or making outlines, you don't want the size of your stroke to change as your draw. That would be a nightmare!
Funnily enough, a lot of calligraphy brushes ARE pressure sensitive, but the monoline brush is one of the few that isn't.
Recommended Procreate Tools
These are my favorite Procreate tools that I wouldn't be able to live my Procreate life without!
Skillshare: I take a LOT of Skillshare classes and they are the reason that I started using Procreate in the first place. These classes are amazing and you can take them for FREE! Click here to get a 30 day free trial of Skillshare
Matte Screen Protector: these matte screen protectors will make your iPad screen feel more like traditional paper. Click here to find them on Amazon! Make sure to get the right size for your iPad model.
Printful: it's SO rewarding to see your own art on a shirt, mug, sticker, poster, and so much more. Whether you want to start selling your art and sharing it with the world, or you just want a gift for yourself or a friend, having a great printer is important. Printful is my favorite print provider, offering a ton of high quality products to print your own art on. Check them out and sign up for a free account here!
Now let's get back to the article!
I have a full list of amazing free Procreate calligraphy brushes, but most of them are pressure sensitive and wouldn't be great for outlines as a result.
Luckily, the monoline brush isn't pressure sensitive. This means that it doesn't change as you push on your Apple Pencil – no matter how lightly or forcefully you push.
2) Digital Ink Brush Set
As we saw with Procreate's monoline brush, inking brushes are a GREAT choice for tracing and outlining your Procreate art.
With that in mind, this Digital Ink Brush Set is a wonderland of Procreate tracing and outlining brushes. Not all of the brushes are appropriate for tracing and outlining, but the extra brushes are a ton of fun.
For the purposes of tracing and outlining, you'll want to focus on the monoline brushes (all 8 of them!), the large fill brush, and the tight pencil sketch brush.
If you want to add some character to your tracing and outlining, the brush pens and rough pens can be fun choices to experiment with.
Here's everything you'll get with the Digital Ink Brush Set:
-8 Clean Monoline Pens
-8 Clean Brush Pens
-8 Rough Monoline Pens
-8 Rough Brush Pens
-3 Stippling Brushes
-1 Precision Eraser
-1 Large Fill Brush
-5 Bonus Photo Mockup Files
-5 Bonus Textured Backgrounds
Check out the Digital Ink Brush Set here!
3) Procreate Sketching Brush Pack
If you're looking for a more affordable option than the Digital Ink Brush Set, check out this Procreate Sketching Brush Pack.
Even though it's less of a hit on your wallet, that doesn't mean that the brushes in this pack don't pack a punch.
When you buy this brush pack, you'll get 16 brushes, half of them being ink pens and half of them being markers.
This will give you a LOT of great ink brushes you can use for tracing and outlining, while also saving you from being overwhelmed with choices.
Here's everything you get in the Procreate Sketching Brush Pack:
-8 Ink Pen Brushes
-8 Marker Brushes
Check out the Procreate Sketching Brush Pack here!
Ok, so you may have noticed that we've only talked about ink pens so far. I love ink pens because they're versatile. You can easily use them for both outlining and tracing.
That said, if you're solely looking for Procreate tracing brushes, you may be more interested in pencil brushes. You can also use pencil brushes for rough and ragged outlining, if needed.
Let's take a look at some great pencil options you can use for all of your Procreate tracing needs. And if you're interested in sketching brushes, make sure to check out my list of the best sketching brushes for Procreate.
4) Procreate's Technical Pencil
Looking at Procreate's default brushes, it's probably no surprise that the technical pencil wins the award for one of the best pencil brushes to use for tracing.
It's a crisp, clean, and easy to use brush that will make your tracing life easier.
You'll find the technical pencil in the Sketching folder in your brush library.
While the technical pencil brush is my go-to for Procreate tracing pencil brushes, any of the pencil brushes can work for you, depending on your needs.
All of the pencil brushes lack pressure sensitivity and give you straight, clean strokes. If you want a bolder effect than the technical pen gives you, try something like the 6B pencil.
That said, if you want more options than Procreate's brush library gives you, keep reading. There are some awesome pencil packs that you'll love to use for tracing and more.
5) Expedition Sketchbook Pencil Procreate Brush Pack
The pencils from the Expedition Sketchbook pack are so versatile and varied. With just 7 brushes, you get almost every type of pencil you need for any type of tracing or pencil drawing.
You'll get thin and gritty pencils, thick and smooth pencils, and chunky pencils.
I know this goes a little bit off topic but, to be honest, my favorite part of the Expedition Sketchbook pack isn't the pencils you get – though they ARE amazing!
No, my favorite part is the erasers. When you buy this brush pack, you'll get a kneaded eraser! How cool is that?! No need to ditch your traditional materials when using Procreate. Grab this pack and you can have your own, virtual kneaded eraser at your fingertips – or should I say, stylus tip.
Here's everything you get with the Expedition Sketchbook Pencil Procreate Brush Pack:
-Expedition Sketcher Pencil Brush
-Hardened Graphite Pencil Brush
-Fine Grit Pencil Brush
-Antediluvian Pencil Brush
-Lost Epoch Pencil Brush
-Chisel Edge Pencil Brush
-Blunt Lead Pencil Brush
-Rubber Eraser Brush
-Kneaded Eraser Brush
Get the Expedition Sketchbook Pencil Procreate Brush Pack here!
6) Basic Pencil Procreate Brushes Pack
This pack may be called "basic," but there's nothing basic about it. When you get this Basic Pencil Procreate Brushes Pack, you'll end up with 25 Procreate pencil brushes that you can use for all of your tracing needs.
25 pencil brushes!
Like other brush packs on this list, not all of the brushes in this pack are great for tracing and outlining.But, the extra brushes you get are great for all types of pencil art.
There are brushes for hatching, wispy strokes, shading, and more. This is in addition to all of the great pencil brushes they offer for tracing.
Here's everything you get with the Basic Pencil Procreate Brushes Pack:
-25 Procreate Pencil Brushes
-Soft, Hard, Hatching, and Elegant Styles
-8 Paper Textures
Get the Basic Pencil Procreate Brushes Pack here!
7) The Urban Sketching Procreate Brush Pack
To round out our list of Procreate brushes for tracing and outlining, we're highlighting the Urban Sketching Procreate Brush Pack that comes with 17 different brushes for you to use.
The reason I chose this pack as our grand finale is because it offers both pen and pencil brushes that you can use for both tracing and outlining. It also has some nice painting brushes you can use for tracing and outlining if you're feeling adventurous.
There's even a Salt Watercolor brush that can give you a grungy, smooth, watery line that is quite the showstopper when used for an outline.
In addition to that fun brush, here's everything you get with the Urban Sketching Procreate Brush Pack:
-1 Pencil Brush
-1 Colored Pencil Brush
-1 Blotty Ink Brush
-1 Clean Ink Brush
-1 Brush Pen Brush
-1 Micro Pen Brush
-1 Pen Brush
-1 Felt Pen Brush
-1 Watercolor Glaze Brush
-1 Watercolor Wash Brush
-1 Bleeding Edge Watercolor Brush
-1 Rough Edge Watercolor Brush
-1 Hard Edge Watercolor Brush
-1 Flat Watercolor Brush
-1 Salt Watercolor Brush
-1 Dense Watercolor Brush
-1 Watercolor Smudge Brush
Get the Urban Sketching Procreate Brush Pack here!
Diana has been an artist for over 25 years and has training in drawing, painting, digital drawing and graphic design. Diana's latest obsession is digitally drawing with Procreate and creating t-shirt designs with Canva. Diana has experience selling her art across a number of platforms and loves helping other artists learn how to make money from their art as well.