Apple Pencils are designed for iPads, which means that they usually work well together without any issues. That said, there could be times when you notice damage or scratches on your iPad screen and you'll wonder if your Apple Pencil is to blame.
The Apple Pencil is designed for iPads and shouldn't damage your screen unless there is debris on your screen or you're using it improperly. Make sure your Apple Pencil tip is intact and there isn't any debris on your screen. You can also use a screen protector so that your Apple Pencil isn't coming into direct contact with your iPad screen.
Even though Apple Pencils and iPads were designed with each other in mind, it's understandable to still be worried about damaging your expensive iPad.
A scratched or damaged iPad screen can ruin your day. It also can be a hindrance, especially if you do art and need a smooth screen. Luckily, with proper care and maintenance of your iPad and Apple Pencil, scratches and damages should be few and far between, if not unthinkable to begin with.
Here's what you need to do to protect your iPad screen.
This post may contain affiliate links, which means I may earn a commission if you decide to purchase through my links.
Make Sure that Your Apple Pencil Tips are in Good Shape
If your Apple Pencil tip is worn down, it could end up rubbing your iPad screen the wrong way. Always make sure that your Apple Pencil tip is completely smooth and in good shape.
A worn down Apple Pencil tip might look jagged, with uneven pieces of rubber sticking out or hanging off. If your tip is really worn down, you might even see some metal at the end of the tip. It's not normal to see metal (you probably know this, but I didn't when I first started…).
It's worth is to get replacement Apple Pencil tips when you need them.
Use an iPad Screen Protector
Always use an iPad screen protector so that there's a cheap and replaceable barrier between your Apple Pencil and your iPad screen. If you wind up with scratches or damages to your screen, it will likely won't go through your screen protector all the way to your screen.
If you do wind up with damages, you only need to replace your screen protector instead of your entire iPad screen. This is MUCH cheaper, to say the least.
Having a screen protector will not only protect your iPad from any Apple Pencil mishaps, it will protect it from the mishaps of life as well. We all know how important this is, especially when you're doing art on-the-go.
As an artist, I actually LOVE my screen protector. Aside from being a great form of protection, it also helps me with my art. Yes, it's actually helpful! Let's talk about the iPad screen projector I recommend for artists and why I love it so much.
My Favorite iPad Screen Protector for Artists
When I first started drawing on my iPad, it felt weird to slide my Apple Pencil around a slippery screen. It just felt…weird. Luckily, I got a recommendation to get a matte screen protector.
A matte screen protector makes your iPad feel like paper. Of course, it's not an exact resemblance, but it's pretty darn good.
These screen protectors have a matte finish and give your iPad screen a bit more tooth and texture. This gives you a little more friction as you move your Apple Pencil along your screen, and prevents all of the slipping and sliding.
It's honestly one of the best iPad accessories I've purchased.
There is something you should be aware of with these amazing screen protectors though; they tend to eat Apple Pencil tips for breakfast. Given their rough texture, they can be hard on delicate Apple Pencil tips.
I've written an entire post on how matte screen protectors can impact Apple Pencils that you should check out if you're interested in getting one.
Alright, to round out this post, let's talk about the final hazard that you can run into when using your Apple Pencil: debris and dirt.
Keep Your iPad Screen Clean and Free of Debris and Dirt
iPads are great because they are portable and perfect for art-on-the-go. The problem is that "on-the-go" isn't always pristine and clean. It's really important to make sure that your iPad screen is clean and free of any debris or dirt while you're working, regardless of where you are.
It's good to get in the habit of wiping off your iPad screen before you start working. This will ensure that there's nothing stuck on there that could cause you problems with scratches or damages.
Another good reason to wipe off your iPad screen is that your Apple Pencil can leave impressions on your screen protector that might look like permanent scratches, but aren't. There are times when I see little imprints that can just be wiped away.
Of course, making sure that your iPad screen stays in good shape is really important. They're expensive and no fun to replace. Luckily, with the right tools and a little intentionality, you'll be ready to protect your iPad from any harm that could come it's way from your Apple Pencil.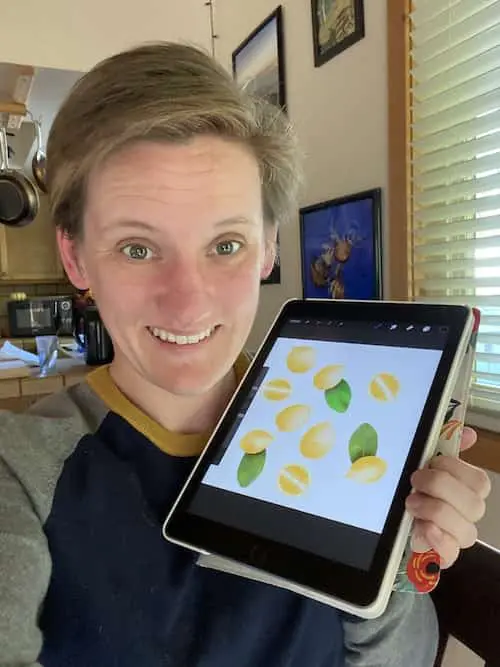 Diana has been an artist for over 26 years and has training in drawing, painting, digital drawing and graphic design. Diana's latest obsession is digitally drawing with Procreate and creating t-shirt designs with Canva. Diana has experience selling her art across a number of platforms and loves helping other artists learn how to make money from their art as well.