If you're an artist with dreams of making some money from your art, Etsy is a great platform to consider. Personally, I've loved making extra cash from my art-based Etsy stores. But, what art sells best on Etsy? How can you join Etsy with the right knowledge to give you a leg up from the beginning?
At the time of this writing, the bestselling shops on Etsy are selling prints that can either be printed at home, or shipped directly to the customer. The cheap cost of prints makes them appealing, but this doesn't mean that paintings and more expensive art can't sell with the right marketing.
I'm a big believer that you should never compromise who you are as an artist in order to make a few extra dollars. If you can't ever be a downloadable print type of person, don't do it. But, if the thought of something like downloadable prints sounds appealing and like something you can do without sacrificing your artistic needs, you might see success sooner. Let's dive into what's trending on Etsy, the art that's selling best, and how you can become a part of it.
What the Numbers Say About the Art that Sells Best on Etsy
According to eRank, at the time of this writing, here is an idea of what the top 10 best selling shops in the art and collectible category offer:
6 out of 10 sell instant downloads (cards, decorations, prints, fonts, cut files)
4 out of 10 sell prints, whether shipped or downloadable ( only 1 shop does not offer downloads)
9 out of 10 do not sell originals
Now, let's see how many sales the top 3 shops are making a day. Remember that this is subject to change and only accurate as of August 2020. Bestseller rankings are subject to change.
LILAxLOLA: averaging about 70 sales a day
PatentPrints: averaging about 43 sales a day
TheCrownPrints: averaging about 66 sales a day
The 1st and 3rd shops primarily sell instant downloads. The 2nd shop sells prints that get shipped to customers.
There are two key takeaways that you NEED to understand from this top 10 list:
The importance of prints and digital downloads
The value in NOT selling originals
Let's dig into both of these a bit more.
The Benefit of Selling Prints and Digital Downloads
Have you ever dreamed of having a business that keeps making you money while you sleep, travel throughout Europe, or celebrate Thanksgiving with your family?
That's the dream of a digital downloads shop.
Now, to be clear, this isn't to say that a digital downloads shop isn't a lot of work. It is. Especially when first starting out and getting it off the ground.
I had a digital downloads shop myself and, to be honest, it was harder for me to add items to it than my print-on-demand physical products shop. In general, more work went into each listing.
But, once you have a lot of listings running, you can see sales come in and simply enjoy them. No shipping, no lost packages, no returns because a shirt doesn't fit.
Having a digital downloads shop is one of the most passive ways to run a store and sell products.
This isn't to say that customer service drops to nothing. No, I've had a fair share of customers on my digital downloads shop glaze over the fact that they've purchased a digital download and ask why their order hasn't shipped. Honestly, it takes everything in me to hold back my snarky comments about reading the listing and the INSTANT DOWNLOAD printed all over the place in all caps. But, back to the point.
You'll also have customers who get confused about accessing their digital downloads and those that ask for customized downloads without realizing that it's actually a lot of work and no small thing to ask of a store owner.
All in all though, the customer service related to a digital downloads shop is minimal and pretty easy to manage.
Digital Downloads Not Only Benefit Shop Owners, but Customers as Well
The stats speak for themselves. The fact that 6 out of 10 shops on the bestseller list sell digital downloads is no accident. This means that customers are EATING UP digital downloads like no other.
Why?
We live in an instant world. We even complain about Amazon's 2-day shipping from time to time. A lot of us are procrastinators as well.
How many times have we forgotten that it's someone's birthday and need a card right away? Can you imagine a moment when you're planning an event and just need that last minute sign or decoration? Enter, instant downloads.
I always chuckle about how many Father's Day cards I sell on the morning of Father's Day.
These days, customers need instant and your store will benefit if you can satisfy their needs.
The Value of NOT Selling Originals
I have designs that have sold HUNDREDS of times across different platforms. If I had sold just the original of that design, I would have sold it once, on one platform, and then moved on to something else. I would have lost out on a LOT of mullah.
The goal is to have a genius moment of inspiration that you can profit on for years to come.
I know it sounds contrary to the artistic spirit to say it but, if you want to make money from your work, you need to milk it like crazy. Sell it anywhere and everywhere as many times as you can. Tastefully, of course.
What to Do If You Make or Sell Original Drawings, Paintings, and Other Art
The idea of jumping into digital downloads might sound crazy and unfavorable if you're an artist who loves to make large canvas paintings, mixed media art, or original drawings.
Also, maybe it sounds like selling out and cheapening your work. Doesn't it devalue your work by selling hundreds of copies that customers can spit out on their cheap home printers?
Digital downloads isn't an all or nothing game. Some of the stores on the top 10 best selling stores list sell a mixture of instant downloads and physical items. You don't need to choose one or the other.
In fact, offering both digital downloads and physical art can help you reach a wider audience and serve more customers who might want one or the other.
How to Get Started with Digital Downloads
If it sounds daunting to start a digital downloads store, remember that you only have to create one listing at a time. Start small and build from there. Here are the steps to take to create your first instant download listing.
1. Choose Your Art That You Want to Digitize
If you're looking at your portfolio and trying to decide which pieces of art you should turn into instant downloads, there are some things to keep in mind.
Firstly, how will you turn your art into a digital file? If you have art that's 8.5×11" or smaller, simply scan it.
Scanning your work is the easiest way to go, so I suggest starting out with your smaller pieces of art when you're just starting out and getting the hang of digitizing your work.
If you have canvas paintings, mixed media work, or larger pieces of art, you'll need to photograph it. For the purpose of making digital downloads, you need to make sure that your photographs are REALLY good. The image needs to come out crisp and clean, as though it was never photographed to begin with. It should look like it has been scanned.
This sounds daunting and, yes, you need to be sure to do it properly, but you can learn to master it with a few tips.
Be sure to watch the YouTube video for some really great tips on how to get great photos of your art every single time.
The phone stand you see in the video is absolutely crucial.
Get a phone stand that you can adjust to any angle and position you need to capture a good picture of your work. If you have one of the latest iPhones, it should suffice. But, be critical of the quality of photos you're getting and make sure you're using the best phone or camera for the job.
When choosing the art you're going to digitize, you also want to think about the end customer.
Is that piece of art designed to be small or large? Can it function on a greeting card, or is it meant to be hung on the wall?
If you can figure out how to turn your art into greeting cards, you'll be glad you did. Think about greeting cards versus prints. Greeting cards tend to be quick, impulsive purchases that can be made again and again. Aunts, uncles, grandparents, cousins, friends, neighbors. The list of people you might buy a greeting card for someday could go on and on and on.
Not to mention the amount of occasions. Graduations, weddings, birthdays, anniversaries, baby showers, retirements. On and on and on the list goes.
From a customer perspective, there are a lot more opportunities to buy greeting cards than prints.
And think about it as an artist. You can take one design and slap any number of messages on it, creating 20+ listings essentially from one design.
On the other hand, we all have limited wall space in our houses or apartments. Maybe we switch things out every once in a while but, for the most part, the art on our walls stays there for years. Heck, you could have looked at pictures of my grandma's walls from the 1950s and the art hadn't moved 60 years later.
To be clear, prints do well on Etsy. The top 3 shops sell prints. The point I'm trying to make is that you shouldn't put your creativity in a box.
Create greeting cards AND prints. Create planner pages, budget trackers, and journals.
Think about all of the ways that your one beautiful design can be used for any number of downloadable products.
2. Make Your Art Look Good
Having good photos on your Etsy listing is a HUGE part of making sales. If you don't believe me, spend some time scanning through Etsy and notice which listings catch your eye. It's the ones with the nice pictures, right? Right.
Do not skimp on your product listing photos. Seriously, it's the difference between making sales and crickets.
You've worked really hard on your art; now is not the time to take the cheap way out. Invest in Canva and/or Place It to make sure that you've put yourself in the best position to attract customers and sales.
3. Set Up Your Etsy Store
The details of setting up your Etsy store goes beyond the scope of this post but, of course, it's an important part of starting your digital downloads journey. If you're not sure how to get everything set up properly, check out the video below that will walk you step-by-step through the setup of your Etsy store. The video is from 2019, but it's still relevant and super thorough.
4. Market Your Digital Designs with Pinterest
Pinterest is a visual platform, which makes it a great place for artists. I've had my own success marketing my listings on Pinterest and believe it can make a difference in your traffic, especially in the beginning.
The Alternative to Digital Downloads
Maybe you're not a fan of digital downloads, or you like digital downloads and want another thing to add to your shop's catalog. Enter, print on demand.
Print on demand is a great way to sell your artwork over and over again on physical products. Mugs, t-shirts, stickers, hats, sweatshirts, and more. It's pretty neat.
I had a digital downloads shop and a print on demand shop.
Print on demand means that each order is printed when it's ordered.
No inventory, no upfront costs, no risk.
Something I love about print on demand is that the profit margins tend to be higher. It's easier to charge more for a sweatshirt than a downloadable greeting card.
That said, you'll be opening yourself up to a different world of customer service concerns. How do you handle returns, exchanges, and lost packages? These things are relatively rare, but something to consider.
Another thing to think about is that digital downloads have virtually no costs aside from Etsy fees. When you run a print on demand store, you have to buy the raw materials for the product whenever a customer makes an order. As long as you do the math correctly, you can list your products so that you make a profit, but you need to be ok with footing some money whenever an order comes in.
There are a lot of choices for fulfillment companies as far as print on demand is concerned. You can find print on demand platforms that integrate with Etsy, your own website, etc.
Aside from selling digital downloads, a print on demand shop with Printful is one of the most hands-free ways to make money from your art.
Even if you don't want to start a print on demand shop, Printful's platform is a great way to order products for yourself or your friends and family. There's no cost to signing up for Printful. You only pay for the products you buy. Click HERE to sign up for your own account and browse through all of the neat products you can add your art to.
The stats are dramatically clear when it comes to what sells best on Etsy. Digital downloads are taking the world by storm, becoming a great option for both artists and customers. The more you can think outside of the box and figure out how to sell each of your artworks again and again, the more you'll profit and the more time you'll have to create the art you love.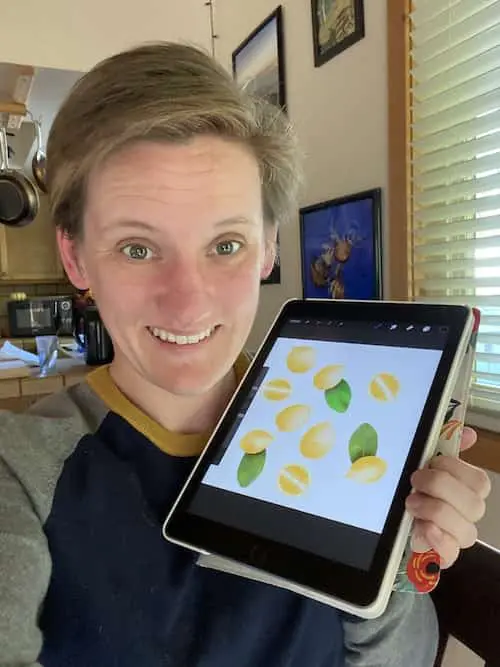 Diana has been an artist for over 26 years and has training in drawing, painting, digital drawing and graphic design. Diana's latest obsession is digitally drawing with Procreate and creating t-shirt designs with Canva. Diana has experience selling her art across a number of platforms and loves helping other artists learn how to make money from their art as well.