This post may contain affiliate links, which means I may earn a commission if you decide to purchase through my links.
Canva is a great graphic design program that many people are turning to as a cheaper and easier to use alternative to the Adobe suite of programs. That said, Adobe is still a huge player in the graphic design space, which means that Canva is serving a different purpose for different people. What is Canva good for exactly?
Canva is good for anyone who needs a graphic design program for cards, social media posts, infographics, and more. Where Canva really stands out is in its huge library of photos and elements for users to incorporate into their designs.
There are a lot of things that Canva can do and a lot of things that it can't. Understanding where Canva really shines will help you know which program is right for you and your design needs.
Let's talk about what Canva is good for.
1. Canva is Good for Basic Graphic Design
Canva is a graphic design program, which is distinct from drawing programs like Procreate. This means that you can't draw in Canva with a stylus, like you would with Procreate, but you can use images, fonts, shapes, and elements to create designs.
As a graphic design program, Canva can do a LOT of things, but it can't do everything. This is why I put it in the "basic" graphic design category.
There are advanced graphic design techniques that Canva isn't equipped to do, like easily curving text. For this, you'll be much better off with one of the Adobe programs.
It's also important to note that Canva can't do a lot of photo manipulation. Custom cropping, color adjustments, and adjusting objects within a scene isn't doable with Canva. You'll want to use a program like Photoshop for these more advanced techniques.
Even though Canva seems "basic," a lot of us don't need the advanced techniques that you would find with other programs, like the Adobe suite. Personally, I don't want to pay a high price for a program that has features I won't use.
Canva is the right price for my budget and does what I need it to do. Sounds good to me!
Also, Canva offers some unique things that you won't get with other programs. Some of these things really make Canva stand out from the crowd and can be worth the subscription price alone.
You'll want to have a Canva Pro subscription in order to access a lot of the features we're about to talk about. Grab a free trial of Canva Pro here to get your feet wet in the program and see how it can work for you.
2. Canva is Good for Pre-Made Templates
When you open a new design in Canva, you'll see a set of pre-made templates pop up on the left side that you can use for your design. "Set" is the wrong word here. In reality, it's an endless scroll of beautiful templates that are professionally designed.
If you need a grab-and-go design, Canva is where you want to be.
If you need social media posts in bulk, a quick card that you need to customize with a photo and print out, or a banner for an event with a professional flair, you're in luck.
I especially find Canva templates helpful for infographics. It's SO helpful to have pre-made blocks and chunks of text available that just need a quick editing session.
Seriously, Canva's templates are a gift from heaven for any design that wants to get something done quickly, but beautifully.
As a Canva Pro user, you get access to over 420,000 templates that you can use for your designs. Grab a free trial of Canva Pro and check them out for yourself.
3. Canva is Good for Images
Let's say that you pick a beautiful template and you want to add a different image to it. Well, you're in luck. Canva has an INSANE library of great photos that you can use in your designs.
From people, to landscapes, to objects, to interiors; they have photos on every subject you can imagine.
Finding stock photos for your designs can get frustrating and expensive. Searching through various platforms for specific photos that you have to pay for individually? No thanks. If I need an image, a simple search on Canva gives me more options than I need.
What are you allowed to do with Canva images though? If you're selling your Canva-made designs, this becomes an important question.
At this time, according to Canva's license agreement, all free media can be used for commercial and non-commercial purposes. That said, if you use a picture of an icon, person, etc. you need to do your due diligence to make sure you have rights to represent that. You also can't manipulate it, resell it, etc.
Of course, if you plan to use their images, you should read and understand Canva's license agreement for yourself to make sure you have the most current and accurate information. Adventures with Art will not be held liable for anything done with Canva images that is against their agreement.
Ok, fun disclaimer out of the way. Canva is a treasure trove of images that can make your design life a lot easier and efficient.
While you do get access to images with the free plan, you'll get over 75 million of images, videos, and elements (we'll talk about those next) with the Pro plan.
If you were to break the cost of the Pro subscription into a per image price, you'd be talking about fractions of a penny. This is a heck of aa lot cheaper than paying for individual stock photos.
Remember that you can try Canva Pro for free and see all of the amazing images available to you.
4. Canva is Good for Elements
If you think that Canva's images are great, you'll love their elements. Elements are non-image design features that you can add to your creations. These include hand-drawn illustrations, digitally-drawn illustrations, frames, borders, and more.
I don't know if I love Canva's images or elements more. They are both equally awesome and equally useful.
Maybe you need a cute animal to add to a birthday card, a flower to add to a wedding invitation, or a sleek border to add to your client's flyer.
Canva elements are invaluable. I don't know of any other program that will give you so many amazing design resources for a relatively cheap subscription price. Remember to grab your free trial of Canva to check out all of their amazing elements.
5. Canva is Good for Fonts
So many great fonts that I occasionally get stuck in analysis paralysis when trying to pick the right one. It's so hard to pick between so many great choices!
From script fonts, to corporate fonts, to boxy fonts, and airy fonts; there are fonts for every style that you might need.
With a Canva Pro subscription, you get over 3,000 fonts to choose from. See? Analysis paralysis territory, for sure. You can also upload your own fonts and add to crazy amount of choices that you have.
As you've realized from the past 4 points, Canva is really good for people who want access to pre-made design assets. Canva REALLY shines in this area, which means that you should pay attention to Canva if you're not looking to make everything from scratch.
6. Canva is Good for Removing the Backgrounds From Images
Canva Pro gives you the ability to remove the background from your images. Simply drop a full image into your design and click the "Background Remover" in the "Effects" tab. Within a few seconds, you'll have an object without a background.
Canva's background remover tool works surprisingly well. I've tried other background removing tools and haven't found one that works as well as Canva's does. Short of doing it by hand, which is really time consuming, Canva's background remover is pretty incredible.
Of course, there are times when Canva's background remover tool doesn't do things perfectly. If you have an image with a busy background, it can be hard for the program to distinguish between what should be erased and what shouldn't.
Luckily, Canva gives you a quick way to fix this.
If you use the background remover tool and realize that there are pieces that still need to be erased, click on the little minus icon in the left toolbar. This will let you manually erase anything that you need to.
On the flip side, if the background remover erased too much of your image, simply click on the little plus icon and restore whatever parts of the image that you need to.
Canva's background remover is top notch and a huge perk of the program. Remember that you can try this feature for free when you grab a free trial of Canva Pro.
7. Canva is Good for Collaborating
If you work within a design team, or need to collaborate with others when creating designs, Canva is a great graphic design program to consider. Within Canva, you can build teams, share designs, and work together to bring your creations to life.
Think of it like Google Docs for graphic design.
What's neat about Canva's sharing feature is that you can share a design when you are just getting started with it so that you can work together on it. Or, you can use the sharing feature as a way to send designs to each other and add them to your own Canva design gallery.
Another great thing about collaborating with others on Canva is that you can utilize Canva's Brand Kit to keep all of your logos, fonts, colors, and more.
This can help your team stay on the same page about your brand's design assets. No more frustration over someone using a random font!
Canva's team features are a great way to work with others in the most efficient way possible when working on your graphic design process. It's important to note that every member of your team needs to have a Canva Pro subscription if everyone plans to use Pro features. Have them grab free trials of Canva Pro and see how it works for your team.
8. Canva is Good for Storing Your Designs Without Taking Up Computer Space
Canva is a web-based program, which means that it won't take up space on your computer. With Canva Pro, you get 100gb of storage within Canva's system to store all of your designs.
No need to take up additional storage space on your computer.
Especially as an artist, it's easy for your computer storage space to be consumed by large design files. With Canva, it's nice to have an extra 100gb of storage space that can be used for everything Canva related.
Canva's web-based platform leads us to another perk of this graphic design program.
9. Canva is Good for Accessing Your Designs Anywhere
Given that Canva is a web-based program, you can access your Canva designs from anywhere. No need to have the one computer that your designs are stored on. With canva, you can access your designs from any device that has internet access.
From any computer, Canva can be accessed through their webpage. If you're using a phone or tablet, simply download the Canva app and access your designs that way.
Of course, having easy access to your Canva designs is fantastic, but it comes with a downside. If there's no internet, you won't be able to access Canva. This is important to keep in mind if you plan to do your design work in an internet-free zone.
I personally love having my designs in the cloud. It's neat to be able to access them from different devices without manually transferring them. There's also the important perk of your designs being safe in the cloud should anything happen to your computer. As a clumsy person, this is a VERY important perk.
10. Canva is Good for Quick Graphic Design Projects
As you can see from all of the previous points, Canva's main focus is to give you access to pre-made design assets that can make your graphic design life easier and more efficient. Images, fonts, elements, templates, collaboration features, and cloud-based storage you can access from anywhere all come together to give you so many choices for great graphic design projects.
Even though Canva can't do a lot of advanced techniques, honestly, that's not the point. Canva is a wonderland for artists who need a quick and easy way to create beautiful designs without the hassle and stress.
At the end of the day, Canva is good for creating great designs in less time.
If you want to see if you fall in love with Canva as much as I have, don't forget to grab a free trial of Canva Pro and try everything that it can do.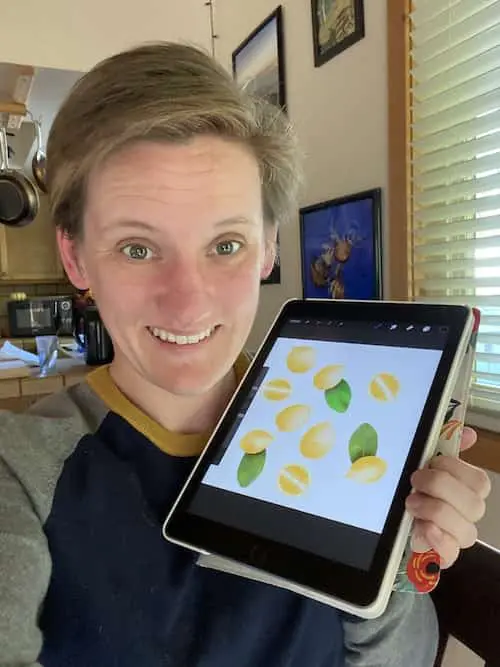 Diana has been an artist for over 26 years and has training in drawing, painting, digital drawing and graphic design. Diana's latest obsession is digitally drawing with Procreate and creating t-shirt designs with Canva. Diana has experience selling her art across a number of platforms and loves helping other artists learn how to make money from their art as well.