Chain brushes let you add some grunge and metal to your Procreate art. There are a lot of great Procreate chain brushes to choose from, which can feel overwhelming.
So, we're going to run through some of the best free and paid options for Procreate chain brushes that will have you running for your iPad in excitement.
Even if you didn't have a lot of chain-related art ideas before, this list just might inspire you to create some chain art you never expected.
To say there are some awesome chain brushes on this list is an understatement. Let's jump in!
This post may contain affiliate links, which means I may earn a commission if you decide to purchase through my links.
1. Duotone Chain and Tru Chains from Visual Timmy
Tim is the Procreate brush creator behind Visual Timmy, a site with a large collection of high quality Procreate brushes. Within this large collection is the Creator XL Bundle for Procreate. It includes over 400 brushes and 60 color palettes.
Seriously, having used this bundle myself, there's a LOT to offer, from texture brushes, overlay brushes, ink brushes, and, you guessed it…chain brushes.
Within the Quick Tools brush set that comes with the large Creator XL Bundle, there are two chain brushes – the Duotone Chain brush and the Tru Chains brush.
The Duotone Chain brush is great if you're looking for a clean-cut chain with circular links. The chains almost look like those washers you get with Ikea furniture. While it brings back bad memories of putting together my college furniture, this is a solid brush.
The Tru Chains brush is more of a classic chain, with those oval shaped links that connect together in fun and random ways.
Two solid chain brushes to choose from? Score! But, wait, the news gets better.
You can get Visual Timmy's entire Creator XL Bundle (which includes both chain brushes in the Quick Tools brush set) for 15% off when you use the code ADVENTURESWITHART. This is a great deal for over 400 quality brushes.
Check out the Creator XL Bundle here and don't forget to use the coupon code!
2. 44 Procreate Chain Brushes
You read that right. 44 Procreate chain brushes. This brush pack from Design Bundles is great for anyone who wants a wide array of chains to choose from.
This brush pack is also great for anyone who's interested in jewelry, as a lot of the chains are designed for/can be used for jewelry designs. There's even a neat chain that has flowers spaced out along it.
Whether you're looking for basic chains, beautiful chains, unique chains, or jewelry chains, this brush set has you covered.
If you want to have a chain brush for every instance and occasion, this is a great bundle to consider.
Check out the bundle of 44 Procreate Chain Brushes here!
3. Chain Brush for Procreate
I love how classic this chain brush is. The links are clean, crisp, and what you imagine a chain to be. If you came to this post looking for 1 chain brush that meets the standard of a basic, well-crafted, chain brush, this is one to check out.
In order to get this brush, you need to check out Design Bundles' Plus program. Don't worry, there's a free trial, so you can check it out risk free. You might love it so much that you choose to stay beyond the trial though.
Design Bundles' Plus program is something I've loved to be a part of. Here's how it works. Every month, you get credits you can use on design resources – Procreate brushes, graphics, fonts, etc. To say that it's awesome and fun is an understatement.
You also get a discount on non-plus products, which just sweetens the deal.
Check out just the small selection of products I got with their Plus program below. This is just a small selection. I have pages and pages of resources from the Plus program that I have access to forever. Seriously, it's a great deal for anyone who loves to collect design resources.
So, if you want this basic chain brush, give Design Bundles' Plus program a shot and you can download it with one of your credits.
Check out the Design Bundles Plus Program here!
4. Free Jewelry and Chain Stamps
This is one of the more realistic chains I've seen. The shading on the chains is phenomenal, making it look like a real, glistening chain.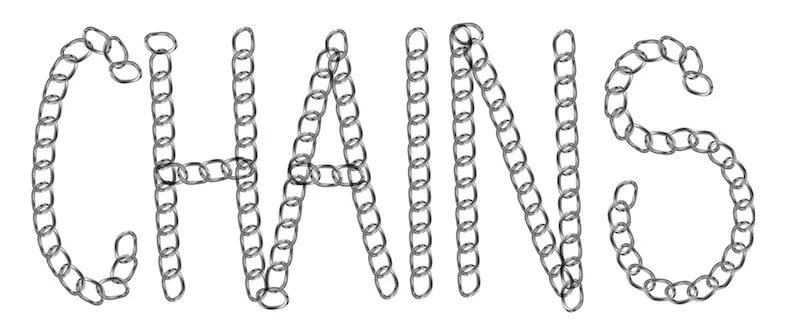 This means that it's not as subtle as the other chains on this list. That can be good or bad depending on the art you're creating. What's not bad at all is the fact that it's free!
This artist has a full set of chains and jewelry you can buy. But, they have a free sample that you can get, well, for free. Gotta love free samples.
With the free sample, you get 1 chain brush and 1 diamond brush. Just like the chain brush, the diamond brush is super realistic too. Talk about talent. If realistic is what you're going for, this free sample might be just what you're looking for.
Check out the Free Jewelry and Chain Stamps here!
5. 30 Chains Brushes Set for Procreate
Here's another great set of chain brushes for anyone who wants a wide range of chain brushes to choose from. 30 brushes, to be exact!
There are some neat, spiky chains, circular chains, oblong chains, and everything in between. There's even a cool chain that looks like flower petals. It really is a beautiful collection.
For a high quality pack of brushes that gives you a lot of options for exploring your creative potential, this is a Procreate chain brush set to explore.
Check out 30 Chains Brushes Set for Procreate here!
Chains are those random, basic essentials that you never expect to need all of the time for your Procreate art. Yet, they really should be a fundamental part of any Procreate brush library.
Luckily, this list has given more options than you'll ever need for high quality Procreate chain brushes. Have fun creating!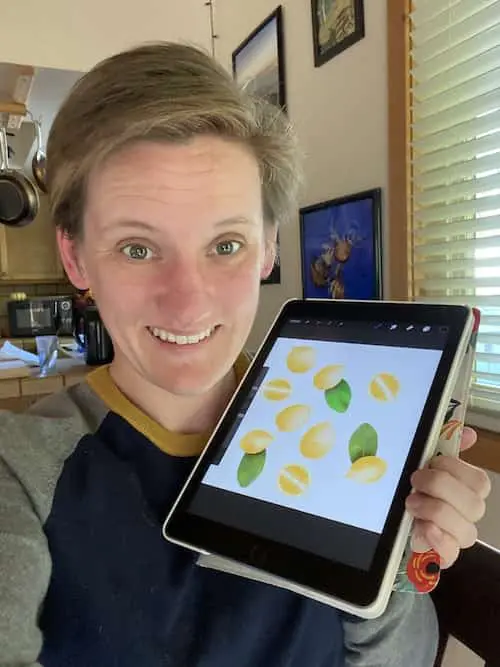 Diana has been an artist for over 26 years and has training in drawing, painting, digital drawing and graphic design. Diana's latest obsession is digitally drawing with Procreate and creating t-shirt designs with Canva. Diana has experience selling her art across a number of platforms and loves helping other artists learn how to make money from their art as well.