Having a tech glitch in the middle of an art session is not ideal. Trust me, I've been there!
One of the tech glitches you may have encountered in the past, or are experiencing now, is not being able to insert a photo into Procreate.
Here are 4 things to try to fix the issue!
1. Try to Add Your Photo a Different Way
Using the "Insert a photo" button is the typical way of adding a photo to Procreate art.
That said, it's not the only way to do it.
If the "Insert a photo" button is giving you trouble on Procreate, it's worth trying another option.
I know, I know. By trying a different method, we're not actually getting to the root of the issue. But, trying other methods can give us insight into what the root of the problem actually is.
Also, I know what it feels like to be in an art flow. Having that interrupted by tech issues isn't fun. Having multiple methods of adding photos to Procreate up our sleeves can let us continue on with our art, while saving the tech issue for another time.
So, what are these other options?
1. Insert a File
Try turning your photo into a file on your iPad. Then, try adding it to Procreate with the "Insert a file" option. This could potentially bypass any issues with the Photos app.
2. Drag and Drop
Open your Photos app in split screen next to Procreate. I have a guide on using split screen with Procreate if you want to learn how to do that.
Once you've done that, try dragging and dropping your picture into Procreate. This could potentially bypass any issues with Procreate's photo inserting feature.
3. Copy and Paste
If you can find a means of copying your photo, try to copy and paste it into Procreate.
2. Try Using a Different Photo
If none of the options above worked, it's important to know whether it's a software issue or a photo issue.
Maybe there's something wrong with the photo you're trying to upload that is ultimately causing this problem.
Try inserting a different photo from your Photos app. If this works, it's possible there was an issue with your original photo.
If you don't care about image quality, simply take a screenshot of your original photo. This will create a new photo that you can upload to Procreate.
If you do care about image quality, I suggest exporting your photo to a compatible Procreate file type. Then, insert your photo as a file, or a photo, depending on your new file type.
Alright, let's say that you tried to insert a different photo into Procreate and it still doesn't work. That means that we likely have a more universal issue going on.
3. Check for Updates
If either your iPad or Procreate are in need of an update, go ahead and do that.
Having any pending updates can cause your software to be wonky.
Making sure that your software is always updated can be a great way to make sure that everything is running smoothly. It might also clear out any weird bugs you're having, like not being able to insert a photo.
4. Restart Everything
Lastly, if these solutions haven't worked and restored your ability to insert a photo, try turning your iPad off and on again.
This will give your iPad a chance to start over and wake up on the right side of the bed.
While it's no fun to suddenly find that you can't insert a photo in your Procreate canvas, I hope this post has given you some ideas for fixing the issue and getting back to creating your art.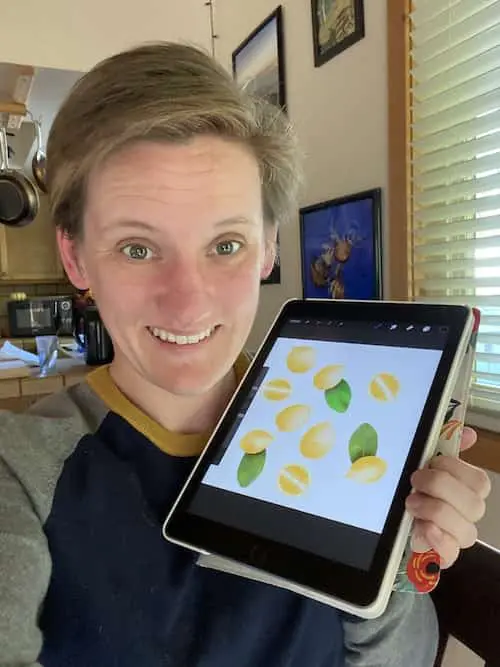 Diana has been an artist for over 26 years and has training in drawing, painting, digital drawing and graphic design. Diana's latest obsession is digitally drawing with Procreate and creating t-shirt designs with Canva. Diana has experience selling her art across a number of platforms and loves helping other artists learn how to make money from their art as well.