When making art with Procreate, it's easy to focus on the main element of the piece, only to realize that we've forgotten about the background.
A great background pulls an art piece together, and is essential for making it pop.
Luckily, there are a lot of Procreate brushes that you can use for your background that will make a big difference in helping your art feel complete.
Here's my list of great Procreate background brushes you can use for your art.
This post may contain affiliate links, which means I may earn a commission if you decide to purchase through my links.
1. Delicious Texture Brushes and Stamps for Procreate
Playing around with textures can be a quick and easy way to create backgrounds. No need to worry about creating an elaborate scene; simply choose a consistent texture, lay down a few large strokes, and you have a great background for your Procreate art.
What I love about adding a textured background to Procreate work is that it's subtle, yet effective. Textures add interest to the piece, without calling attention to themselves or overcomplicating things.
That's why you'll see a lot of texture brushes on this list of Procreate background brushes. There's no doubt that they do a rockstar job of creating the subtle, yet interesting backgrounds that many Procreate pieces need.
To kick us off, we're talking about this Delicious Texture Brushes and Stamps pack. The texture brushes are top notch and come with a number of different textures…and fun names. We can't forget the fun names.
When you buy this pack, you'll get brushes called Sprinkles, Coffee Granules, Herbs & Spices, and more. Fun, right?
Here's everything you'll get:
-6 Shape Filler Brushes
-6 Light Texture Brushes
-6 Medium to Heavy Texture Brushes
-1 Pencil Brush
-12 Stamp Brushes
-A PDF reference guide that walks you through how to use each brush
Yes, that's 33 brushes.
Get the Delicious Texture Brushes and Stamps for Procreate Pack Here!
If you want to add textured brushes to your Procreate background toolkit, this pack is a great choice. And, so is our next option, so be sure to keep reading.
2. Dirty Halftones BrushSet
This Dirty Halftones BrushSet is another great choice if you're interested in textured backgrounds for your Procreate art. These brushes are fantastic, as is everything by Shoutbam. I'd also suggest checking out their Fade & Shade pack. Of course, for your fading and shading needs, but also for neat textures brushes you can use for backgrounds.
But, for the purposes of our Procreate background brushes, we're going to focus on the Dirty Halftones pack, and I think you'll quickly see why.
When you get this pack, you'll get a variety of shaders, texturizers, and sprayers. All great textures for creating dynamic backgrounds for your Procreate art.
What I love about this collection of brushes is that they vary in how dramatic they are. You can choose bold horizontal lines, or subtle squares. You can use large dots, or lighter stippling. For each dramatic brush, there is a subtle version as well. This gives you a lot of freedom to mix and max your brushes to create the backgrounds you're looking for.
Here's everything you'll get with this Dirty Halftones pack:
-14 Shaders
-14 Texturizers
-14 Sprayers
-5 Bonus Brushes
-2 Video Tutorials

That's 47 brushes that you can use for your backgrounds. Pretty awesome.
Get the Dirty Halftones BrushSet Here!
3. 3D Lettering Toolkit for Procreate
Ok, looking at the name of this brush pack, you might be thinking that I've forgotten what post I'm writing. I know, we're talking about Procreate background brushes. I haven't lost my mind. But, you might be surprised to know that this 3D Lettering Toolkit is perfectly placed here in this set of background brushes.
Here's why.
When you get this Lettering pack, you actually get 6 texture brushes. I know, 6 is a lot less than the 47 we saw with the last pack, but if you're prone to analysis paralysis and getting overwhelmed, 6 might be the perfect number of brushes for you.
And, they're really nice texture brushes. With just these 6 brushes, you'll be able to create any number of great backgrounds.
Aside from the texture brushes, you also get 8 ready to use backgrounds. No brush strokes needed.
So, if you want some premade, ready to go Procreate backgrounds, you'll like the backgrounds that come with this pack.
Of course, the win-win here is that this brush pack is designed for all of you lettering artists out there. The non-texture brushes are beautiful for crisp and clean letters. There's also a really neat highlight pen that can give your letters that extra shine.
What's SUPER neat for lettering artists though is that this pack comes with reference alphabets that you can use if you need some help forming your letters.
As you can see, this brush pack offers a lot of value. Here;s a recap of everything it offers:
-2 Pattern Brushes
-2 Texture Brushes
-2 Shading Brushes
-2 Mono Line Brushes
-2 Highlight Brushes
-8 Backgrounds
-4 Color Palettes
-3 Reference Alphabets
This 3D Lettering Toolkit is, indeed a toolkit. You'll have all of the tools you'll need for great 3D lettering, beautiful shading, awesome backgrounds, and more.
Get the 3D Lettering Toolkit for Procreate Here!
Bonus Procreate Backgrounds Tip
If you're wanting to learn how to make great backgrounds for your Procreate art, you may not only need the right brushes, but the right color palettes as well.
And, knowledge on how to build those color palettes.
Every artist has gone through the frustration of picking colors, picking the wrong colors, and not knowing what's missing in our art's color scheme.
It's one thing when we're looking at a box of 24 colored pencils. It's another thing when we have an infinite amount of options with Procreate's color wheel. Analysis paralysis? I think so.
Every brush needs to be assigned a color before it can be used. Obvious, I know. But, it's important to remember. If you get the colors of your background wrong, your whole background will be off. Even the best brushes can't fix that.
This means that it's REALLY important to pick the right colors and know how to build beautiful color palettes.
Firstly, let's talk about how you can get amazing color palettes instantly. Design Cuts offers a number of products that include pre made color palettes, like the 3d Lettering Toolkit we talked about above.
They also have products that are more heavily dedicated to Procreate color palettes. A really great one to check out is the Copicat Procreate Color Palettes & Marker Brushes. In this pack, you'll get 19 color palettes that include 358 colors in total. That's enough to keep you busy for a while.
The Procreate Lettering Composition Design Kit comes with 10 color palettes as well. If you look through marketplaces like Design Cuts, you'll see that a lot of products come with pre made color palettes.
But, even if you find more pre made color palettes than you'll ever need, it's important to understand how and why a good color palette works. That way, if you ever need to manipulate your colors, or build your own palette, you'll have the skills to.
Here's where Skillshare comes in (don't worry, you can take advantage of this for free. Keep reading).
Skillshare has a class called Color Palettes in Procreate: Find Your Unique Color Style. This class is a treasure trove of information on how to understand colors, build your own palettes, and feel empowered to use colors…instead of overwhelmed by it.
This class is a game changer in helping wrangle the infinite amount of colors that procreate has to offer and actually understand how to use all of these color options to your advantage.
Skillshare has a free trial, which means that you can take this class at no cost. In fact, you'll have unlimited access to all of the classes Skillshare has to offer, which is a big perk. I'm a member of Skillshare and I use their Procreate classes every single day. They are taught by experts in the industry who really know what they're talking about.
Hands down, grabbing a free trial to Skillshare is one of the best ways to level up your art skills.
Creating fun, dynamic, beautiful, and masterful backgrounds for your Procreate pieces is a really important step in putting the final touches on your work. Hopefully, this list of Procreate background brushes and color resources can give you the power to make awesome backgrounds.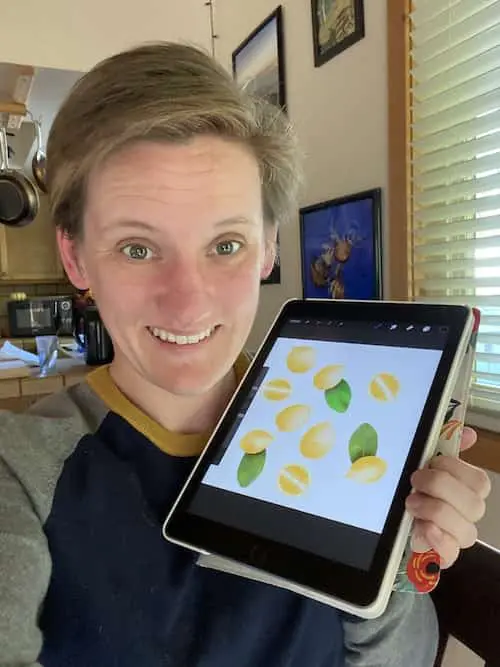 Diana has been an artist for over 26 years and has training in drawing, painting, digital drawing and graphic design. Diana's latest obsession is digitally drawing with Procreate and creating t-shirt designs with Canva. Diana has experience selling her art across a number of platforms and loves helping other artists learn how to make money from their art as well.